Singer Kelly Clarkson has landed herself in a bit of a pickle after her official Twitter account endorsed presidential hopeful Ron Paul.
"I love Ron Paul. I liked him a lot during the last republican nomination and no one gave him a chance. If he wins the nomination for the Republican party in 2012 he's got my vote," Clarkson tweeted Thursday to her 926,000 followers. "Too bad he probably won't."
The tweet started a fire storm on Twitter where fans chastised Paul for "racist comments published years ago" and Clarkson for her support, reported ABC News. After sending the tweet, some people even tried calling her phone.
"So you don't believe there should be social programs to help the poor, or support for allies such as Israel? He thinks that," tweeted Mark Schantz (@msschantz).
"boo, you best check yourself. he's a known racist," tweeted @deethers.
Clarkson, or at least whomever runs her Twitter account, spent most of Thursday morning responding to each tweet personally. Here's an example of a typical interaction: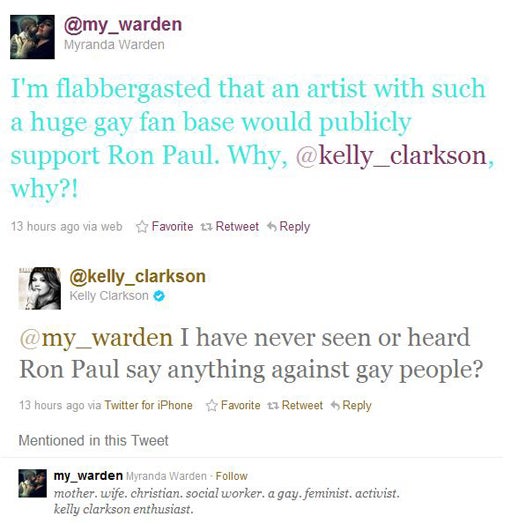 In the end, Clakrson offered up this apology:
"I am really sorry if I have offended anyone. Obviously that was not my intent. I do not support racism. I support gay rights, straight rights, women's rights, men's rights, white/black/purple/orange rights," she tweeted. " I like Ron Paul because he believes in less government and letting the people (all of us) make the decisions and mold our country. That is all. Out of all of the Republican nominees, he's my favorite."
Clarkson hardly the first person to garner controversy for her political endorsement. For instance, about a month ago, the Union Leader newspaper of Manchester, NH, tweeted their endorsement for former House speaker Newt Gingrich, setting off a Twitter uproar.
While primaries draw closer by the day, expect more celebrities, politicians and news organizations to weigh in on the Republican race. And if Clarkson's Twitter dust-up is any indication, it's going to be a heated presidential race in 2012.
Photo by SportsAngle.com