Do what you love, they say.
If what you love is a fat doobie, your options were once limited to dealer or smoker. Now, as the legal marijuana industry finally gets to its feet, the job market is firing up.
WeedHire.com just released a new Android app that connects pot enthusiasts—or anyone looking for a job, really—with legal cannabis businesses that are hiring. An iPhone app is due out within a few weeks, reports High Times, provided Apple gives it a green thumbs up.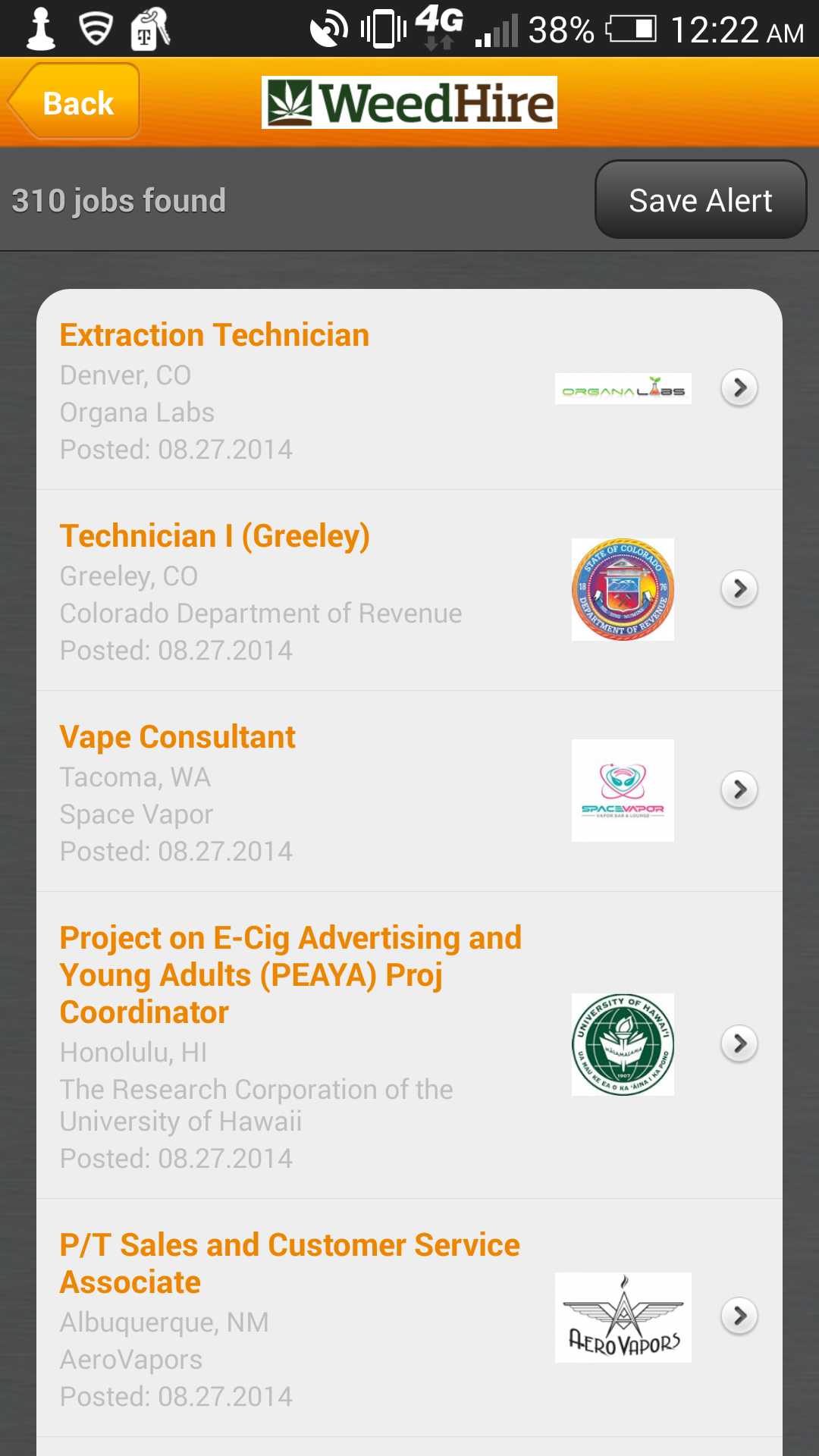 The marijuana-related jobs range from technician positions in Colorado to advertising in Hawaii. Sales associates can find work in New Mexico, brand ambassadors can work in Chicago, and other openings dot the across the 50 states. At the time of publication, WeedHire.com lists more than 300 jobs posted in 23 states.
"The new mobile app will allow users to conveniently access WeedHire.com right from their phone, where they can review open positions and apply directly from wherever they are," David Bernstein, WeedHire.com's CEO, wrote in a statement. "This means people can see the most recent jobs as they come out, without needing to be in front a computer, making WeedHire.com that much more efficient for our users."
Pot, long the king of illicit drugs, is well on its way to conquering the legal market. Marijuana is now fully legal in two states and medically legal in 22 states and Washington D.C. The list is set to grow further, and that means more weed-related jobs.
"The marijuana industry could see a hiring bonanza," Jim MacRae from MJ Research, a market research firm recently established by the Marijuana Business Association (MJBA), recently told AOL.com. "Entrepreneurs are confident they can succeed in this business, and they are eager to hire motivated people."
There are loads of great, practical jobs, like delivery drivers, but higher-paying scientific jobs really catch the eye. Surely, some of you budding botanists out there have dreamt of directing a laboratory or doing research and development. But have you ever dreamt of doing R&D on weed? That is now a very real possibility.
Perhaps the greatest job description of all time comes from a company called Space Vapor in Washington, which is looking for a "Vape consultant." According to the company, applicants "must be 18+ years, must be able to vape professionally." Sure can, Space Vape, sure can.
H/T High Times | Photo via Brett Levin (CC BY 2.0)