In VSCO, photos can have more in common than just their presets. That's where using the VSCO search function comes in! Within the photo-sharing platform, posts can be filtered using a search for a specific user or tag. This helps you to seamlessly curate your page with reposts, as well as to make your own posts easy for others find.
But how does VSCO search work exactly? Read on to find out everything you need to know.
What is VSCO search?
VSCO search is yet another tool in the app's long list to help curate better feeds for you, and to access the work of others more effectively.
Like many other photo-sharing based social platforms, VSCO search allows users to sort through posts by hashtags, users, and presets. This is how the platform automatically groups photos together, which makes it the best way to find new content based on your interests.
Using VSCO search is essentially the same as searching for any photo on the web or within an app. But knowing what you're looking for, and what keywords you'll need to find it, are crucial to getting the most out of this feature.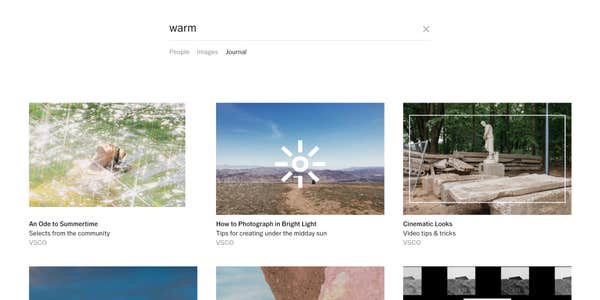 How to use VSCO Search
Basically, there are three ways to search in VSCO: for surface users, surface images, or surface Journals. Also, it's worth noting that you can also easily search through VSCO via web if you don't have your phone handy or want a larger screen. Via web and app, the magnifying glass icon in the upper left-hand corner will take you to search.
Using tags to find images
In order to find what you're looking for in VSCO search, you need to decide what you're not looking for. Look through the tags on posts in your feed and identify what tags are used; this can help you determine what kinds of tags you might be interested in looking for.
Here's an example: If you're looking to curate a feed in a specific color — say, yellow — use the #yellow tag in to find posts that fit that specific aesthetic.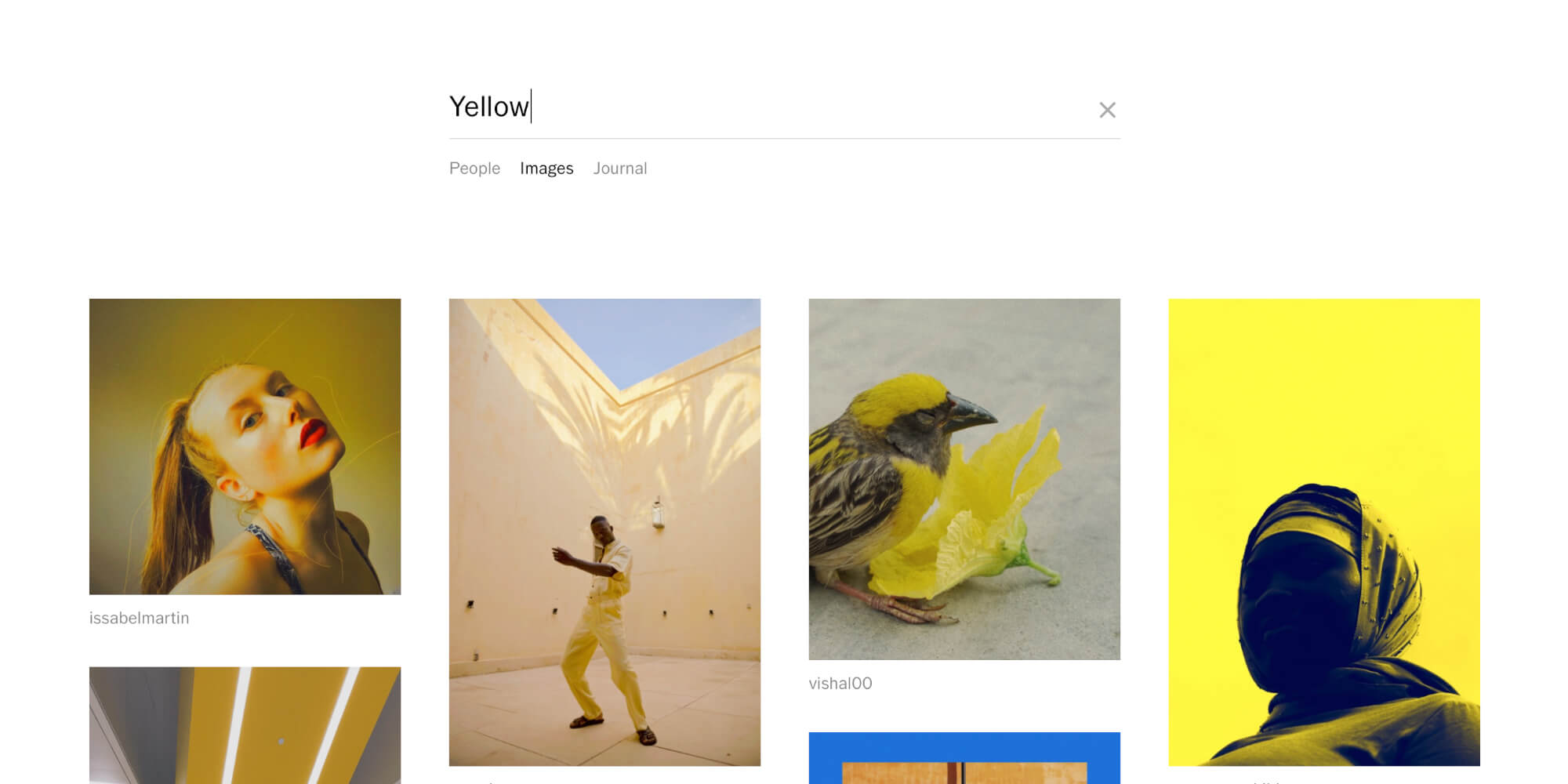 Searching for friends or other users
You can also use VSCO search to find users you don't follow yet. If you already know their username, you can simply put that into the search box to land straight on their page.
If you're looking for new inspiration from other users, you can simply enter a search term you're interested in, hit the "user" tab, and see who's posting photos you like. You could tags like "warm," "soft," or "dark."
Searching for VSCO Journals
VSCO "Journals" are essentially blog posts users can create, in addition to the regular postings by VSCO staff. These can include stories, tips for taking photos, or any other written composition you would like to accompany photos. Think of them as extended content.
To search through VSCO Journals, simply enter the topic or tag that you're looking for into the search box. Then all you have to do is hit the "Journals" tab and you'll start to discover new content.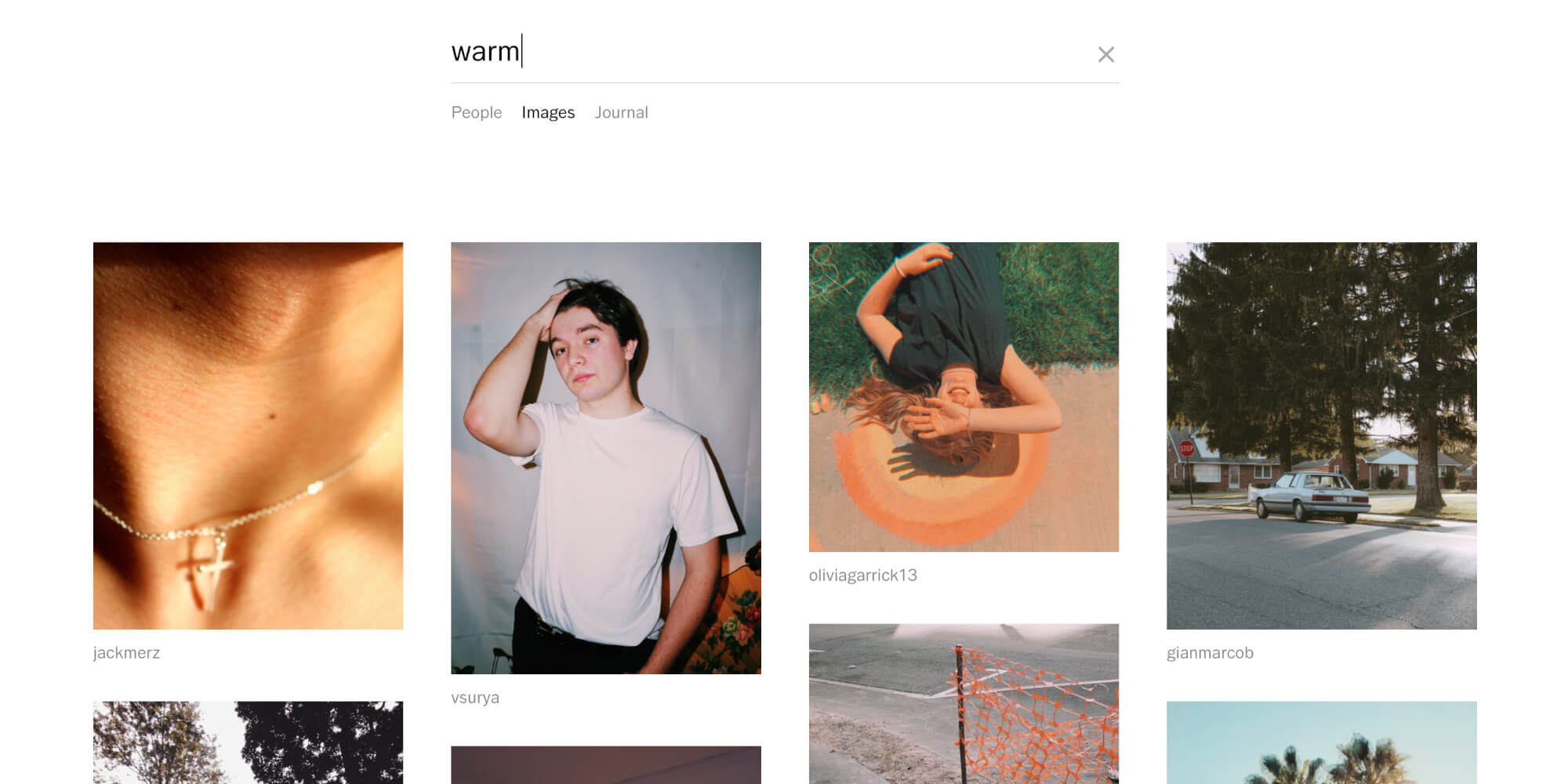 Using VSCO hashtags
Hashtags on VSCO serve similar purposes as they do on other platforms like Instagram and Twitter.
It curates content under the hashtag and boosts the post so others can find it. For example, if someone was looking for #spring photos, they could search the hashtag and find the photos that other users posted under that hashtag. On VSCO, users can close the hashtag to only their profile to make a private collection instead of pushing their photo under the collective VSCO hashtag.
Some of the popular hashtags right now are "#afterlight #vacocam #vscolover #vscolovers #vscobest #vsconature #vscoedit #vscostyle #vscofilters #vscophoto" according to Top Hashtags. Other hashtags circulating VSCO right now are #Melanin which celebrates black culture and #WordstoLiveBy which curates positive sayings on prints.
---
This week's top technology stories