International telecommunications giant Vodafone has come under fire from personal freedom advocates for pulling a social media campaign at the behest of conservative Muslims.
The Vodafone Qatar campaign, called My First Amazon Adventure, was a joint effort between Vodafone and media production house Mediadante. Part of a wider effort to combat a wave of bad press, notably the alleged use of slave labor in the preparation for the 2022 FIFA World Cup in Doha, the project entailed a group of Qatari youth living in the Amazon rainforest in Brazil for three weeks, taking part in various team-building activities, and rebuilding a local school. The project has been publicized through social media, as well as on the Mediadante's blog.  
An initial press release described the project as "all about human endeavor and achieving something remarkable for the first time enabled by the use of Vodafone technology." It's part of the telecom company's new global "Firsts" brand engagement strategy, designed to showcase people doing "remarkable things for the first time."
A photo from one of the participant's Instagram page showing Vodafone sponsorship.
However, conservative elements of Qatari society have taken to social media to condemn the Vodafone-sponsored project.
One key component of the conservative criticism concerns the groups' allegedly unsuitable attire. Gulf News reports that while the group's social media campaign "included a video showing them leave Doha dressed in traditional Qatari outfits," subsequent media released by Mediadante once the group arrived in Brazil revealed that the girls had chosen to remove their headscarves and abayas (a long, modest dress). Furthermore, the group has come under attack for being of mixed gender. 
"To organize such a gender-mixed trip that is not in keeping with our conservative society is indeed an insult to the people of Qatar," tweeted one Arabic-speaking critic, Doha News reports. "I don't consider any girl who incomprehensibly abandons her abaya Qatari," said another. "May they not return (safely)," read a third.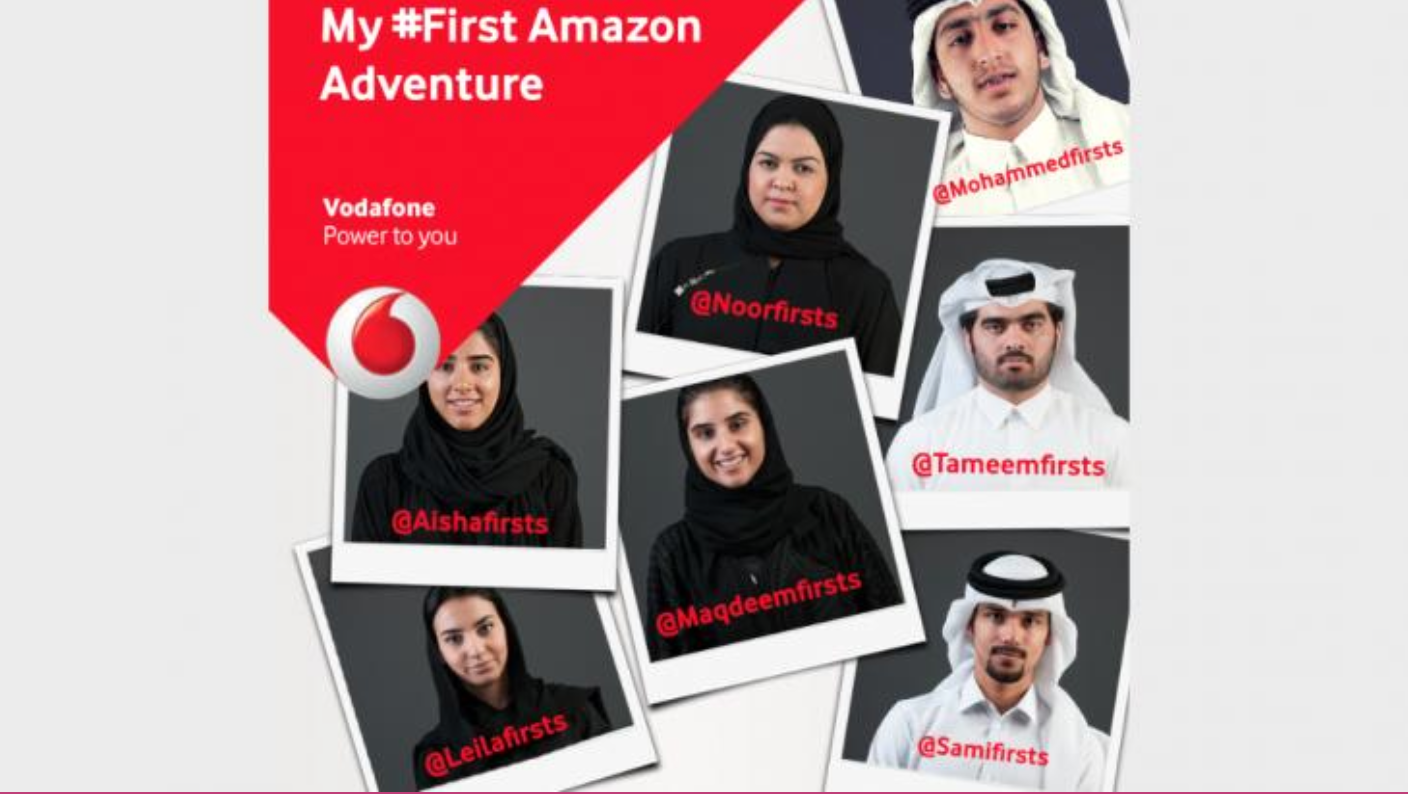 A screenshot of Vodafone publicity material showing participants in traditional Qatari attire, along with their Twitter handles—many of which have since been deleted.
This criticism has led Vodafone to withdraw its name from the project, citing a "commitment to seeing Vodafone Qatar providing the best services and initiatives that are suitable to the norms and values of Qatari culture," Vodafone Qatar officials said.
"This decision to completely withdraw from this project and cease all kinds of support to it reflects our Chairman H.E Sheikh Dr. Khalid Bin Thani Al Thani's commitment to seeing Vodafone Qatar providing the best services and initiatives that are suitable to the norms and values of the Qatari culture."
The officials added: "We will have no responsibility of this initiative from here on in. This initiative will now be the sole responsibility of the production company overseeing the project." 
This decision left Mediadante with sole responsibility for the project—and Vodafone also appears to have scrubbed all record of the project's existence from its Qatari site, with the advertised website address "vodafone.qa/amazonfirsts" now redirecting to a '404 not found' page.
The participants trekking through the mountains in Brazil.
The actions of Vodafone and the attitudes of the Qatari conservatives are not without their critics. One Doha resident Gulf News spoke to, a journalism student named Alanoud Al Thani, said the events as highlighting a "vocal minority" characterized by intolerance. 
Furthermore, Alanoud alleges that "by deciding to agree with the minority who are calling these women non-Qataris and unfit Muslims for showing their hair," the telecoms company has "shown that its moral are against that of personal freedom despite claiming their telecom services have assisted women in developing countries." 
Other critics are taking to social media to vent their frustration, with many hijacking the project's #QatarFirsts hashtag.
I just want the public to know how much @VodafoneQatar screwed it up for us girls in Qatar and our charity work. #1

— Shaima Sherif #e2e (@ShaimaSherif) August 19, 2014
Wait until the foreign media pick up on this #Qatarfirsts issue. It will bring more negative & unnecessary attention to #Qatar & #Qatar2022.

— Ola Diab (@diab_ola) August 20, 2014
Lost my respect for @VodafoneQatar, nobody on that trip did anything wrong and instead of supporting them you fall under pressure -_-

— Moza ~ موزة (@Moza_ALThani) August 17, 2014
. @VodafoneQatar sad to c that u hav abandoned these girls and boys who hav put so much effort in2 doing so much good. Where's the support?

— Ahoud H. Al-Thani (@AhoudAlThani) August 17, 2014
A blog post on Mediadante's site obliquely references the controversy, saying that the participants in the challenge have "seen everything written about them in the press and online," and following a "great discussion about what to do over the next weekend," the group "began what they came there to do… building the school."
"Some leading members of Qatari society gave them a call and offered their support," the post adds.
The participants will return to Qatar on Thursday, Aug. 28, to an uncertain welcome.
Vodafone did not respond to multiple requests for comment.
H/T Gulf News | Photo via Jimmy Baikovicius / Flickr (CC BY-SA 2.0) | Remix by Jason Reed