On May 30, T. Greg Doucette, a criminal defense lawyer from Durham, North Carolina, compiled 10 instances of police brutality he saw online from across the country during demonstrations in the days following George Floyd's death. 
The thread quickly went viral, and as moments such as these continued to appear online, Doucette added them to his compilation.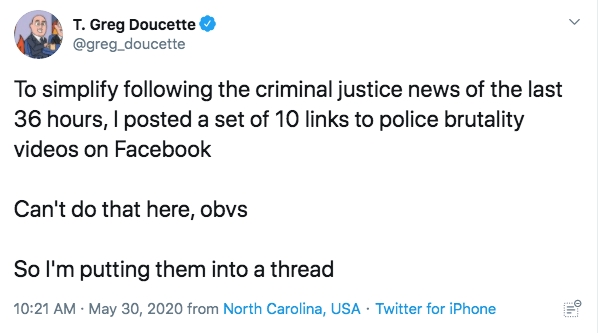 One contributing factor to the felt chaos of the last week was the absence of a singular event or viral video for public consciousness to fully focus on. Rather, every day recently is met with an onslaught of shocking videos. Doucette's thread sought to at least gather all of these separate incidents into one place.
Late June 9, Doucette decided to finally put the police watchdog thread on a break. After 10 days of demonstrations, Doucette had compiled 444 instances of police brutality, over 40 recorded instances of police brutalizing protesters per day.
"Hi. You're probably seeing this pinned tweet because cops are rioting nationwide and I'm trying to keep track. I'm currently on break," writes Doucette in an explanation to the followers he's accrued.
It is unclear if Doucette will continue the thread as demonstrations continue. Doucette did not immediately respond to the Daily Dot's request for comment.
Despite this declaration, Doucette appears to still be providing updates as recently as this afternoon. At the time of publication, Doucette has reached incident number 448 of police brutality and is still providing updates to prior incidents but has slowed down considerably in his coverage.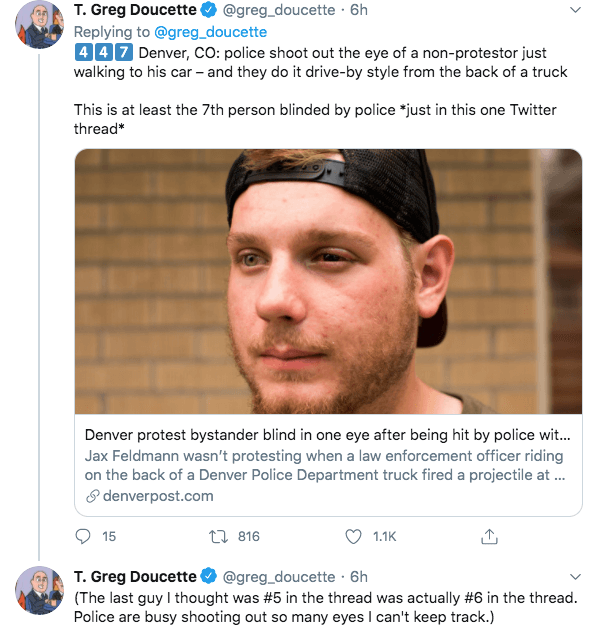 Doucette, who describes himself as a "Never Trump Conservative," has been very vocal on the toxic culture he believes has fully pervaded police departments and "cop culture" nationwide.
"I have been sharing stuff on social media about police misconduct for more than a decade. I'm politically conservative, was a Republican for most of my life and left in 2016. I've always had a real problem with government abuse," he said in an interview with the Los Angeles Times.
Doucette explained his motivation for creating the thread in the first place. "When I've shared this stuff in the past, when you do it one at a time, you get the same responses: 'the victim was no angel,' the officer was just one bad apple,' blah blah blah."
It is currently unclear if Doucette's "break" was more of a prematurely declared hiatus or if the thread will continue to grow or not. Regardless, 448 recorded instances of police brutalizing protesters in one location is an invaluable resource for evidence of how demonstrators have been treated by police during this time.
READ MORE: