For the first time, Twitter is censoring an account in a certain region rather than suspending it outright.
The company capitulated to a German government request that a neo-Nazi account be blocked. The @hannoverticker account belongs to Besseres Hannover ("Better Hannover"), a right-wing extremist group which has been banned in the German state of Lower Saxony, and is currently the subject of a criminal investigation.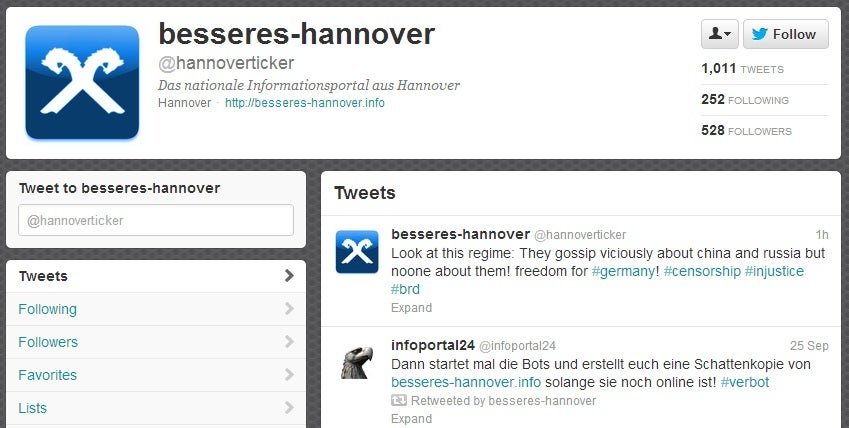 In a letter sent by the head of Hannover Police to Twitter in late September, it was noted that the group has been disbanded and its assets have been seized. The force also sought to have all the group's social networking accounts shut down.
"We announced the ability to withhold content back in Jan. We're using it now for the first time re: a group deemed illegal in Germany," tweeted Alex Macgillivray, general counsel for Twitter.
It is somewhat curious as to why Twitter opted to block those tweets in Germany alone rather than shut it down outright as it has done with accounts containing illegal content in the past, especially since Hannover Police asked it to "close this account immediately."
Macgillivray gave some insight into why this was the case. "Never want to withhold content; good to have tools to do it narrowly & transparently," he wrote.
Twitter's policy on country-withheld content states:
[O]ur goal is to respect our users' expression, while also taking into consideration applicable local laws.

Many countries, including the United States, have laws that may apply to Tweets and/or Twitter account content. In our continuing effort to make our services available to users everywhere, if we receive a valid and properly scoped request from an authorized entity, it may be necessary to reactively withhold access to certain content in a particular country from time to time.

We strongly believe that the open and free exchange of information has a positive global impact, and that the Tweets must continue to flow.
Back when Twitter announced the granular controls for blocking content in a specific country, it said the approach "is a good thing for freedom of expression, transparency, accountability— and for our users. Besides allowing us to keep Tweets available in more places, it also allows users to see whether we are living up to our freedom of expression ideal."
At the time, it noted pro-Nazi content in France and Germany (where such material is illegal) as examples where tweets might be withheld locally.
It remains to be seen whether further country-specific bans are imminent, especially since Twitter has been under scrutiny from groups and individuals in France and Australia recently. This week, a number of French anti-racism groups said they were exploring legal action over a number of anti-Semitic jokes shared in the community.
Meanwhile, an Australian minister accused Twitter of acting like it was "above the law" after it refused to hand over personal information it held on those accused of sending hateful, inflammatory messages to several high-profile people in the country. The company later pledged to work closely with officials in Australia.
Back in June, Twitter CEO Dick Costolo said the company would take measures to clamp down on hate speech.
Twitter isn't alone in having a local censorship policy. Google's Blogger network does too, with country-specific Web domains allowing it to hide content deemed illegal in one region while allowing the rest of the world to view it.
Several Besseres Hannover members have been charged with inciting racial hatred and starting a criminal organization. They're accused of threatening immigrants, distributing racist material at schools, and sending a threatening message to Lower Saxony's social affairs minister, whose family is of Turkish descent.
Photo by comcinco/Flickr