The fight over judge Brett Kavanaugh's nomination to the Supreme Court is playing out on a number of fronts. But on Twitter, over the weekend the argument's took a bad faith twist, as far-right conservatives tried to paint liberals as advocating for the murder of the nominee.
#KillKavanaugh began spiking over the weekend, after a couple tweets using it were noticed by popular conservative pundits, who expressed outrage.
https://twitter.com/kristinamcaruso/status/1045894848795070464
In normal times, "Kill" would be taken as it was meant, meaning spike or defeat, a phrase often used on Capitol Hill to describe defeating unpopular legislation.
But because of discussion about conservatives being censored on social media, and the large, overarching conversation about liberal bias in Silicon Valley, far-right tweeters tried to frame it as people were tweeting not about how they wanted Kavanaugh to fail in the Senate, but rather they wanted the man dead.
The hashtag story was amplified over the weekend by Instapundit, a conservative blogger, who was upset that it cropped up in trending tags.
https://twitter.com/instapundit/status/1046494459620405248
That Twitter would push a hashtag that conservatives say advocates violence (even though they know it doesn't) was enough to rally the masses online about Twitter and its founder, Jack Dorsey, being biased.
@jack this is fucked up… the 1st thing that pops up in auto fill when you type hashtag and kill… it says #KillKavanaugh. I think you @jack should be held accountable if something happens to Kavanaugh! pic.twitter.com/vwnoDL51e5

— Fester (@Fester802) October 1, 2018
https://twitter.com/MelaniaTrump666/status/1046496660539486208
How long will it take Twitter @jack to ban the #KillKavanaugh hashtag?

— Sierra Faith (@sierrafaith) September 30, 2018
https://twitter.com/wyliesau/status/1046713390322905088
Why is #KillKavanaugh allowable on Twitter?
Ffs

— Saltine-American λ (@S4m_Hyd3) October 1, 2018
https://twitter.com/mikewaters/status/1046545549699293185
A recent tweet from @TwitterSafety cropped up in the discussion, with conservatives pointing it out how it seemed to expressly discuss and forbid what was happening the #KillKavanaugh hashtag.
https://twitter.com/instapundit/status/1046749082574888960
Dehumanizing speech ? What a joke. We all know you will only enforce this on Conservatives and not liberals.

They can call us every name in the book and nothing happens. Calling someone a racist or a bigot or a nazi is dehumanizing but you allow it to happen anyway. https://t.co/j3NaMGCptU

— OakTown ☢ Unfiltered (@hrtablaze) September 30, 2018
What a bunch of garbage. You allow #KillKavanaugh to autofill & trend. Yeah… you care about safety, we can all see that. I reported 3 accounts with scary tweets under this h/t 36 hours ago, yet all 3 accounts are still active & tweets not removed. #DoubleStandards much? https://t.co/SQOsuctVQh

— Kathleen (@Calibamawife) October 1, 2018
People were also upset how quick it popped up online, noting that after typing "Ki," the first suggestion was "#KillKavanaugh."
https://twitter.com/akaplenko/status/1046544787527139328
However, conservatives themselves are partially to blame, as the number of them tweeting furiously about #KillKavanaugh is what helped amplify the hashtag over the weekend.
The initial liberal tweets about Kill Kavanaugh were from relatively small accounts, ones that wouldn't have brought the hashtag to the forefront.
https://twitter.com/womensportsfilm/status/1045836006920937472
I'll say it #KillKavanaugh

— Don "Do Us A Favor" Williamson (@DonWilliamson3) September 4, 2018
Those tweets were flagged as "hundreds" of examples, by a Twitter user, which helped spread a message that didn't really exist.
https://twitter.com/kristinamcaruso/status/1045894848795070464
Unless Twitter has deleted tweets regarding the hashtag, there were all of four tweets using the hashtag heading into the weekend.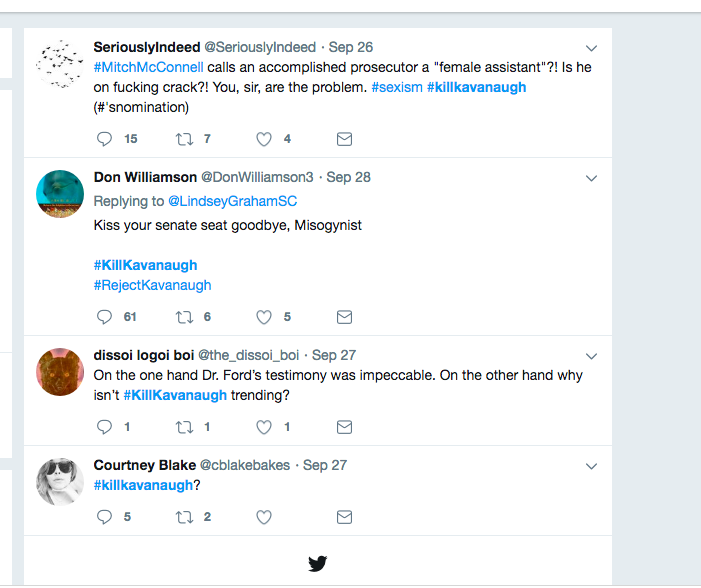 It looks like conservatives brought the hashtag to the national consciousness through their anger about it, as opposed to hordes of liberals hollering that Kavanaugh be killed.
@jack why do you allow #KillKavanaugh ? https://t.co/BQzqmfa9Pg

— CrossEyed (@CaliforniaSun30) September 29, 2018
Twitter did not immediately respond to a request for comment.