Fox News host Tucker Carlson has taken aim at New York Times journalist Taylor Lorenz after she spoke out this week against the harassment she's received online.
In a tweet on Monday, Lorenz stated that her life had been "destroyed" by a targeted smear campaign over the past 12 months.
"For international women's day please consider supporting women enduring online harassment," Lorenz tweeted. "It's not an exaggeration to say that the harassment and smear campaign I've had to endure over the past year has destroyed my life. No one should have to go through this."
While many reporters rushed to Lorenz's side, others took issue with her remarks.
Prominent journalist Glenn Greenwald, for example, accused Lorenz of playing the victim and exaggerating her plight.
"Taylor Lorenz is a star reporter with the most influential newspaper in the US, arguably the west," Greenwald tweeted. "Her work regularly appears on its front page. Her attempt to claim this level of victimhood is revolting: she should try to find out what real persecution of journalists entails."
Greenwald further suggested that Lorenz should all but expect the backlash she has received given her involvement in "polarizing political debates."
David Burge, a popular Twitter user and writer, likewise criticized Lorenz's commentary and accused her of being overly privileged.
"I'm no good at being noble, but it doesn't take much to see that the problems of 7 billion little people don't amount to a hill of beans compared to the troubles of the NYT's social media tattletale wealthy white girl from a $90k Swiss boarding school," Burge wrote.
Lorenz declined to comment to the Daily Dot. In a podcast, she previously said she attended a small Swiss boarding school, the cost of which is unverified.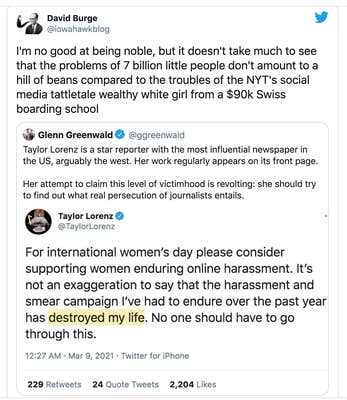 The back-and-forth online ultimately caught the attention of Carlson, who responded by devoting air-time to the issue on his highly-viewed cable news show.
In a segment on Tuesday, Carlson began by arguing that Lorenz was "at the very top of journalism's repulsive little food chain" before accusing her of blowing the harassment she has received out of proportion.
"Lots of people are suffering right now, but no one is suffering quite as much as Taylor Lorenz is suffering," Carlson said sarcastically. "People have criticized her opinions on the internet and it destroyed her life. Let's pause on this International Women's Day and recognize that. You thought female Uyghurs had it bad, you haven't talked to Taylor Lorenz."
Carlson's segment was immediately met with backlash by supporters of Lorenz. Many also suggested that Carlson's repeated use of Lorenz's full name throughout the segment was aimed at inciting further harassment.
Steve Peoples, a reporter with the Associated Press, called Carlson's remarks "dangerous and disgusting."
"Someone asks for help after suffering online harassment, and this man mocks her in prime time — using her full name five separate times — in an obvious attempt to encourage more harassment," Peoples said. "We are better than this."
But once again, detractors argued that she is not above criticism given her prominent position in the world of journalism.
Zaid Jilani, another popular Twitter user and writer, noted his issue with harassment but disagreed with the interpretation of Carlson's reporting.
"I don't agree with any form of harassment, but this is a reporter in the most prominent newspaper in the Western world, you're acting as if he doxed a woman working the cash register at Target," Jilani wrote. "Public figures disagree with each other."
But its clear Carlson's words had their desired effect.
Lorenz appears to have drawn the ire of her critics last month after incorrectly accusing entrepreneur Marc Andreessen of using offensive language during a discussion on the voice chat app Clubhouse.
Lorenz later admitted that she had wrongly attributed the comment to Andreessen and has been accused of being a "tattletale" journalist by her detractors ever since.
Editor's note: This story has been updated for clarity and context.
---
This week's top technology stories