Retweeting anti-Muslim videos wasn't the only thing President Donald Trump had on his mind this morning.
In the wake of Matt Lauer, the host of the Today Show, being fired for "inappropriate sexual behavior in the workplace," Trump called for an investigation into an "unsolved mystery" surrounding MSNBC pundit and Morning Joe host Joe Scarborough, with whom he's publicly feuded with in the past.
But the "unsolved mystery" Trump alluded to has been solved for years.
"So now that Matt Lauer is gone when will the Fake News practitioners at NBC be terminating the contract of Phil Griffin? And will they terminate low ratings Joe Scarborough based on the 'unsolved mystery' that took place in Florida years ago? Investigate!" the president wrote. (He technically wrote it twice after misspelling "that" in the first version of the tweet, which he deleted.)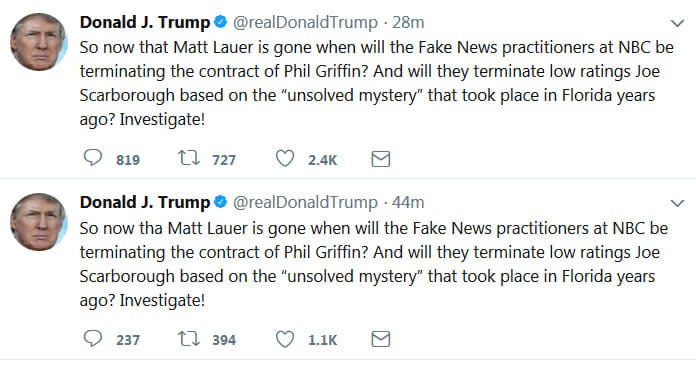 Trump apparently was referring to Lori Klausutis, a 28-year-old intern who was found dead in Scarborough's office in 2001 when he was a Florida congressman.
There is zero evidence Scarborough had anything to do with Klausutis' death. A medical examiner in Florida found that Klausutis "lost consciousness because of an abnormal heart rhythm and fell, hitting her head on a desk," the St. Petersburg Times reported in August 2001. Klausutis was killed when she hit her head on the desk.
Scarborough responded to the president's tweet shortly after, calling him "not well."
"Looks like I picked a good day to stop responding to Trump's bizarre tweets. He is not well," Scarborough wrote.
Looks like I picked a good day to stop responding to Trump's bizarre tweets. He is not well. https://t.co/XJhW5ZHNfs

— Joe Scarborough (@JoeNBC) November 29, 2017
Scarborough and fellow Morning Joe host Mika Brzezinski have been frequent targets of the president's Twitter tirades. In July, Trump sent out a number of crude and sexist tweets about Brzezinski "bleeding badly from a facelift" during a meeting between the three of them at his Mar-a-Lago resort. Photos of Brzezinski debunked Trump's claim. Trump also called Scarborough and Brzezinski "crazy, "fake news," and "dumb as a rock."
Morning Joe's ratings soared after Trump assailed them.