Yesterday, in the wake of a rally in Grand Rapids, Michigan, President Donald Trump tweeted out several images from the event.
MAKE AMERICA GREAT AGAIN! https://t.co/Y6UPREMY7u pic.twitter.com/6r7wdYDf66

— Donald J. Trump (@realDonaldTrump) March 29, 2019
One photo taken outside Van Andel Arena shows a crowd of people holding signs that read "Jobs Jobs Jobs." Among them is one very clear "Q" sign, which supporters of the far-right conspiracy theory have brought to Trump rallies before.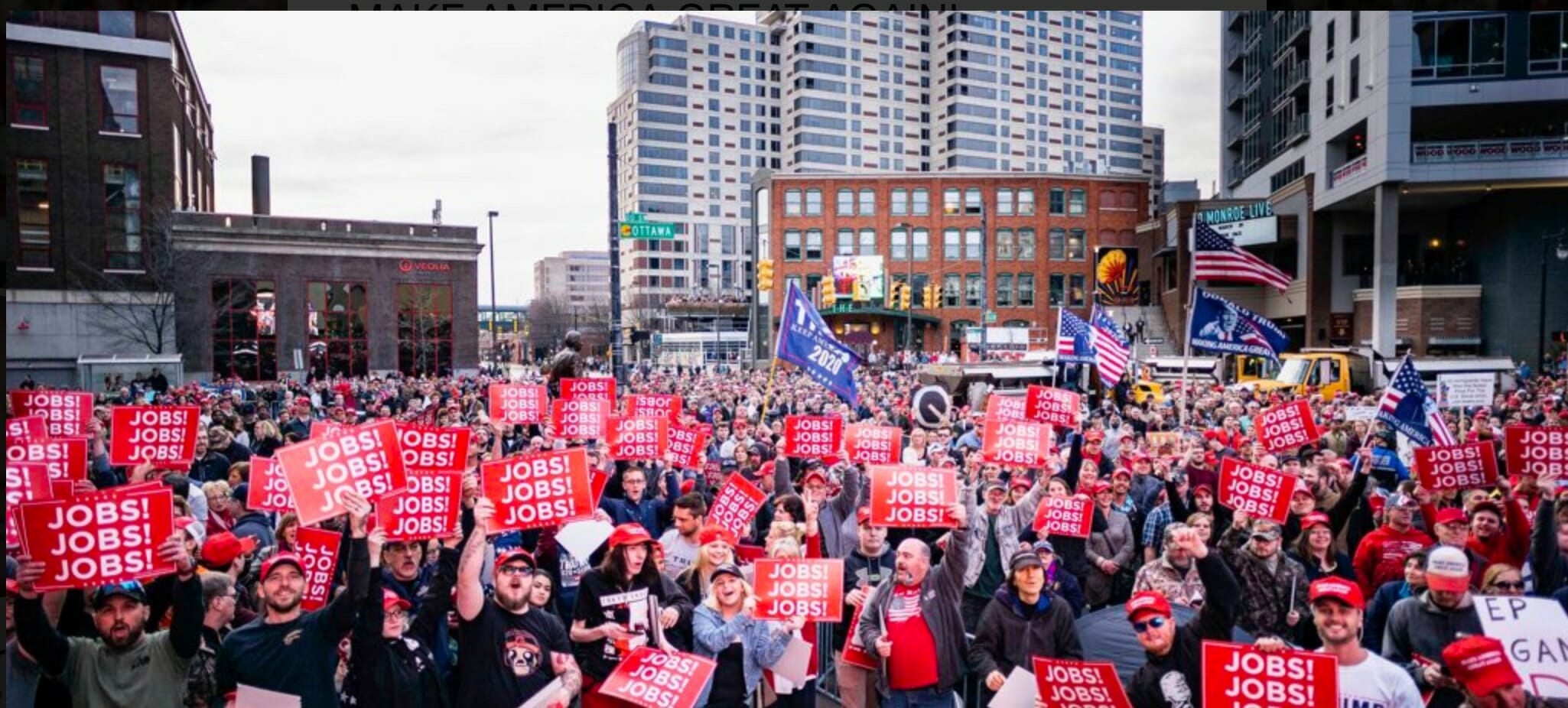 This is the third time in two weeks that Trump's Twitter account has dabbled with the QAnon conspiracy, which posits that the president is secretly working to take down a ring of pedophiles deep within the government—who are all Democrats.
On a wild Twitter bender several Sundays ago, Trump retweeted a user with a Q avatar in their account. Then, he retweeted a video shared by Deep State Exposed, a Q believer, which came to the president by the way of James Woods and Larry the Cable Guy. (The White House did not respond to the Daily Dot's request for comment on these matters.)
But regardless of whether or not Trump even noticed the Q in the photo, supporters of the movement took it as a clear sign that their nearly two-year-long belief was finally being recognized by the president (who they also secretly believe might also be the pseudonymous poster himself).
https://twitter.com/untaughtArtist/status/1111611327536156673
https://twitter.com/WE_R_GODLIKE/status/1111518992588402689
https://twitter.com/EyesOnQ/status/1111532600747835393
https://twitter.com/ABOwarrior/status/1111475880558280704
In recent months, the Q conspiracy has grown increasingly violent, with several supporters arrested for murder. And in the wake of the Christchurch shooting, the person posting as Q was accused of posting a hit list of prominent Democrats.
The movement also spent the past week doxing a woman, theorizing about how she may be involved in several murders, without offering any proof.