Think "covfefe" was just a presidential typo there, snowflake? Think again.
Outspoken supporters of President Donald Trump say they have cracked the true meaning of "covfefe"—a collection of letters Trump tweeted just after midnight on Wednesday—which they say adds proof that the commander-in-chief is playing everyone who thinks it was simply a thumb-typed spelling error.
In case you've already lost track of what's happening, Trump tweeted (then later deleted) this tweet on Wednesday morning: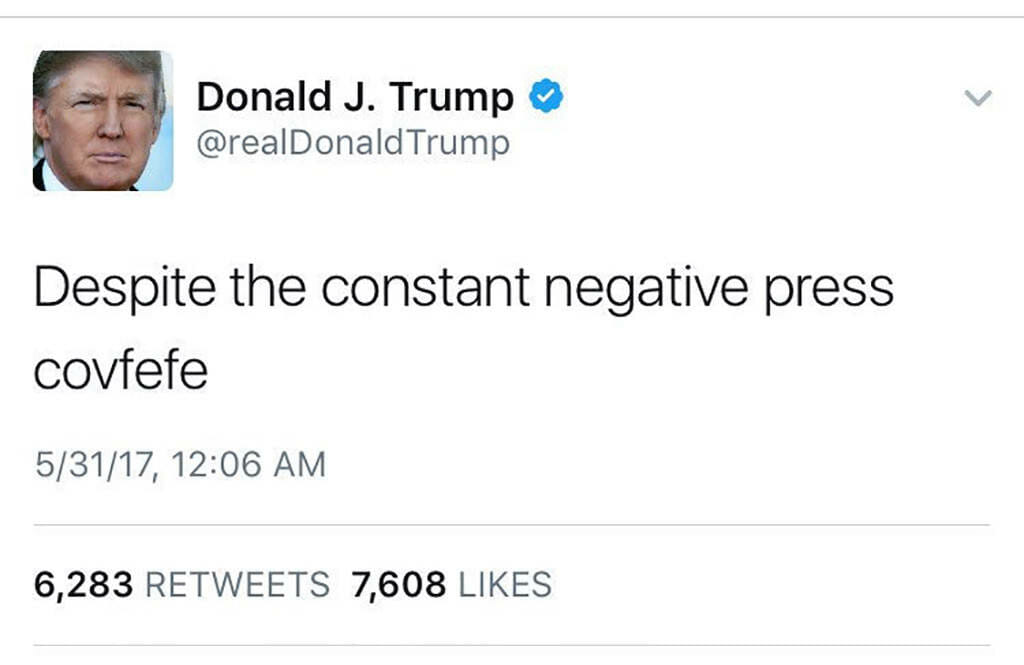 The tweet—which remained online for hours—sparked a frenzy, with wall-to-wall coverage on news outlets, memes and jokes, and a lot of people asking, what the hell does covfefe mean?
Curiosity around the meaning of covfefe percolated to the highest levels of government by Wednesday afternoon, with reporters repeatedly asking Press Secretary Sean Spicer what the president really meant. Spicer's response only added to the mystery: "The president and a small group of people know exactly what he meant."
That implies that covfefe meant something—not just being a misspelling of, say, "coverage."
According to some Trump supporters, the president was actually speaking Arabic.
The theory may have first appeared on Reddit's r/The_Donald community late on Wednesday, but it began to circulate on other social media networks around the same time. Speculation quickly turned to the possibility that Trump was responding to the deadly bombing in Kabul, the capital of Afghanistan, which left 90 people dead and approximately 400 others injured.
https://twitter.com/CassandraRules/status/870193999348473858
Decoded: Covfefe means "I will stand up" in Arabic

10/10 troll, gg Trump pic.twitter.com/TK57lHrmiw

— William Craddick (@williamcraddick) June 1, 2017
If you type "cov fe'fe" into Google translate, it will detect Arabic and translate it to "I will stand up". Covfefe#CovfefeGate 12DChess pic.twitter.com/pbH7MIjuia

— Random Name (@lostmyshoes01) June 1, 2017
https://twitter.com/GeorgiaDirtRoad/status/870296280903417857
It is true that typing "cov fe'fe" into Google Translate will tell you it means "I will stand up" in Arabic. It is also true that Trump's tweet was posted within minutes of the first reports of the Kabul bombing.
Thing is, "I will stand up" in Arabic is not usually written "cov fe'fe." The phrase is actually written "سوف أقف" or "sawf 'aqaf." Go ahead, Google it. (It appears Google's translation of the phonetic English of "cov fe'fe" is mixing things up.)
All of this also ignores the fact that Trump did not write "cov fe'fe"—he wrote "covfefe," which means nothing in any language. So, no, Trump was likely not saying he stands with the people of Kabul as they suffer at the hands of terrorism.
The White House did not respond to our request for comment on this theory.