President Donald Trump and North Korean leader Kim Jong-un's historic meeting on Tuesday resulted in a concession from the United States and an initial agreement to work toward the goal of denuclearizing North Korea's missile arsenal.
After signing the agreement, the president said it was time to "write a new chapter" between the United States and North Korea.
"I want to thank Chairman Kim for taking the first bold step toward a bright new future for his people," Trump said. "Our unprecedented meeting–the first between an American president and a leader of North Korea–proves that real change is indeed possible… We're prepared to start a new history and we're ready to write a new chapter between our nations."
The agreement says the United States will provide "security guarantees" to North Korea and, in exchange, the country will commit to "work toward complete denuclearization of the Korean Peninsula." The United States will also suspend joint military exercises with South Korea, the New York Times reports.
Trump said the agreement will begin "as soon as possible." The two countries have also committed to having follow-up negotiations, according to the agreement.
Here's the full joint statement released by the White House.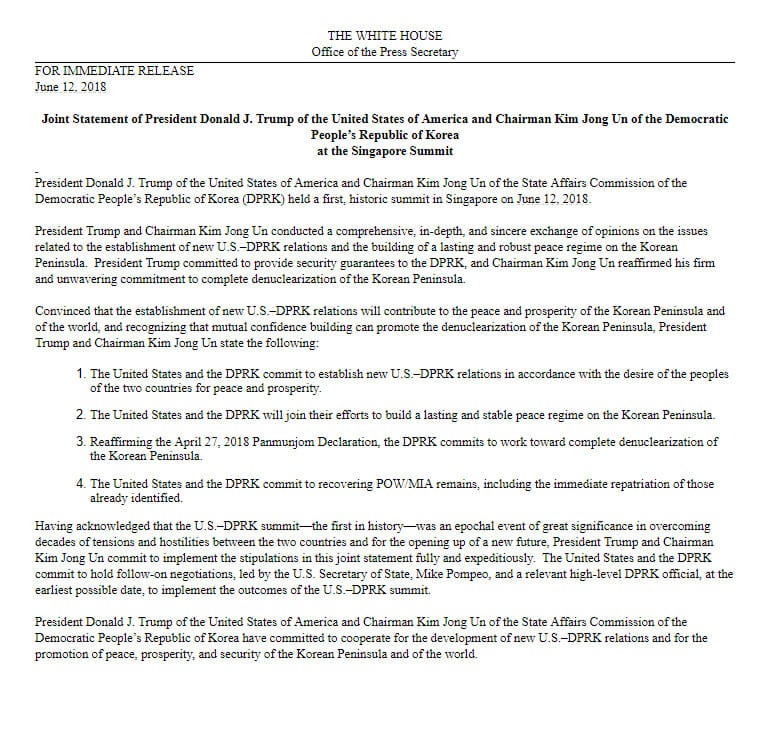 The president said the denuclearization would be "verified" by "combinations" of officials from the United States and other countries.
READ MORE: 
Correction 9:45am CT, June 13: This article has been updated to remove a typographical error in the North Korean leader's name.