No matter who wins the 2020 election, a bedrock of the modern internet will still be a target.
While President Donald Trump's social media executive order has generated the most attention for looking to meddle with Section 230 of the Communications Decency Act, it seems likely that internet's liability shield would still be in the crosshairs under a potential Joe Biden administration.
Section 230 acts as a shield for websites over what is posted on them by third parties. It's been called "one of the most valuable tools for protecting freedom of expression and innovation on the internet," and "the 26 words that created the internet."
The law essentially allows for posts on social media, or a forum, or a comments section to be hosted by websites. Without the law, websites would be liable for the content that is posted on them by users.
But despite this importance, bashing Section 230 has suddenly become a popular position among lawmakers on both sides of the aisle—both on the presidential level and in Congress, which has introduced a number of bills that seek to change or redefine the law and how it applies to websites.
Trump's order, which is already facing legal challenges, targets Section 230 directly and asks the Federal Communications Commission (FCC) to "clarify the provisions" of the section. The FCC is just wrapped up collecting public reply comments regarding the order.
Critics have pushed back against any changes to the section, with Reddit telling the FCC in its public comment that changes to the law "would change the very trajectory of the internet."
While Trump's order has absorbed much of the focus—based on past statements, it doesn't look like Section 230 would be safe under a potential Joe Biden administration.
Section 230 will be under attack no matter what happens in the next election—and that's a problem, experts say.
"Section 230, I think, is a prime example of something where the discussion around it is less and less about what it actually does, and what the problems are, and what we should do about it; and more and more about politicians posturing and using it sort of as a scapegoat to score political points in ways that I think are dangerous to our democracy," Evan Greer, the deputy director of Fight for the Future, told the Daily Dot.
Joe Biden's views on Section 230
Trump's stance on the issue is clearly evident given his executive order.
Trump's social media executive order purports to be in response to perceived anti-conservative bias by social media companies. He signed it shortly after Twitter fact-checked some of his posts about mail-in ballots.
The order asks the FCC to "clarify" whether websites can lose Section 230 immunity if they are not acting in "good faith," as the law says, when they moderate content. The order asks whether moderation is in "good faith" if they take actions that are "deceptive, pretextual, or inconsistent" with terms or service or are "taken after failing to provide adequate notice, reasoned explanation, or a meaningful opportunity to be heard."
By "good faith," Trump essentially means not censoring conservatives, a longtime complaint that isn't merited by facts.
Meanwhile, Biden also took a strong stance against Section 230 while on the campaign trail, like some other 2020 Democratic presidential hopefuls.
Biden's gripe with Section 230 seems to be about misinformation proliferating on platforms, arguing that the law allows them to host it without fear of reprials.
The former vice president was blunt about the law in an interview with the New York Times published in January, saying that it should be "revoked." Section 230 came up when Biden was specifically talking about Facebook allowing Trump to post false information.
"It should be revoked because it is not merely an internet company. It is propagating falsehoods they know to be false, and we should be setting standards not unlike the Europeans are doing relative to privacy," Biden told the Times. "You guys still have editors. I'm sitting with them. Not a joke. There is no editorial impact at all on Facebook. None. None whatsoever. It's irresponsible. It's totally irresponsible."
A few months before his interview with the Times, Biden said he thought "we should be considering taking away" Section 230 exemptions during a CNN interview.
"I, for one, think we should be considering taking away the exemption that they cannot be sued for knowingly engaged on, in promoting something that's not true," Biden said.
Meanwhile, his running mate also has a murky history on Section 230.
Sen. Kamala Harris (D-Calif.), who was chosen as Biden's running mate, was one of 22 senators who voted unanimously to advance the controversial EARN IT Act out of the Senate Judiciary Committee over the summer.
Lawmakers say the EARN IT Act aims to curb child exploitation online, but the bill has been fiercely criticized by civil liberties and tech advocates as a threat to encryption. The bill amends Section 230, much like FOSTA did. The EARN IT Act is just one of several bills in Congress that seeks to change Section 230.
A Biden campaign official told the Daily Dot Biden's views on Section 230 have not changed since his New York Times interview.
They also pointed out a statement from the campaign following Trump's executive order calling it an "extreme abuse of power," but added that the former vice president "believes that social media companies should be held accountable for disseminating content they know to be false, just as any other private company would be."
That statement also touched on Biden's issue with Section 230 in regards to misinformation: "It will not be the position of any future Biden Administration … that the First Amendment means private companies must provide a venue for, and amplification of, the President's falsehoods."
The campaign did not respond to follow-up questions about what a future Biden administration would do if Trump's executive order moves through the FCC.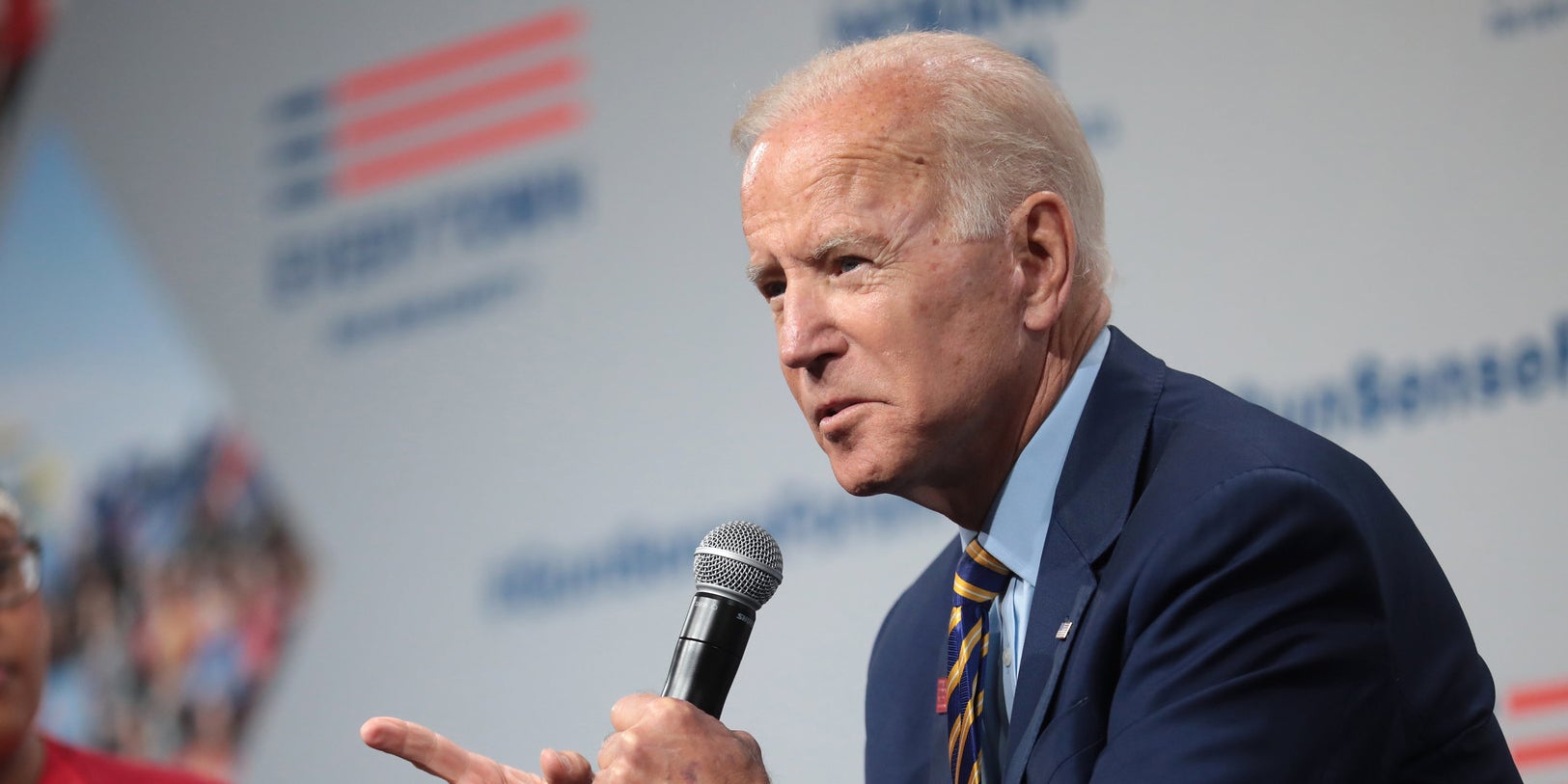 Other 2020 Democrats were outspoken about Section 230 on the campaign trail, including entrepreneur Andrew Yang.
Yang released a plan late last year that called for amending Section 230 to "reflect the reality of the 21st century."
The former 2020 hopeful was asked about both Trump and Biden calling for the section to be repealed by Politico last week. In response, Yang said that "you don't want to eliminate it altogether."
"But you need to try to create more constructive incentives through Section 230, where when things are falling into a gray area and could end up being a public detriment there is a legitimate cost or legitimate process [to address companies hosting such material]," he told the news outlet.
Yang added that he was hopeful that under a Biden-Harris administration "we can start to do the hard work of figuring out what Section 230 should actually look like in 2020 or 2021."
The election's importance for Section 230
While politicians and presidential candidates have used Section 230 as a political football, advocates have been sounding alarms about the impacts revoking or changing the law could have.
While much of the rhetoric surrounding changes to Section 230 has been on tech giants like Facebook, others have pointed out that the ramifications would go much further than that.
Reddit, in its official public comment to the FCC asking it to reject Trump's social media executive order, pointed out that changes to the section would leave moderators of its subreddit communities also open to liability.
Greer, of Fight for the Future, said the impact on everyday internet users would be immense if Section 230 was revoked. Fight for the Future is collecting public comments to submit to the FCC in reply to ones already left, urging the agency to reject Trump's social media order.
"There are clearly problems, and they clearly need to be addressed … But so far all of the proposals that I've seen seem to profoundly misunderstand what the law actually does and call for changes to it that would do more harm than good," Greer said, adding: "People are focused on the biggest tech companies understandably, like Facebook. Sometimes a lawmaker or a politician will offer a proposal because they're only thinking about how this will effect Facebook. They are not thinking about how does this effect some random forum site put up by a 17-year-old who has a 'we're fans of horses' blog or whatever?"
Emma Llansó, the director of the Free Expression Project at the Center for Democracy & Technology, felt similarly. The organization sued President Donald Trump over his executive order.
Llansó told the Daily Dot Section 230 has "unfortunately, become a political shorthand for a whole host of different, often contradictory, ideas for how to rein in big tech and address various issues with the online information economy."
The Center for Democracy and Technology is a 501(c)(3) and does not endorse or oppose any candidates.
"'Revoking Section 230' would lead many services to simply shut down, further concentrating power in the hands of a few large services wealthy enough to hire teams of lawyers. But it would also make those remaining services less willing to remove objectionable content for fear that they would end up in litigation over that decision—the original Moderator's Dilemma that Section 230 was designed to solve," Llansó said. "An online ecosystem that features more concentration of power and less responsiveness to abusive content is not a world that any politician should endorse."
While Biden and Trump both have raised the specter of revoking Section 230, or changing it, it does look like a potential Biden administration might look at other ways of doing so.
Trump went the executive order route, which Biden's campaign statement called an "extreme abuse of power." Meanwhile, a Biden spokesperson told the Verge in May that if elected, Biden would seek legislation regarding Section 230 to be passed. It seems inevitable that Trump would continue pushing his executive order if he's re-elected.
Either way, the 22-year-old law that many believe helped create the internet as we know it feels like it has a giant target on its back regardless of who wins the upcoming election.