President Donald Trump apparently doesn't like the term "deep state," which is used to describe the idea that factions within the government are working to undermine the president. But he has used the term quite a bit in the past, and as recently as Wednesday night.
In an interview with the Hill, Trump said he typically agreed with hosts on Fox News who use the term regularly, but also said he thought it sounded "conspiratorial."
"I don't like to use it because it sounds so conspiratorial, and believe it or not I'm really not a conspiratorial person," the president told the news outlet.
While the president may not like the tone "deep state" sets, he has used it on numerous occasions—including on Wednesday (the day the Hill published his remarks about the term).
In a tweet, the president praised a book by former Utah representative Jason Chaffetz, adding that it was "appropriately" titled The Deep State: How an Army of Bureaucrats Protected Barack Obama and Is Working to Destroy Donald Trump.
"Great new book by Jason Chaffetz appropriately called 'The Deep State.' Very interesting indeed!" he wrote.
Great new book by Jason Chaffetz appropriately called "The Deep State." Very interesting indeed!

— Donald J. Trump (@realDonaldTrump) September 19, 2018
But this isn't the first time the president has used the phrase on Twitter. A quick search shows the president has used the term "deep state" in tweets seven times since late 2017.
Most of the time, the president uses "deep state" like many others, to make the claim that there are factions within the government attempting to derail his administration.
One tweet, on Sept. 6, came shortly after an op-ed was published anonymously in the New York Times that claimed there was a "resistance inside the Trump administration."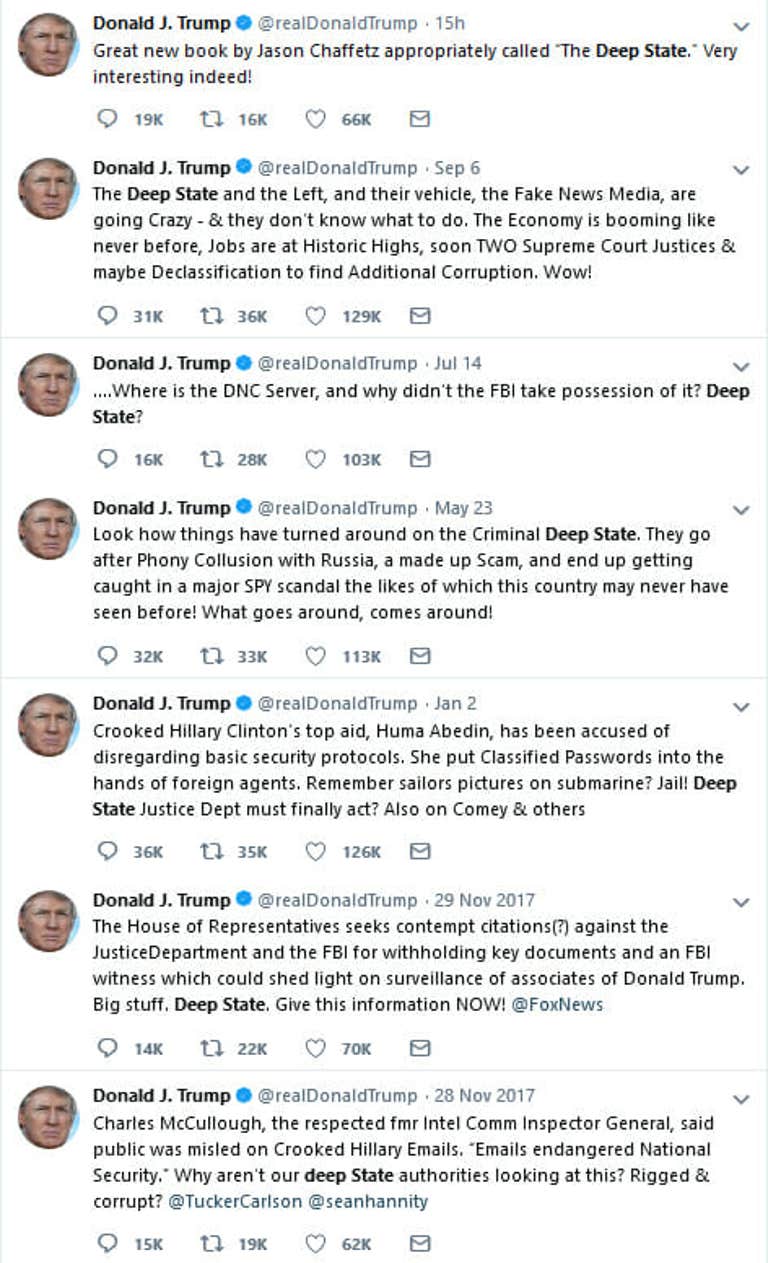 The president's son, Donald Trump Jr., has also used the term on Twitter, including three times in the past five days.
A poll in March found that less than 15 percent of those polled were very familiar with the term "deep state," but nearly 75 percent said the believed a "group of unelected government and military officials who secretly manipulate or direct national policy" exists, or probably exists.
READ MORE: