President Donald Trump is being widely mocked after he tweeted photos of White House Press Secretary Kayleigh McEnany handing a 60 Minutes anchor a binder full of blank pages that Trump insinuated to be a list of healthcare accomplishments.
Trump's interview with Lesley Stahl for the program was cut short by the president, evidently because the president thought she was asking tough questions, according to CNN.
As news of him leaving the interview early started circulating, the president then went on Twitter to attack Stahl, saying that he was considering posting the interview before it was scheduled to air and tweeting a five-second clip of Stahl not wearing a mask.
On Wednesday evening, Trump posted even more photos of the interview. Except this time, the series of photos showed McEnany handing over a large binder to Stahl.
"Kayleigh McEnany presenting Lesley Stahl (@60Minutes) with some of the many things we've done for Healthcare. Lesley had no idea!" the president tweeted.
However, one of the photos in particular has people thinking the whole thing was filled with blank pages. The photo that is convincing people shows Stahl looking at the binder, with what appears to be a blank page visible.
Here's the photo Trump tweeted: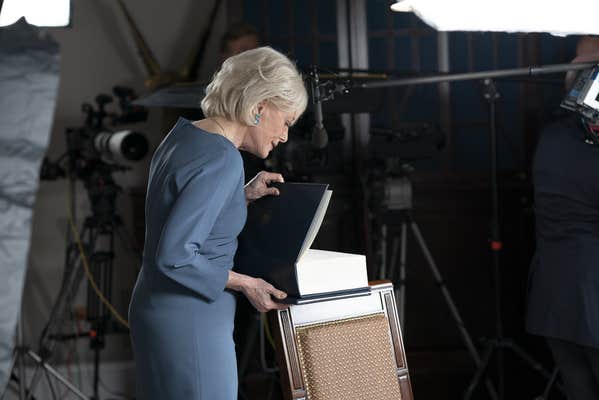 It's hard to say with certainty that the page—let alone the whole book—is blank, but regardless, the photo led to rampant speculation online about whether the rest of the binder was filled with blank pages and jokes about that possibility.
Even some members of Congress got in on the jokes.
"The blank pages may be a tad on the nose here…," Rep. Raja Krishnamoorthi (D-Ill.) tweeted.
Around the same time as Trump posted the series of photos that led to the mockery, he also tweeted out three other photos from the interview. It's unclear why.