President Donald Trump took to Twitter on Monday morning to celebrate his 500th day since taking the oath of office, rattling off a list of his accomplishments and near accomplishments.
However, a number of people online didn't feel the same celebratory emotions.
"This is my 500th. Day in Office and we have accomplished a lot – many believe more than any President in his first 500 days. Massive Tax & Regulation Cuts, Military & Vets, Lower Crime & Illegal Immigration, Stronger Borders, Judgeships, Best Economy & Jobs EVER, and much more…" the president wrote in a series of tweets. "….We had Repeal & Replace done (and the saving to our country of one trillion dollars) except for one person, but it is getting done anyway. Individual Mandate is gone and great, less expensive plans will be announced this month. Drug prices coming down & Right to Try!"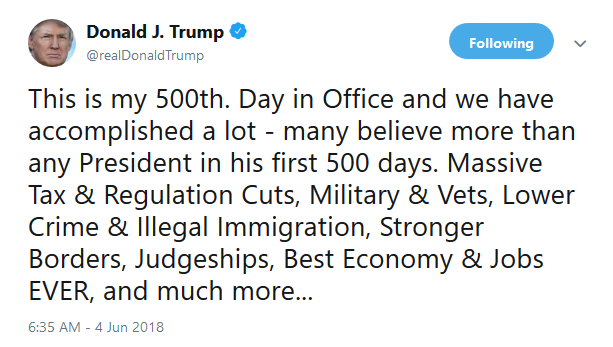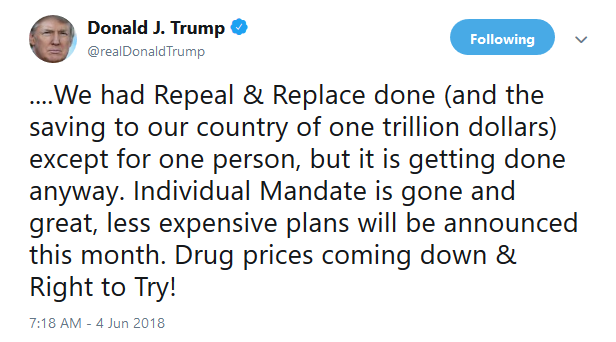 Trump—and thousands of his most ardent supporters online—were in a celebratory mood.
https://twitter.com/RepLeeZeldin/status/1003448505019654144
But many people on Twitter didn't share his warm and fuzzy feelings.
Some people replied to the president, claiming he was "illegitimate," and "traitorous," while others said they couldn't believe it had only been 500 days since he took office.
https://twitter.com/ParkerMolloy/status/1003279958825988096
500 days? It seems soooo much longer! #500TrumpDays #MondayMorning #FBR #FBRparty #Resist pic.twitter.com/xiMdj8fv83

— JBrooklyn (@lajorkm) June 4, 2018
It's 500 days of President #Trump today. Looks like the opposition has a clear idea of his eventual replacement. Sort of. pic.twitter.com/nQQpGvmgOx

— Arthur Honegger (@honegger) June 4, 2018
There are 155 days until the midterms.

Trump has been in office for 500 days.

Stop him in his tracks. Work. Vote.

— Hillary Warned Us (@HillaryWarnedUs) June 4, 2018
Today is 500 days of Trump. I'm going back to bed.

— Kristina Fontes (@Rosephan) June 3, 2018
I survived 500 days of Trump in office and all I got was this lousy ulcer.

— Bernie Butch (@BasicButchShow) June 3, 2018
tHiS is My 500tH. DaY in OfFiCE aNd We HAvE aCcOmPlIsHeD a LOt – MaNY bElIeVE mORe ThAN aNY prEsIDenT iN hIs FiRst 500 DaYs. mAsSiVe TaX & ReGulAtIoN cUtS, mIlITarY & VetS, LoWer CrIme & iLlEgaL iMmIgRatIoN, StrOnGeR bOrDeRs, jUdGeShIpS, BeSt EcONoMy & jObS eVEr, pic.twitter.com/8DmRB0tPwT

— Spongebob (@spongemock_bot) June 4, 2018
I think I've seen this movie before. 500 Days of Blunder

— noah (@noahbat) June 4, 2018
https://twitter.com/Ragnvald83/status/1003608911193296897
I survived 500 days of Trump in office and all I got was this lousy ulcer.

— Bernie Butch (@BasicButchShow) June 3, 2018
The 500-day mark will officially come at 12 pm ET on Monday afternoon.
READ MORE: