Despite its repeated assurances that it cares deeply—deeply!—about user privacy, Tinder doesn't actually do that much to ensure users are who they say are. Basically, all you have to do to prove your identity is log in through Facebook, select a few photos for your profile, and start swiping.
So when Kristin Shotwell, a 21-year-old student at University of North Carolina, discovered that her photos were posted on a fake profile for a Tinder user named "Kim," what's surprising is not so much that her identity was compromised, but that this kind of thing doesn't happen more often in the first place.
According to a post on her blog, Shotwell first discovered her photos were being used for a fake Tinder profile when her friends returned from a trip from Athens, Ga. Her friend said that while she was there, she found a girl named Kim on Tinder who was using Shotwell's photos. Here's a screengrab of Kim's profile: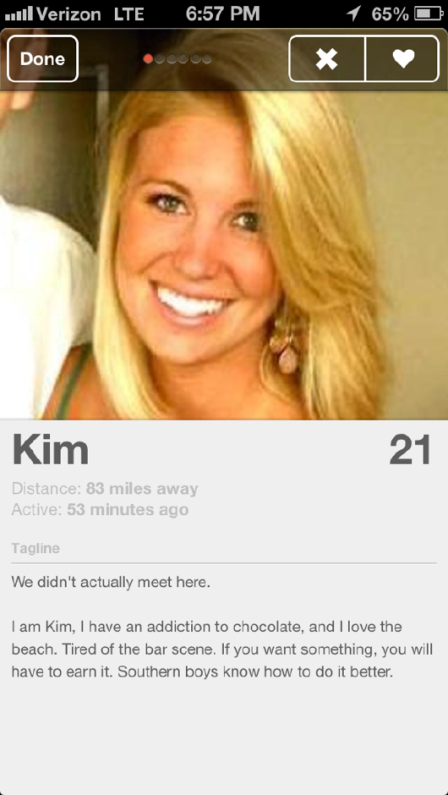 Screengrab via the New and Old: Internet Gold
"Of course, I laughed because the initial thought of the someone stealing your pictures online is kind of funny, right?" Shotwell, who doesn't have a Tinder, wrote.
It wasn't until later that "the idea of someone posing as me on the Internet, let alone a dating site, began to really creep me out." Because users can only access Tinder through their Facebook accounts, Kim must have set up a fake Facebook profile using Shotwell's photos to access the app.
Because Kim is located within an 80-mile radius of Athens, Ga., and Shotwell is based in North Carolina, unfortunately Shotwell can't try to find Kim on Tinder, because the app only lets you browse users by location. So she's calling on people to share her blog post and search for Kim's profile, so she can confront her on Facebook. "I know that this is a long shot, but if we could locate this impostor I could salvage my virtual identity," Shotwell writes.
This is not the first time someone has discovered their photos have been featured on a fake dating website profile. Most recently, adult performer Melissa Midwest and Florida bikini model Yuliana Avalos were named as lead plaintiffs in a class-action lawsuit against Match.com, after they discovered their photos had been posted on fake dating profiles without their permission (both women have since been dropped from the suit).
It's also far from the first time Tinder has taken flak for featuring fake accounts. Just last week, it was reported that the app was flooded with spambots, or fake profiles promoting the mobile game Castle Clash. In response to these reports, a Tinder spokesperson released a statement saying they were taking the necessary steps to delete the spam accounts, adding: "Ensuring an authentic ecosystem has always been and will continue to be our top priority."
H/T Fox 8 WGHP | Photo by jaymesisviphotography/Flickr (CC BY 2.0)