How many Twitter fails is it going to take before everyone realizes scheduling tweets isn't always the smartest idea?
Tesco was under fire this week after the Food Safety Authority of Ireland revealed the company was one of four British retailers selling burgers that included horse meat. The company may face fines for "misleading presentation of food to consumers."
Yet it seems no one bothered to take a second look at the tweets the company had scheduled. The @UKTesco account posted the following tweet Thursday evening: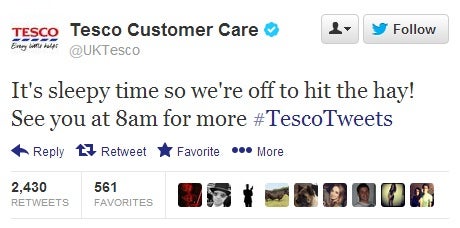 Some read this as Tesco making light of the situation (or maybe even horsing around, amirite?), and others suggested it was in bad taste.
"I'm terribly sorry. That tweet was scheduled before we knew of the current situation," an employee wrote in a reply to a follower Friday morning. "We'd never intend to make light of it."
There have been a number of cases where organizations have scheduled tweets in advance only to receive blowback when their promotional messages appear to be in poor taste following an unforeseen incident.
The NRA sent a poorly timed tweet soon after the Aurora, Colo., shooting last July. And so did this U.K.-based celeb boutique, which wasn't sure why #Aurora was trending.
Earlier in the week, it appeared a member of Tesco's customer service team was suckered by someone making reference to legendary race horse Red Rum.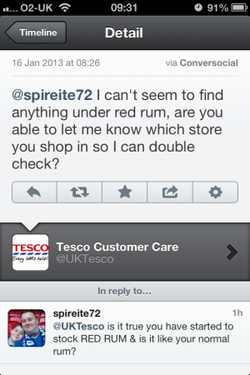 Screenshot via @CityJohn
Meanwhile, two people dressed as a horse and trotted into a Tesco store, yelling phrases like "murderers!" and "where's my mom?" The video was posted to Facebook, where it's seen more than 41,000 likes and 74,000 shares. 
(Disclosure: I worked for Tesco as a student. Second disclosure: We totally schedule our tweets.)
Photo by simoncrisp/Flickr