Youth is yet another alt-currency in Silicon Valley's strange and not-quite-parallel universe, but unlike Dogecoin, its value is soaring. As Facebook's iconic boy king hits 30, the definition of "recruitable talent" has shifted to fit a gilded age of absurdity and excess. In 2014, a CEO in a hoodie is old news.
A new report by Bloomberg suggests that tech giants are recruiting talent that's greener than ever. Apparently, fresh blood is increasingly tough to come by in the industry's hyper-competitive, incestuous culture bubble (yes, I said bubble).
Take the case of Michael Sayman, a 17-year-old iOS developer who Zuck himself took a shine to. Facebook hired Sayman on as a summer intern this year, and the precocious developer admits that he'd leap at a full-time position with the top dog social network. Sayman isn't a unique case. LinkedIn hires high school students into its summer internship program too, and Airbnb notably hired software developer Conrad Kramer, 16, last summer.
Most of these positions operate under the guise of "summer internships"—but don't think they're underpaid. A glance at data from Glassdoor shows that it's not unusual for internships to pay six figure salaries out to its bottom tier of employees.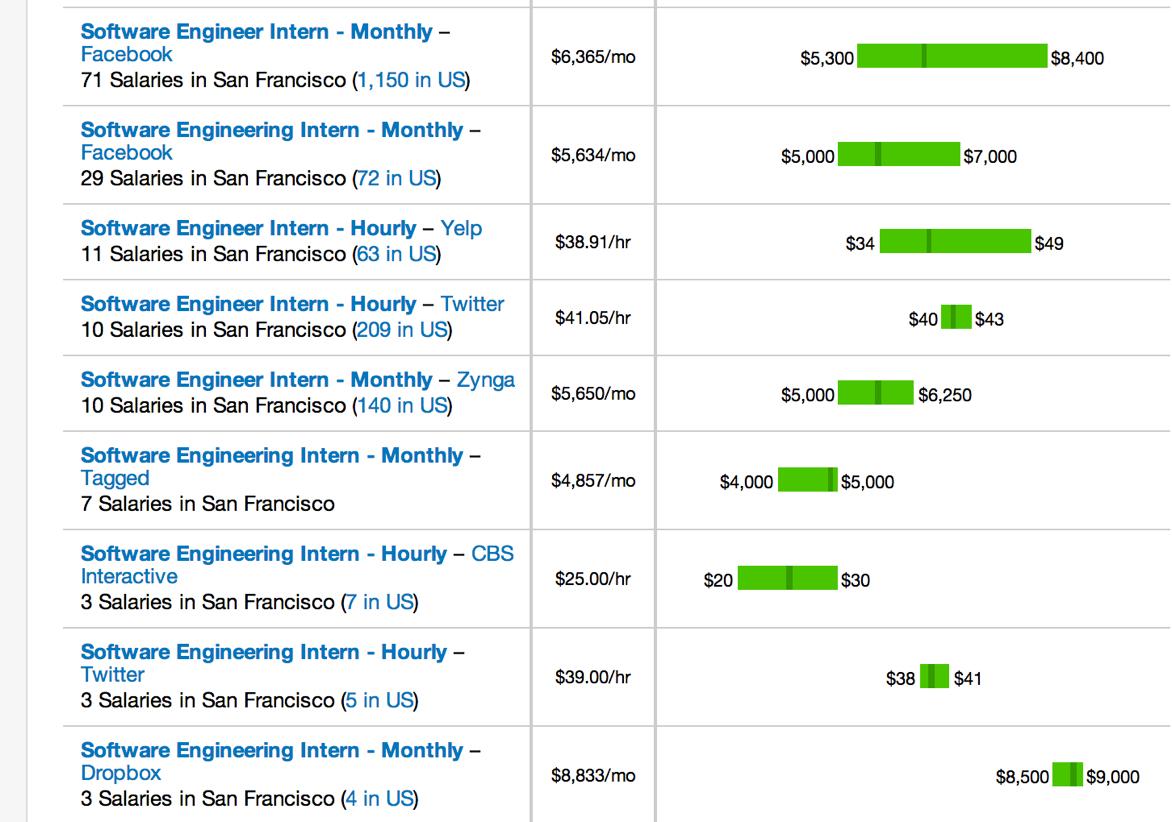 When I first followed @michaelsayman I thought he was a 28 year old Facebook engineer. How wrong I was.

— Nick Pomes (@NickPomes) June 25, 2014
As teens and tweens become the hot new chunk of the market, hiring young is as much about image as it is about bringing talent on board. Take the case of Nick D'Aloisio, who founded his social news startup at age 15 and sold it to Yahoo for a cool $30 million last year. D'Aloisio's app joined Yahoo's acquisition of Tumblr in the same year as a bid for credibility among young users.
It looks to be trending upward, but the practice of plucking young talent from the nest isn't exactly new. Paypal co-founder Peter Thiel has been luring students away from pesky traditional schooling with the contentious "20 Under 20" Fellowship since 2010. The  scholarship program awards $100,000 each to a lucky swath of teens willing to drop out of school (Who can say no to that?). Airbnb's youngest hire came straight from Thiel's program, which serves as a literal and proverbial fountain of youth for companies investing in tomorrow's CEOs. (It should be noted that a recent report says many of Thiel's 20 Under 20 want to go back to school.)
Poaching teens from the otherwise unglamorous slog of being a bright, young student sets a new bar for an industry obsessed with disruption at any cost. Even if paid far more generously than entry level employees in most industries, Silicon Valley's talented young interns aren't exactly in a position to make demands until they've hit it big, by which time they're already signed on. But that's far from the biggest problem.
With more companies growing young talent in-house, the tech industry's enduring disconnect from the real world is seeded even deeper into an already self-replicating culture. Much like any good product, the business of hiring minors before they have a taste of how the real world works is deeply disruptive. And just like many of today's otherwise promising apps, services and innovations, we don't yet know what kind of monster we're creating in the process.
H/T Bloomberg | Photo via SickestFame/Flickr (CC BY 2.0)