Tinder is the king of dating apps, but there are plenty of competitors eager to distinguish themselves. Down, for example, focuses on quality of matches over quantity, with more than half its matched couples meeting in real life. Hinge wants to set you up with your Facebook friends.
Sway, another dating app, is making itself known in a different way: Spamming people. As Forbes reports, Sway's tactics are making people angry. People who hadn't downloaded (or even heard of) the app have received emails saying one of their coworkers had a crush on them, inviting them to use Sway.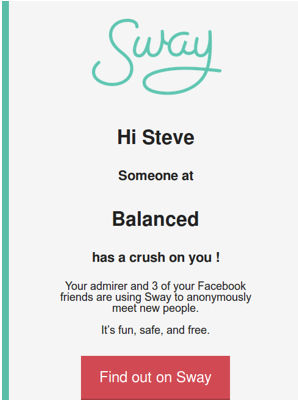 Thing is, they weren't receiving the email because of an amorous colleague. Sway had gotten ahold of contact information using LinkedIn and Github, and was spamming its contact list in an effort to boost sign-ups. Forbes writer Kashmir Hill calls it, aptly, "a digital STD." It appears the app is even sending late-night texts asking people to join up as though their friends had.  
Security and privacy researcher Ashkan Soltani received a sneaky Sway invite and immediately knew something was funky. He only has two coworkers, and he knew neither harbored a secret crush. He looked at the email's metadata and discovered a start-up created by Carnegie Mellon students called GeniusHire was likely responsible.
In April, Carnegie Mellon posted a glowing report about GeniusHire's bright future. The start-up had plans to move to Santa Monica, and had just won a grant from Amazon. But now, GeniusHire looks like it was scrubbed off the Internet. Its website, Facebook page, and Twitter account are all gone.
It's not clear why GeniusHire pulled a disappearing act, but there are plenty of reasons why the start-up would want to lay low. Not only is GeniusHire in trouble for helping Sway spam people, it was also getting called out on Twitter for bad code.
@GeniusHire please stop: – storing passwords in code!! – using debug mode!! – using php pic.twitter.com/OrpFjRyiyK

— andrzejsliwa (@andrzejsliwa) April 2, 2014
Forbes tried to track down GeniusHire, but since the team's multiple failings were exposed, they've made it hard to get in touch. Sway did not respond to Forbes' request for information about their spam tactics, nor did they respond to Daily Dot.
GeniusHire's clumsy data-scraping gambit shows how annoying it can be when an app uses spammer tactics to try to increase its userbase. And while Sway's Terms of Service prohibits users from sending unsolicited mass emails, the company does not hold itself to similar standards.
H/T Forbes | Photo via Flickr/kennymatic (CC BY 2.0) | Remix by Fernando Alfonso III