The way America conducts its elections could soon be upended by a landmark Supreme Court case.
The Supreme Court announced on Monday that it would hear a case over whether partisan gerrymandering is unconstitutional—a move that could spell disaster for Republican domination in the U.S. House of Representatives, governors' mansions, and state houses across America.
Congressional districts are redrawn by state legislatures. The process is supposed to ensure that voters in each state are properly represented in Congress. Gerrymandering—the drawing of congressional districts to favor one party over another by packing it full of a disproportionate number of one party's voters—is a practice both Democrats and Republicans use. However, the GOP has been far more effective at turning partisan gerrymandering into political control.
The Supreme Court case comes as a result of a decision by a court in Wisconsin, which found that the state's Republican lawmakers had violated the Constitution's First Amendment as well as equal rights protections for citizens through partisan gerrymandering. When the Supreme Court issues its ruling, it will be the first time a court has decided the key parameters around the drawing of district lines based on partisanship.
Last Month, the Supreme Court ruled that North Carolina violated the Constitution by drawing two congressional districts based largely on race.
A recent study by the Brennan Center for Justice at the New York Univesity School of Law found that Republicans were able to secure majorities in the House in the 2012 and 2016 elections largely due to partisan gerrymandering. In 2012, for example, Democrats could have held a 17-seat majority in the House over Republicans were it not for partisan gerrymandering, according to the Bennan Center's analysis. Instead, the GOP controlled the House with a 234-201 majority.
Three states—Michigan, North Carolina, and Pennsylvania—had the most extreme and consistent evidence of partisan gerrymandering. Florida, Ohio, Texas, and Virginia also had evidence of widespread gerrymandering.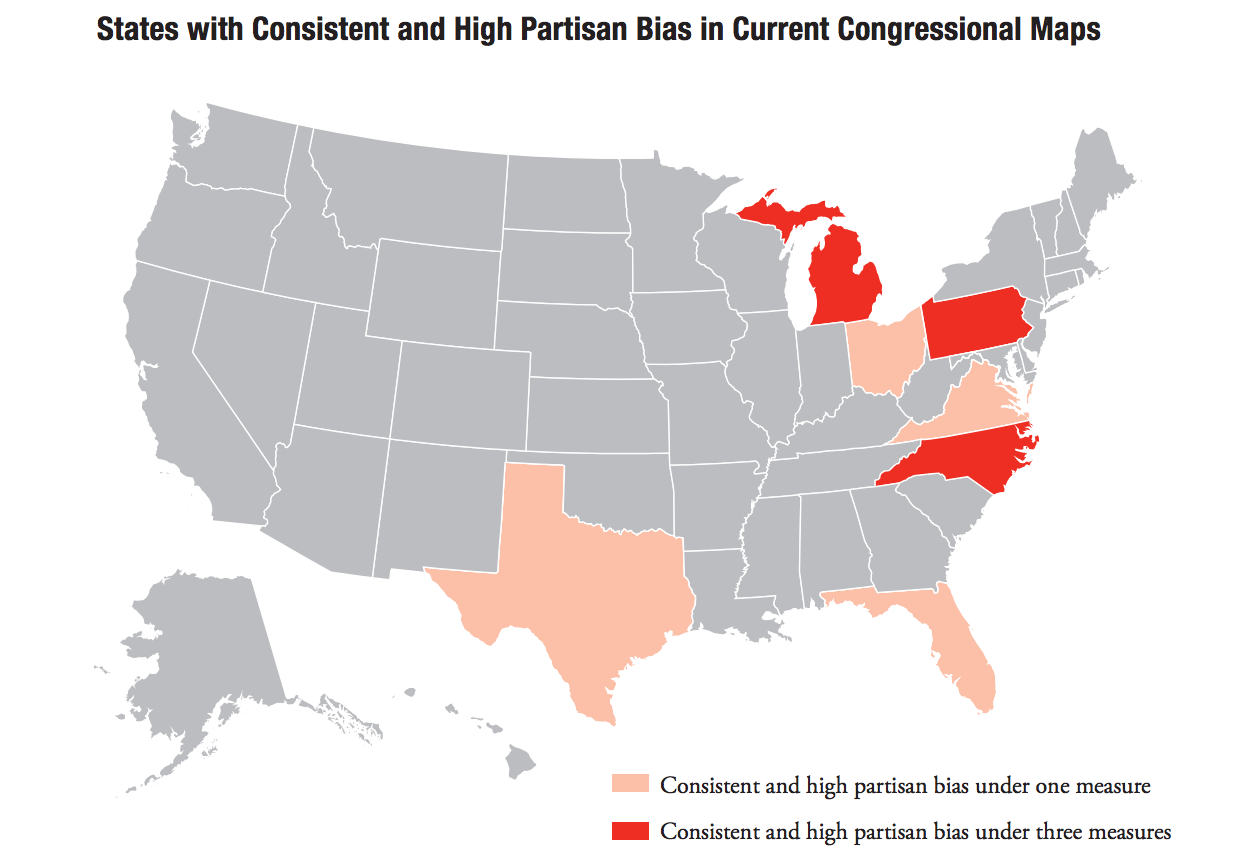 If the Supreme Court finds that partisan gerrymandering is unconstitutional, the lines in dozens of states would likely need to be redrawn. As a result, Republicans could lose out in future elections, starting in 2020, thus potentially ending their hold on the House.
"This will be the biggest and most important election law case in decades," Josh Douglas, an election law expert and professor at University of Kentucky College of Law, told CNN. "However the Court rules will affect elections for years to come."