The "Stop The Steal" campaign, which falsely claims that widespread voter fraud has stolen the election from President Donald Trump, has attracted prominent right-wing figures just hours after being launched.
Started as a website and Facebook group on Wednesday, the campaign has called upon Trump supporters across the country to protest the 2020 presidential election.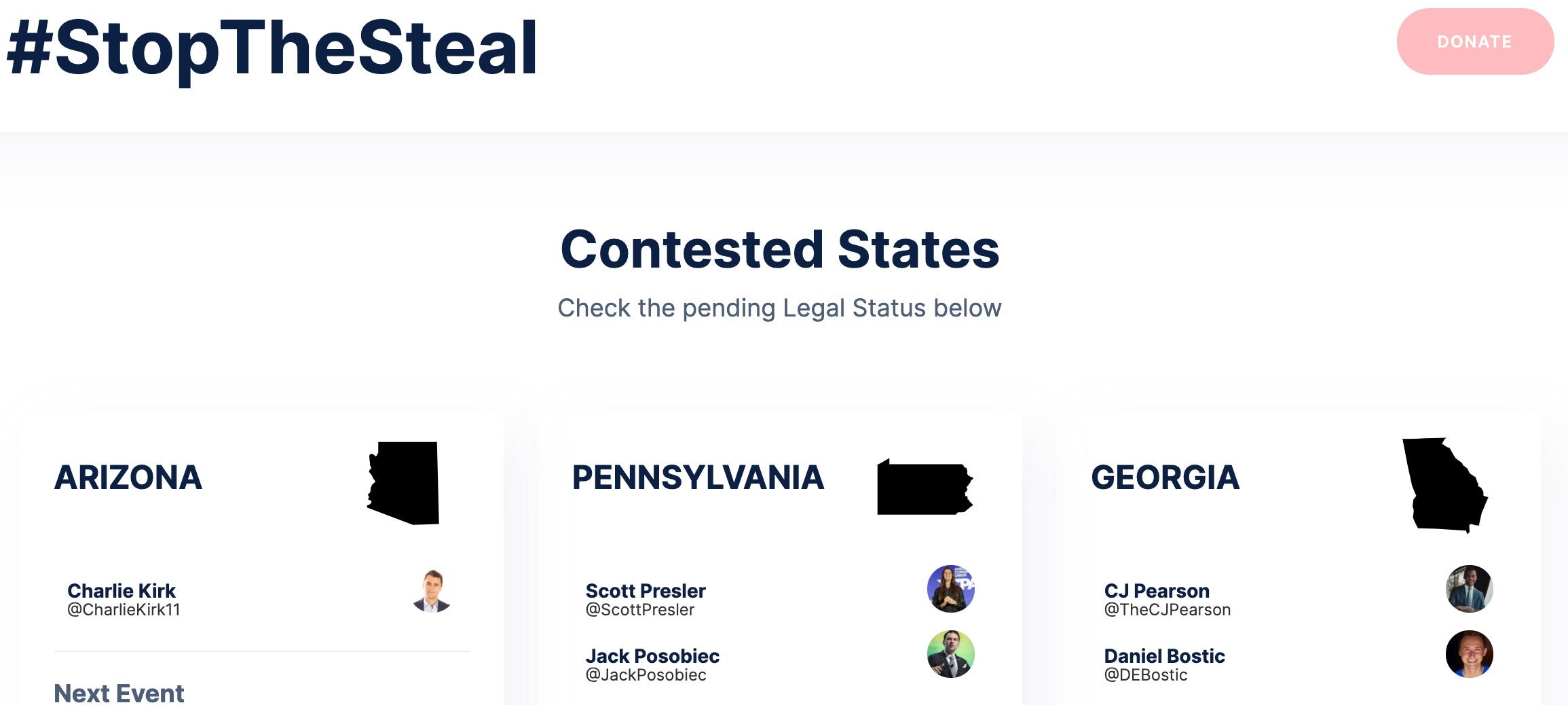 The campaign's Facebook group, which attracted more than 350,000 members in around 24 hours, was suspended on Thursday for violating the platform's election-related policies.
In a statement to the Daily Dot, a Facebook spokesperson said the group was removed not only for attempting to delegitimize the election process but over "worrying calls for violence from some members."
But the group's shuttering appears to have done little to stop the campaign, which continues to plan protests across the country.
Stop The Steal's website is now promoting events all across the country, set to be attended by some of the pro-Trump internet's biggest names.
Charlie Kirk, founder of the conservative student group Turning Point USA (TPUSA), is already scheduled to attend a protest outside of an Arizona vote tabulation center this evening.
Conservative activist Scott Presler already attended a rally at the state capitol in Pennsylvania on Thursday organized by Stop The Steal.
Similar events are set to take place in Georgia, Nevada, Michigan, and Wisconsin as well.
Other popular conservatives promoted by Stop The Steal include conspiracy theorist Jack Posobiec and CJ Pearson, a young activist who rose to fame after criticizing then-President Barack Obama.
Brando Straka, who led the astroturfed #WALKAWAY movement from the Democratic party, is attending another.
The campaign, according to the deleted Facebook group, was started by the Women for America First organization. Two of the group's moderators were former Breitbart writers Jennifer Lawrence and Dustin Stockton, both of who were linked to the "Build The Wall" campaign run by former White House adviser Steve Bannon.
Bannon and three others were arrested in August and accused of defrauding thousands of donors by stealing cash intended to be used towards a private wall on the country's southern border.
While Stop The Steal seemingly touts itself as a grassroots movement, it remains unclear whether the campaign coordinated with Trump officials from the beginning. Its swift rise and rapid mobilization certainly raises eyebrows.
The campaign reflects Trump's repeated and unfounded allegations since Election Day that widespread voter fraud has played a factor in the results.
Trump has been harping on that in the month's leading up to the vote as well, which surely helped set the stage for this movement.
More election 2020 coverage