The extremist wing of the Republican Party is in a frenzy over allegations against Stop the Steal organizer Ali Alexander.
Alexander has been locked in a feud with far-right provocateur Milo Yiannopoulos for months. The longstanding rift between the two escalated during the now-defunct presidential campaign of Kanye West. Both have made serious allegations against the other, which each has denied.
Yiannopoulos recently published new screenshots of messages alleging inappropriate behavior by Alexander, which he has been doing for weeks.
Now, far-right figures are backing away from Alexander over it, and one of his key allies, Nick Fuentes, said he's stepping away from the public sphere.
After long denying Yiannopoulos' claims, on Friday, Alexander acknowledged on Telegram that portions of the allegations against him are true. Alexander posted an apology for "any inappropriate messages sent over the years," which he also characterized as merely flirtatious.
He maintains that he didn't do anything unlawful.
Alexander also said that he battles "SSA," an acronym that stands for same-sex attraction. Alexander is a male, as are the people in the claims pushed by Yiannopoulos.
"I've been careless and should've qualified those coming up to me's identities during flirtatious banter at the start. Nothing unlawful has occurred," Ali added.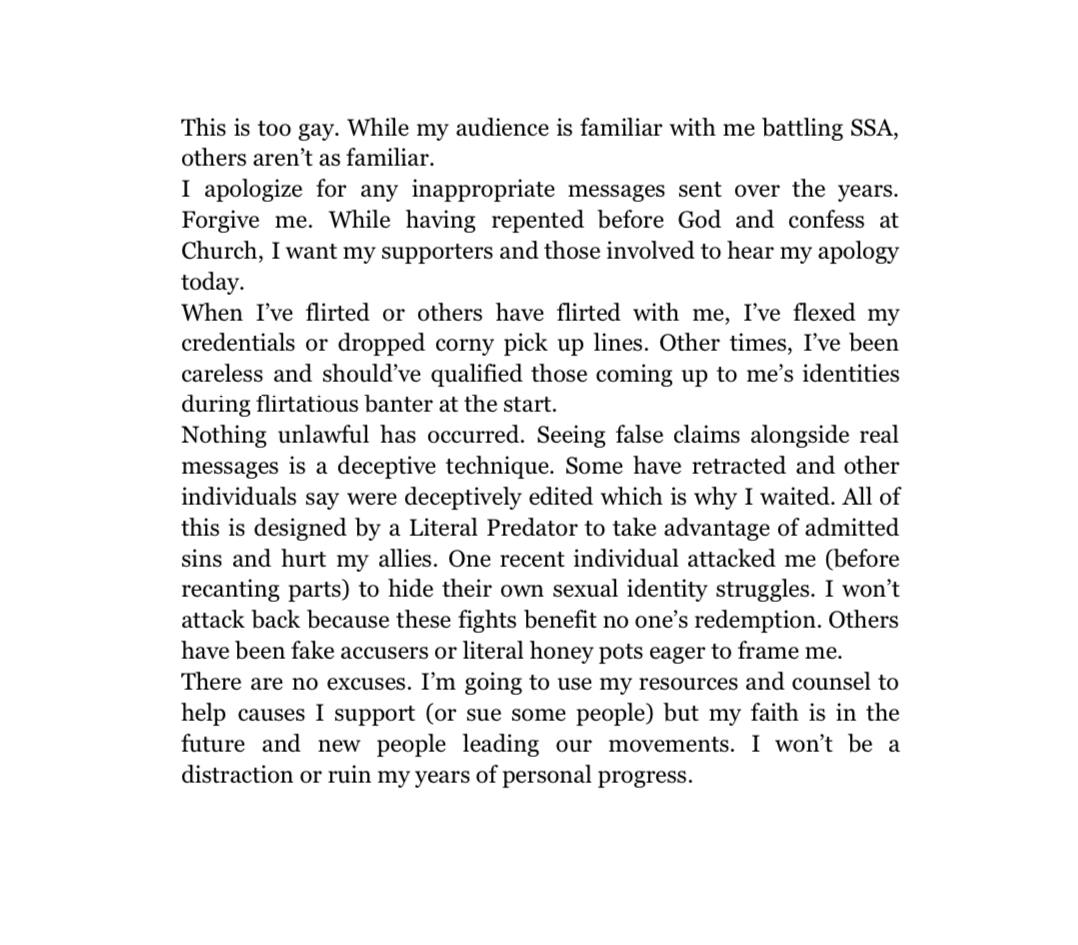 Alexander claimed that some of the accusers are "fake" and others are "literal honey pots eager to frame" him. He did not identify which accusers are supposedly lying or trying to set him up.
"[Seeding] false claims alongside real messages is a deceptive technique," Alexander wrote without identifying which of the allegations or messages are purportedly fake.
Alexander didn't respond to a direct message sent via Twitter seeking comment Monday morning. In interview on Twitter earlier in the month, Alexander denied the veracity of the allegations against him, saying the were they were silly because people would have gone to the police of the FBI and that "people will start talking to you, and then do something, and they'll say, 'oh, I'm 17.'"
"I kind of wish I was this prim and proper person who never flirted with anyone. That's just not the case, he added.
However, now the movement seems to have sided against Alexander.
White nationalist Fuentes' willingness to stand by Alexander appears to be weakening. The two worked together on Kanye West's now-defunct 2024 campaign, and last week Fuentes defended his behavior and downplayed the accusations.
On his show, Fuentes recently said Alexander merely "flirted with people" who were underage.
"We're talking about flirting. Give me a fucking break," Fuentes said, adding, "That's gross. It's fucking gross."
But on Sunday, Fuentes shared screenshots of messages that appear to show Alexander engaging in inappropriate behavior similar to what Yiannopoulos alleged.
Other right-wing influencers are distancing themselves from Alexander or outright denouncing him.
Convicted Capitol rioter Tim Gionet, aka "Baked Alaska," wrote on Telegram that due to the "recent revelations" he will not work with Alexander "in any capacity moving forward."
White nationalist Dalton Clodfelter called on Yiannopoulos to release more information about the accusations.
On Sunday, Fuentes called into Clodfelter's show and said that he'd spoken with Alexander.
"I talked to Ali and he understands how strongly people feel and how strongly I feel. And he's bowing out of public life," Fuentes said.
"So nobody has to worry about that. He's bowing out of public life and I urged him to do that. So, you know, you're welcome."


We crawl the web so you don't have to.
Sign up for the Daily Dot newsletter to get the best and worst of the internet in your inbox every day.