There are a lot of people screaming for President Donald Trump to be impeached, but some people would go to great lengths to see that dream become a reality: They'd give up drinking forever.
A survey done by Detox.net of more than 1,000 people found that over 73 percent of Democrats and 17 percent of Republicans would give up alcohol for good if it meant Trump would "be impeached tomorrow."
On the flip side, 30 percent of Republicans said they would quit drinking if the media would stop "writing negative things about President Trump," according to the Detox survey. When faced with the same choice, 6.5 percent of Democrats said they would do the same.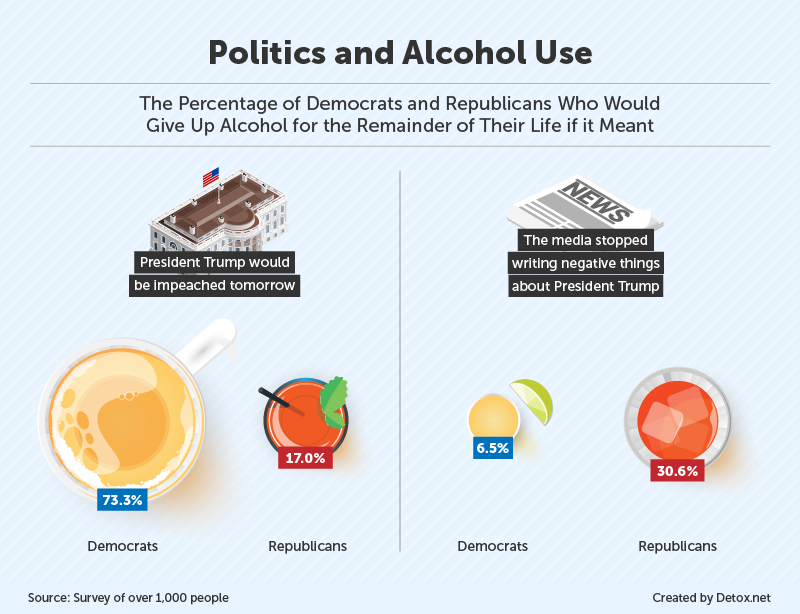 Impeachment has been a much-talked about idea for months—particularly since investigators began to look at Trump for possible obstruction of justice after allegedly asking then-FBI Director James Comey to scale back the agency's probe into former National Security Adviser Michael Flynn.
While impeachment is unlikely, there is clearly a large contingent of people hoping for it to happen.
Rep. Al Green (D-T.x.) made an impassioned speech calling for the impeachment of Trump last month and later received death threats as a result. Despite this, Green said he has begun drafting articles of impeachment with a group of "constitutional scholars."
"As a matter of fact, I am currently crafting, drafting if you will, articles of impeachment," Green said. "Every member of Congress has the right to file a privileged resolution for impeachment, and it has to be heard within two legislative days. I'm a member of Congress, I'm crafting it."
Impeachment would require a majority vote in the House of Representatives—an unlikely outcome since it is controlled by Republicans—before the case would be tried in the Senate, where a two-thirds majority would need to vote to convict and remove Trump from office. This scenario is also unlikely, as the Senate is also controlled by Republicans.The Detox survey included 1,013 "
The Detox survey included 1,013"active drinkers," which the survey defined as Americans who have had at least one drink in the past year. Fun fact: President Trump would not be qualified to take part in this survey because he does not drink alcohol.