Space X CEO Elon Musk announced plans on Monday to launch the Big Falcon Rocket (BFR) into space with its first paying customer, Yusaku Maezawa, aboard.
Maezawa, the billionaire founder of Japanese fashion retail site Zozotown, also launched his tie-in project, the Dear Moon Project, to recruit artists to accompany him. He plans to bring up to eight creative people—from film directors to painters—on his 5-day journey. The website calls the mission a "global, universal art project."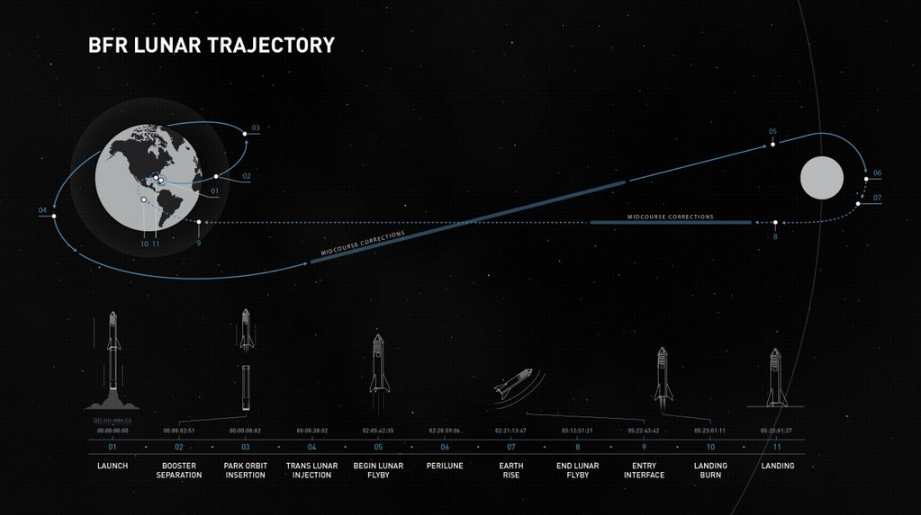 "Ever since I was a kid, I have loved the moon," Maezawa said during a press event at SpaceX's Hawthorne, California headquarters on Monday. "Just staring at the moon fueled my imagination."
The mission is expected to launch in 2023. The artists and creatives won't have to pay to ride to the moon; Maezawa is funding the expedition. But he did not reveal how much money he is putting down.
The last time a human visited the moon was in 1972 for the Apollo 17 mission. This team would mark the first crewed lunar mission in 50 years. It's a big opportunity, but who will get to go?
On Twitter, people have offered some suggestions, from Christopher Nolan to Kanye West.
So if you could pick 6-8 artists to fly around the moon – who would you pick? #dearMoon

— Scott Manley (@DJSnM) September 18, 2018
https://twitter.com/KFI117/status/1041881726560043009
I would vote for @tomhanks He's helped in keeping the dream alive with Apollo 13 and From The Earth To The Moon.

— Andrew Pedersen (@ajp70) September 18, 2018
Hayao Miyazaki

— AS (@Azalru_s) September 18, 2018
I wonder if @kanyewest is going to try to get on Yusaku Maezawa's #dearMoon project. lol

— Anshel Sag (@anshelsag) September 18, 2018
Other have pointed out that Carl Sagan would have loved this mission.
I think Carl Sagan would have approved of this #dearMoon

— Jason Davis (@jasonrdavis) September 18, 2018
There's even a reference to sending a poet to space in Contact.
https://twitter.com/KeithMansfield/status/1041887269752332288
https://twitter.com/KeithMansfield/status/1041894813162004480