This article contains sexually explicit material that may be NSFW. 
What your teachers told you in preschool is true: We are all special and unique in our own ways, just like beautiful snowflakes. What they failed to tell us at the time was that this dictum applies especially to our penises, buttholes, and vaginas, which come in as many shapes and sizes and textures as there are men who claim to brew their own artisanal beer on Tinder.
Inspired by the incredible range and diversity of human genitalia, two Toronto-based entrepreneurs are launching Snowflake, a customizable sex toy website that's currently fundraising on Kickstarter. Using Snowflake's unique design tool, you can create and manufacture your very own sex toy built specifically to your needs.
"There are thousands of adult toys on the market, and some of them are quite good, but they aren't perfect," Kate, one half of the couple behind Snowflake, told the Daily Dot via e-mail. "All of these toys come off a factory line, and each is made to appeal to the largest group of people possible. None of them are designed just for you: One toy is the perfect girth but the base is all wrong, another would be perfect if it was just a quarter inch thicker."
The increasing popularity of home 3D printing inspired Kate and her husband to launch Snowflake. "We live in a technology paradise of computers, and 3D printers, and manufacturing on demand," she says. "Why can't I get exactly the shape [of sex toy] I want, and the length and girth I want, and even get it in the right color?" It's like the time you made that stuffed animal at a Build-A-Bear workshop in third grade, except rather than bring home an adorable, googly-eyed stuffed bear to introduce your mom, you're bringing home a 10-inch rubber dildo to introduce to your vagina.
Snowflake is not the only customizable sex toy option on the Web. For a while now, sex toy companies have been hawking make-your-own-dildo kits, such as Clone-A-Willy, which lets you create your own vibrating dildo based on a cast mold of your partner's penis. Berlin-based programmer Ikaros Kappler also created the "Dildo Generator," a more sophisticated program that allows you to design and 3D-print your own dildo.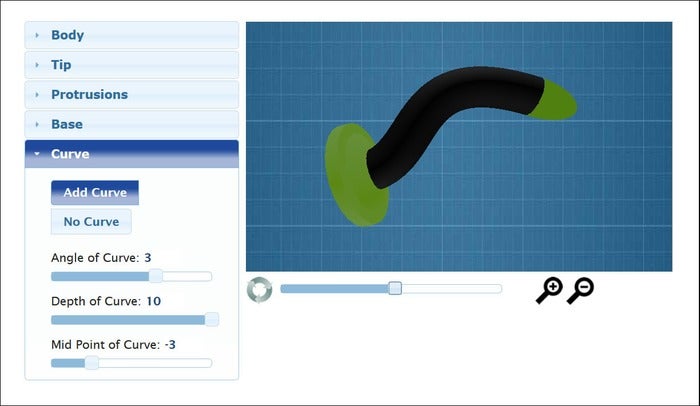 But Snowflake is relatively unique, in part because of how basic and accessible its design tool is. Unlike Kappler's more complex, numbers-heavy 3D-printing design tool, Snowflake's interface is pretty basic, allowing you to adjust the body, tip, base, and curve of your dildo to your exact specifications. You can also adjust the shape, girth, and exact length of the dildo, as well as give it in a curve at a specific angle or "add any protrusions, like bumps or ridges." (While this might sound gross, anyone who's ever used a Trojan Studded or Ribbed-For-Her-Pleasure condom knows it's actually a very good thing.) You can even add customized text or symbols to the base.
Snowflake is also not just for dildos and vibrators: The website also lets you design butt plugs, beads, and other toys designed for G-spot and prostate stimulation. A toy can also be built to accommodate existing toys like O-ring harnesses. The goal, says Kate, is to make ordering any customizable sex toy "as easy as ordering a pizza online."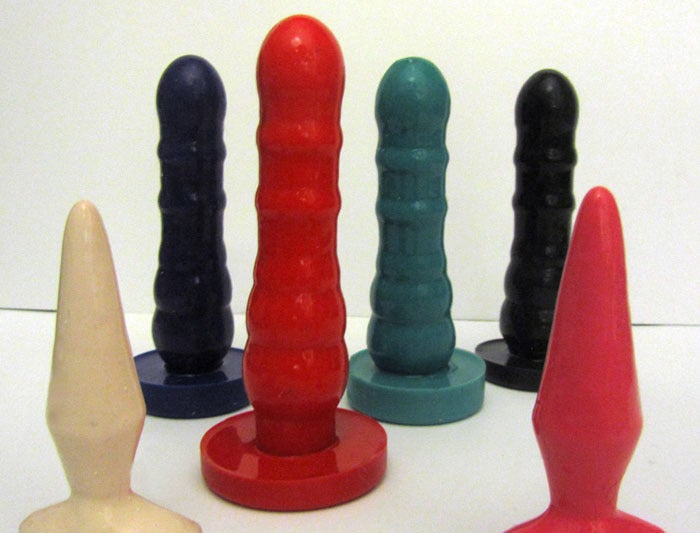 While other sex toy companies aim for a certain degree of naturalism in their products, that's obviously not Snowflake's goal: The Kickstarter page displays a wide range of products, from the sleek and feminine (the neon pink ergonomic butt plug, for instance, looks like something you'd find next to a set of coasters at IKEA), to the gnarled and monstrous. (We highly doubt there's a market for 14-inch corkscrew-shaped Frankenstein-hued penises… but then again, maybe there is.)
But Snowflake's goal—to celebrate sex toys designed for every type of genitalia, be it small or large or shallow or deep or pink or green or corkscrew-shaped, is definitely to be applauded. It's also pretty prescient: Now that home 3D-printing is becoming increasingly widespread, we'll probably be seeing a lot more stay-at-home moms sneaking away from soccer practice to order one of these babies. Don't be ashamed, sexy lady. You totally deserve it, snowflake.
H/T Kickstarter | Photo via kelly.sikkema/Flickr (CC BY 2.0)