A fake message circulating on Twitter Friday morning purports to shows President Donald Trump's election fraud attorney Sidney Powell on Parler saying that she is seeking to "overturn" the results of the election.
But it's not real.
Powell is currently an attorney for the Trump campaign's ongoing legal fights attempting to prove widespread voter fraud in the 2020 election—which has proven to be a bust so far, with even friendly conservative Tucker Carlson dismissing the case.
On Twitter, author and Dartmouth College professor Jeff Sharlet tweeted out the fake message purporting to be from Powell's Parler.
"On Parler Sidney Powell openly states the coup: "I am actively working to… *overturn* the election," Sharlet tweeted Friday morning.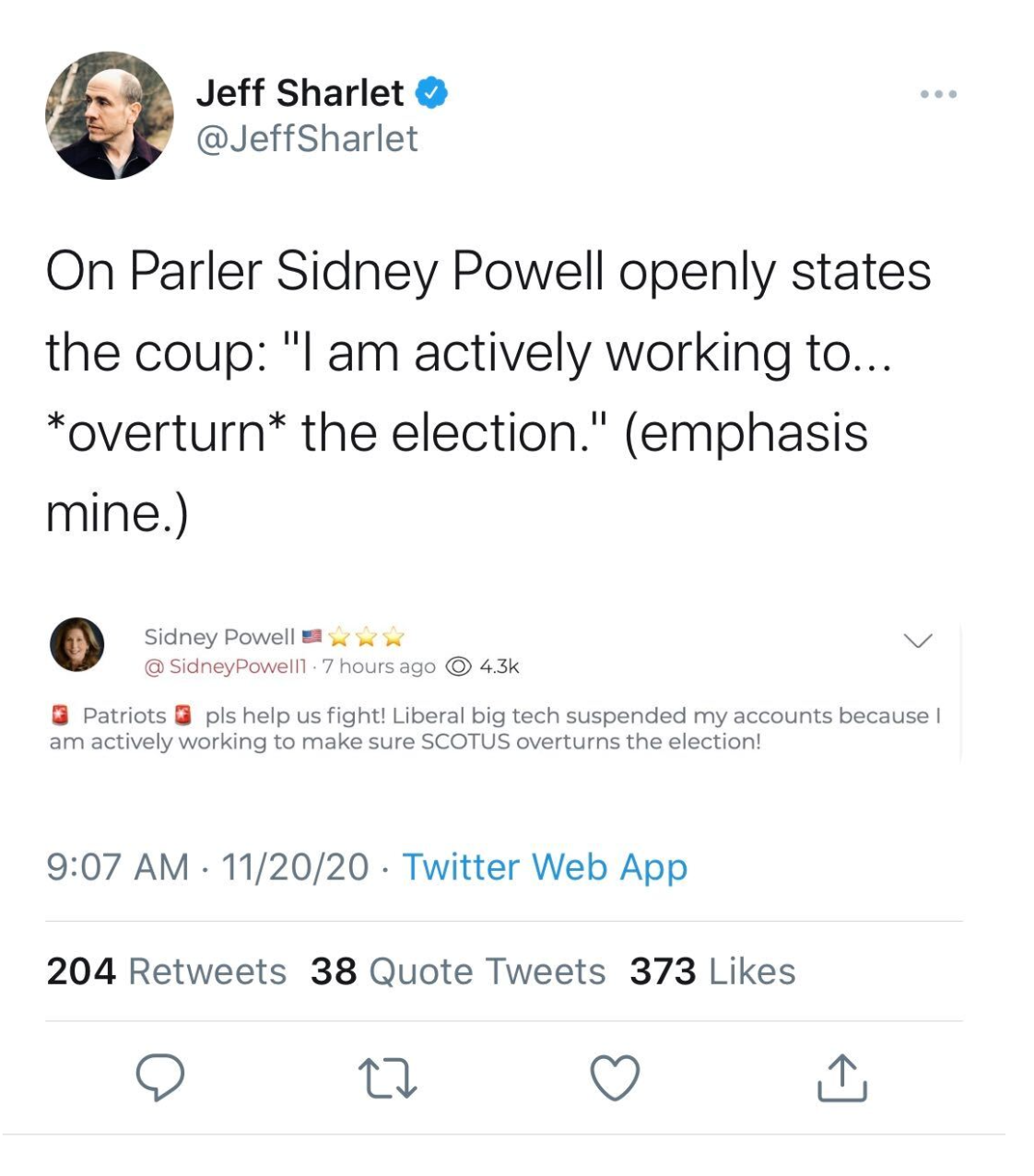 On Parler, the real Powell does have an account, and next to her profile picture is a yellow verified symbol.. The account Sharlet tweeted about is not verified.
At the time of publication, Sharlet's tweet had gathered numerous verified retweets and over nearly 1,000 likes. On the alternative social media platform, there are numerous accounts with Powell's name, which appear to all be fakes or parody accounts.
Following his initial posts, Sharlet addd, "Not only is Sidney Powell openly & explicitly stating her goal of "overturn[ing]" the election, the official twitter of the @GOP is promoting her. Here, she doesn't claim election was stolen; she declares she's trying to overturn it."
Powell never said anything to that effect, because that's not her Parler page. However, the sentiment of the parody account is not that far off. Powell has stated that she believes the 2020 election in key swing states should be "overturned."
Update 1:50pm CT: After publication, Sharlet deleted his tweet.
This article has been updated.
More election 2020 coverage