#NotBuyingIt. That's the message many superhero fans are sending to Disney to protest a crop of new Avengers T-shirts that tell boys to "Be a Hero" and girls to "Need a Hero."
As the highest-grossing movie of 2012, The Avengers was a major success story for Disney and Marvel's flagship superhero franchise. Its merch has taken some super-backlash, even prompting a Change.org petition titled "Stop Selling Sexist T-Shirts @DisneyStore." 
Feminist campaigners Miss Representation explained the situation:
"The Disney Store is selling Avengers T-shirts for women with the slogan 'I Need a Hero' and 'I Only Kiss Heroes,' and an Iron Man T-shirt for boys that reads 'Be a Hero.'" These shirts promote the idea that men and boys are meant to do the saving, and that women and girls are the ones who need to be saved."
In addition to the message sent by the "I Only Kiss Heroes" slogan, the Disney webstore stocks T-shirts and costumes for all five of the male Avengers—but none featuring Black Widow, the only female superhero in the 2012 movie.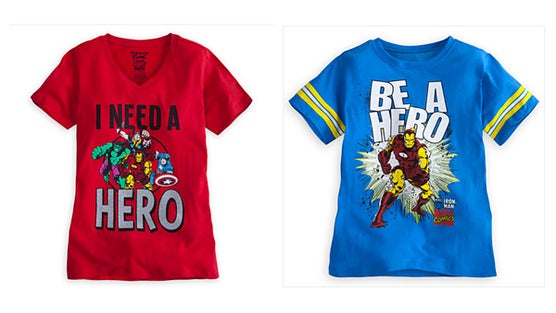 Image via Change.org
Among the 7,000-plus signatures on the Change.org petition, there are many comments from parents of young Avengers fans. As one person writes: 
"My daughter LOVES superheroes, in particular she loves the Avengers. She doesn't need a superhero and she certainly isn't thinking of kissing any. What she needs is for corporations to stop telling her that because of her gender she couldn't possibly BE the superhero herself."
Despite being helmed by Joss Whedon (famed for writing strong female characters such as Buffy the Vampire Slayer), the Avengers movie featured only one female lead and two supporting roles among an extensive cast of male characters. And although Whedon's Black Widow is widely regarded to be a well-written interpretation of the character, her progress was hindered from the start.
Early plans for The Avengers involved an all-male superhero team, which Whedon vetoed on the grounds that without a female lead such as Black Widow or Wasp, the movie would feel like "a gay cruise." Even once the movie had been made, fans were making fun of promotional materials that showed Scarlett Johansson's Black Widow in pin-up poses while her male teammates threw thunderbolts or shook their fists at the enemy. 
With female leads like Katniss Everdeen and Bella Swan leading at the box office, it doesn't make sense that Disney's enormous superhero enterprise is overlooking the other half of its audience.