It's not unusual to see links between Hollywood and Washington, D.C., but the new presidential line of succession includes a rather unusual example.
Sen. Patrick Leahy (D-VT), the new Senate president pro tempore, has appeared in five Batman movies including The Dark Knight and one Batman TV show. These are his only acting credits, and they're often framed as a feel-good story about a lucky Batman fan who got to live the dream.
But those cameos may have more to do with campaign donations from Warner Bros.
Born in 1940, Leahy is a lifelong fan of the Caped Crusader. He was first elected to Congress in 1974 and filmed his first Batman cameo 20 years later, appearing as an extra in the 1995 movie Batman Forever. According to an interview with the Washington Post, Leahy landed the role thanks to his son Mark, who was working as an actor at the time.
Leahy's next cameo was a speaking role in Batman: The Animated Series, followed by another onscreen cameo in Batman & Robin. But his big break came with Christopher Nolan's The Dark Knight, where he gets threatened at knifepoint by the Joker. It's definitely an upgrade, and you're sure to recognize the scene.
Leahy actually gets a line here, saying, "We're not intimidated by thugs," when the Joker attacks a party he's attending.
Leahy followed this with another small role in The Dark Knight Rises, playing a board member of Wayne Enterprises. His most recent cameo was a brief scene as Sen. Purrington in Batman v Superman. He sits beside Holly Hunter's character when Superman goes to give evidence at a congressional hearing.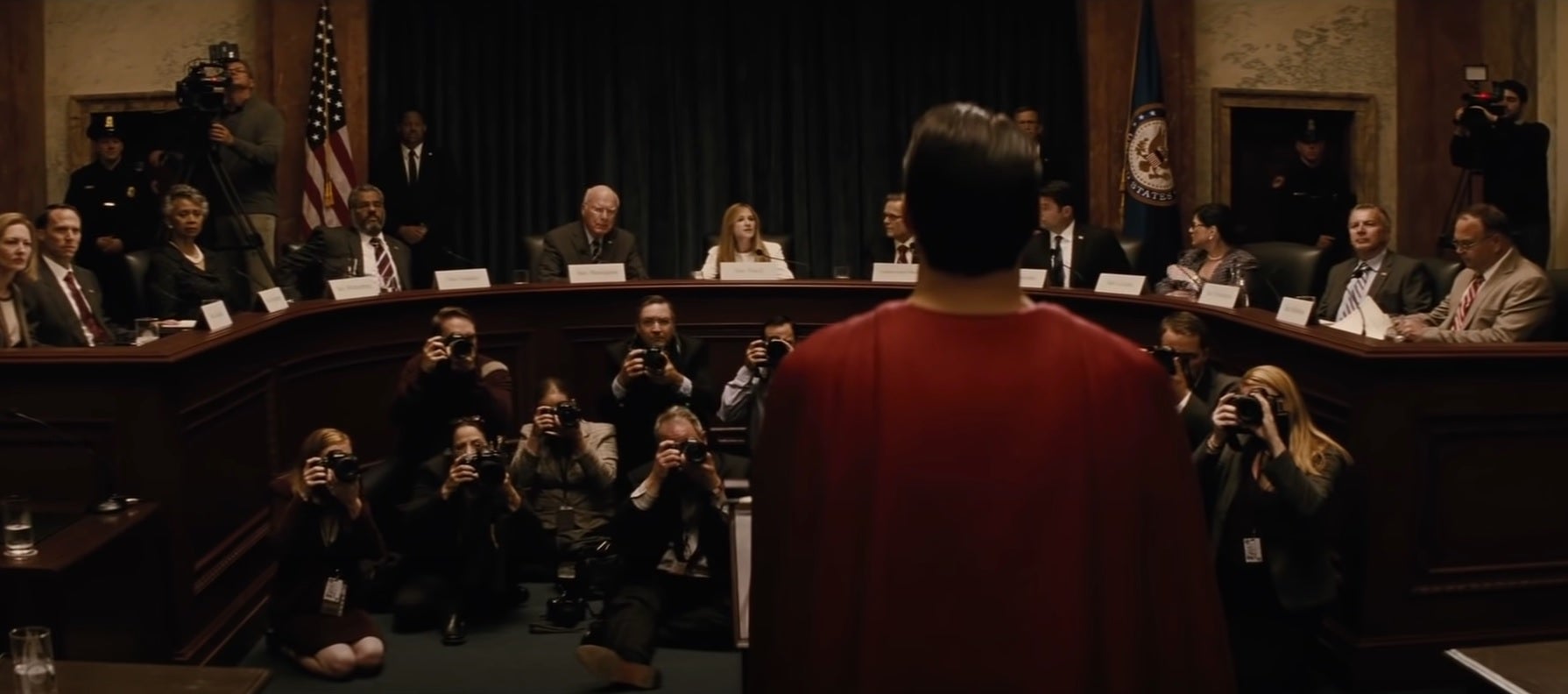 In Batman v Superman, Leahy is joined by another real-life politician, Senator Debbie Stabenow. Their roles are kind of overshadowed because this is the scene where Jesse Eisenberg's Lex Luthor leaves a jar of piss on Hunter's desk, making it understandably hard to focus on the background players.
Leahy does earn money from these roles, racking up a six-figure sum of paychecks and royalties over the years. He reportedly donates this income to the Kellogg-Hubbard Library in Montpelier, Vermont, where he read books and comics as a child.
The senator's dogged pursuit of Batman cameos will surely resonate with many comic book fans, because, well, why not leverage your power to get a walk-on role in The Dark Knight? But Leahy's relationship with the film industry goes deeper than that.
According to OpenSecrets.org, which collects information about political donations, WarnerMedia is one of Leahy's top donors. Warner Bros. is, of course, the studio behind the Batman franchise. In terms of total contributions since 1989 (when the site began tracking his campaign finances), Leahy's top donor is Disney ($172,750), followed by WarnerMedia ($167,650). So those Batman cameos probably didn't happen out of a pure appreciation for Leahy's fanboy spirit.
In 2011, Leahy introduced to the Senate the Protect Intellectual Property Act (PIPA), a bill that gave the government (and copyright holders) more power to combat online piracy. PIPA arrived soon after the Stop Online Piracy Act (SOPA), and both were widely criticized as potential threats to internet freedom. Websites like Reddit and Wikipedia shut down in protest against SOPA and PIPA, urging users to take action.
Meanwhile, the Hollywood film industry was very much in favor of SOPA and PIPA. It doesn't seem like a coincidence that the then-71-year-old Leahy became invested in intellectual property law and online piracy around the same time that his Disney and Warner Bros. campaign donations were at their peak.
Leahy will not appear in the upcoming movie The Batman, saying, "I have too many other things going on with COVID, with appropriation bills." Coincidentally, WarnerMedia was no longer among his top 20 donors during the 2018 and 2020 campaign cycles.
This post has been corrected.
---