Secret is testing a new feature called Dens to allow users to set up private post feeds, only visible to people working in the same company, school, or organization.
"After enjoying our inside jokes, updates, and secrets in our Den over the last month, we're confident that any company will love having one of its own," Secret wrote.
This is a risky move. Right now, groups have to ask Secret if they can start a Den. After the test, though, the company plans to make them self-serve. And possibly (probably?) a conduit for mayhem.
Secret's main competitor, Whisper, just debuted a major update siphoning its posts into specific categories, creating a more easily searchable and customizable experience. Dens take the idea of customized feeds even further by allowing Secret users to self-select communities based on their real-life connections. In the friendly environs of 16-person startups like Secret, that translates to inside jokes and candid confessions.
O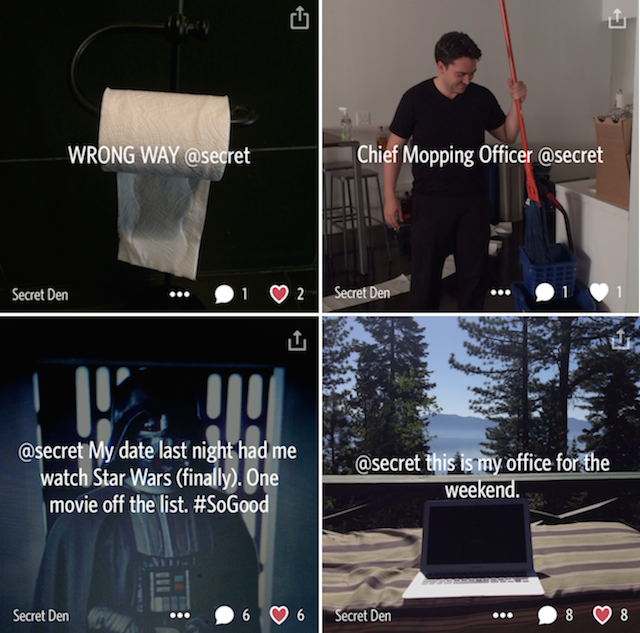 But in larger or more fraught organizations, these Dens could be less like protected harbors and more like online watercoolers full of vitriol, criticism, and bullying.
The Dens feature places an enormous amount of trust in Secret's users. While the app specifically highlight schools as a type of group that'd benefit from Dens, the anonymous posting app YikYak has deliberately blocked itself at a number of high schools in the U.S. to prevent school-specific posts because they have a tendency to veer into cyber-bullying and trash-talking. Instead of shying away from smaller group dynamics, Secret is embracing them, and actually targeting schools for special use zones.
Secret introduced a feature a few months ago warning users not to slander each other, and it's possibe the network will have to introduce some form of moderation to stop Dens from turning into the digital equivalent of a company's suggestion box where everyone writes mean messages about how the boss is a total jerk. The app is already being used to gossip, despite efforts to clean it up, and Dens could exacerbate that problem by giving people within a community an opportunity to very easily air their grievances anonymously.
H/T TechCrunch | Illustration by Jason Reed