We're reaching a point where it's impossible for our eyes to perceive new advances in TV technology. But don't tell that to Samsung.
The electronics giant flaunted a 146-inch modular panel at CES 2018 that it appropriately named "The Wall," which, over the last few days, has become one of the most talked about gadgets at the show. I got a close up look at it, and I came away as confused as I was impressed.
To no surprise, it's gorgeous. The image quality for a panel this large is nothing short of brilliant. It's sharp, it's colorful, and it's blindingly bright. That's thanks in large part to Samsung's new MicroLED technology, which uses individual subpixels that emit their own light, much like LG's OLED. In other words, the TV doesn't require backlighting like a standard LED panel. It also uses inorganic light-emitting materials designed to last longer than the organic counterpart in OLED. You can't tell one bit that these are individual 9.37-inch panels stuck together. It's quite the feat.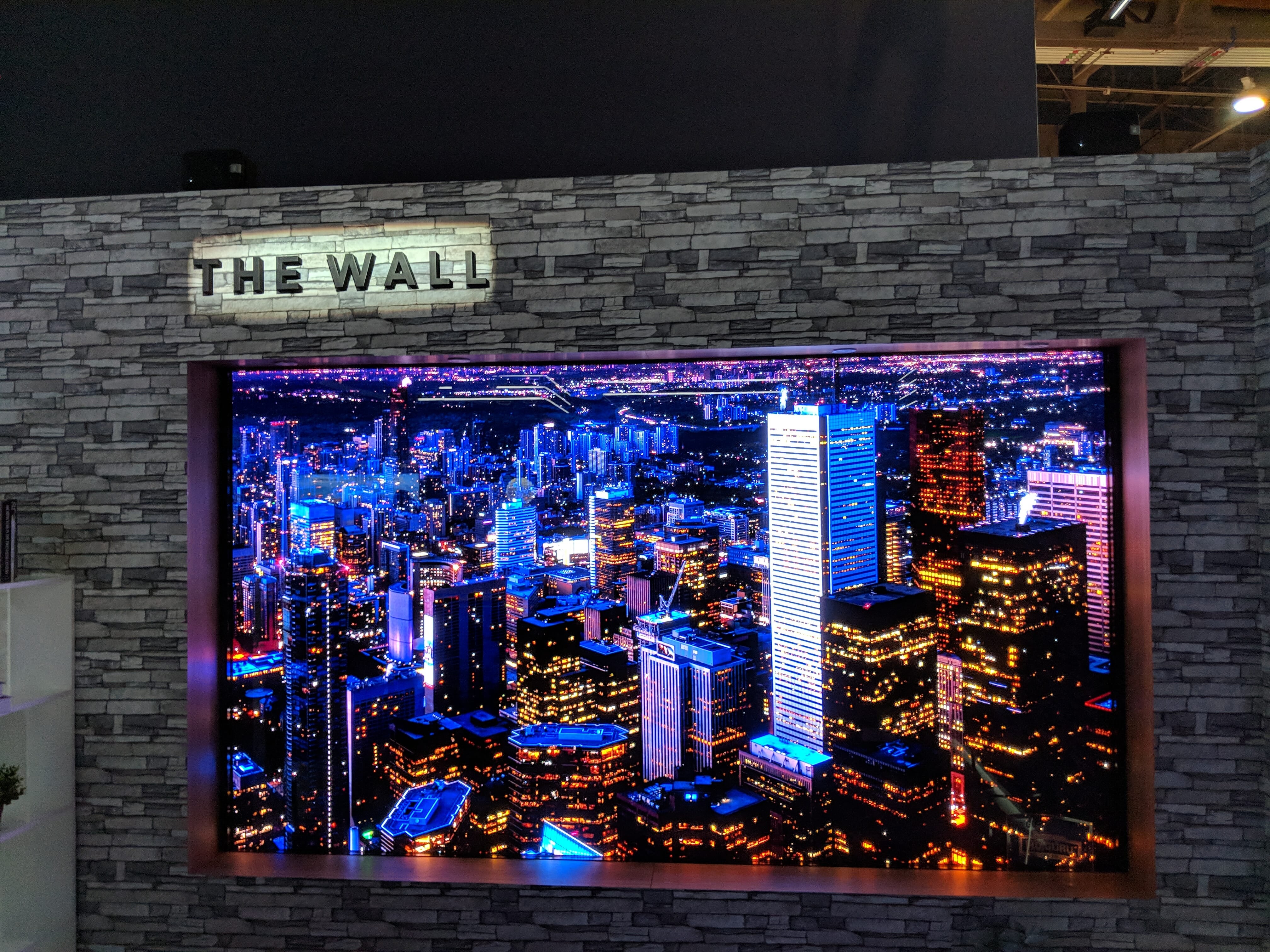 At a show full of gimmicks, this was among the biggest. And unlike LG, which embraced the ridiculousness of its OLED Canyon, The Wall will be made available to consumers sometime this year. So you could, theoretically, merge enough panels together to create a 146-inch TV inside your home. How much it would cost is unclear, but it's safe to guess tens of thousands of dollars.
There are two things about the TV that irritate me and they have nothing to do with its potential price. First: the modular design. Have you ever wished your TV was like a puzzle piece that could be taken apart and rearranged? Me neither. That's because our TVs are designed to play content filmed at the specific 16:9 (width vs. height) aspect ratio. It's the standard format for HD (720p), full HD (1080p), and UHD (4K). Anything not taken at that ratio either gets compressed or ends up with those dreaded black bars on the sides. Here, we're talking about potentially taking apart or expanding a TV so it no longer supports the format. Some might argue adjusting the aspect ratio is the modular TV's greatest asset. You could, for instance, switch from a 16:9 TV show to a 21:9 movie by adding a few panels on each end. But that sounds tedious and not worth the extra cost.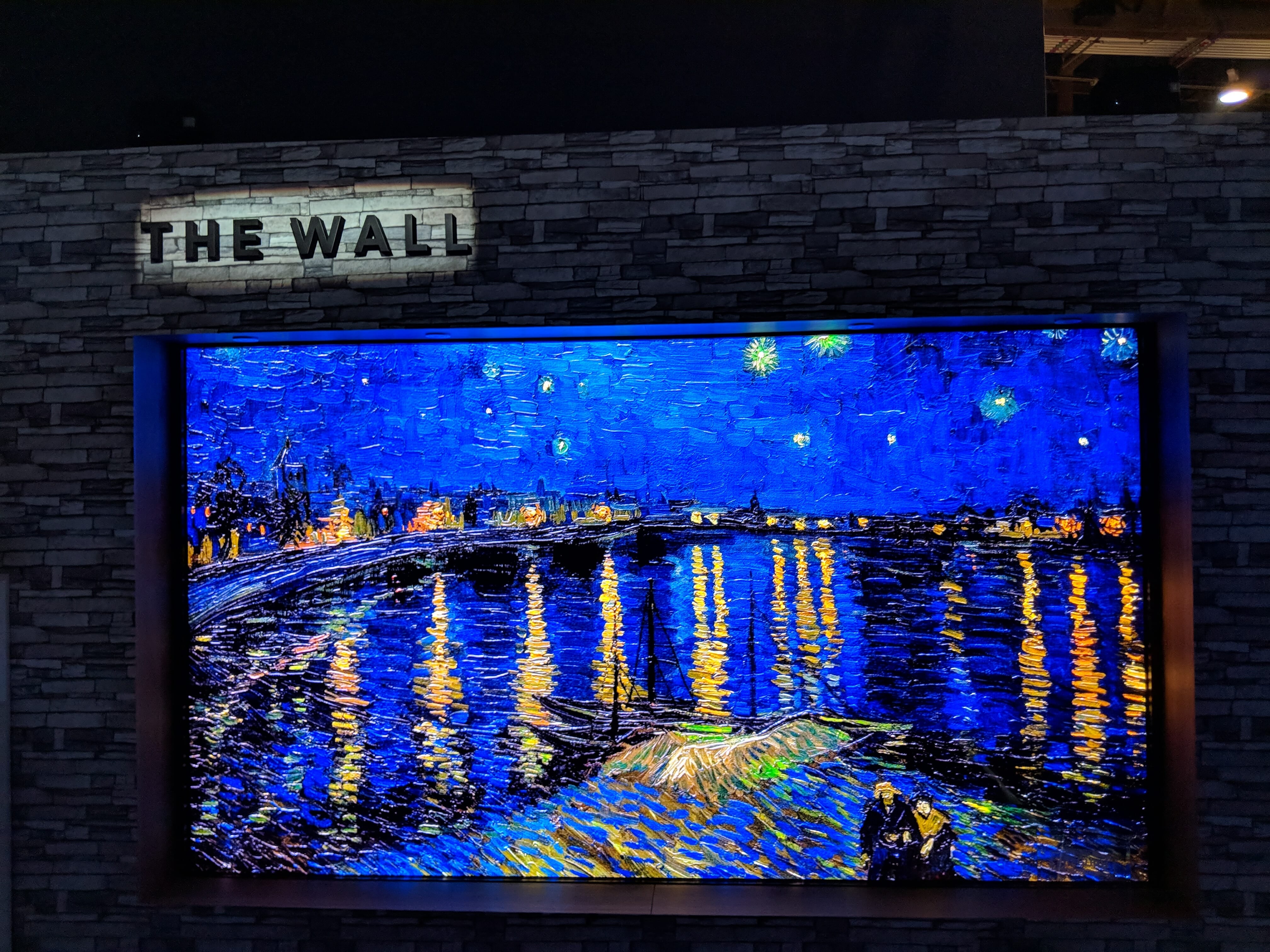 I found it odd that Samsung only demoed the modular TV in one configuration at CES, what looked like the standard 16:9 format. It did show a horizontal display to the press but only in gallery mode (like in the above image). It sure looks nice but also needlessly drains energy.
The other way would require Samsung to create software for certain screen dimensions. For example, you could have a square screen on the wall near your bed that shows you the time, weather, notifications, etc. But that futuristic use requires custom software. Samsung hasn't yet announced any compatible applications or built-in software for the TV.
In fact, the company offered very few details on how it expects users to take advantage of the TV's modularity. A representative I asked on the CES show floor was just as puzzled. The company did release a brief statement about the modular design: "the modular screen can be used to create a wall-sized display, or simply let consumers increase their traditional screen size to suit a new room in the home."
That brings us to my second point, the rather absurd claim of a "wall-sized display." That sounds fun in theory but, along with adding a couple zeros to the end of your energy bill, it isn't practical. You'd need uninterrupted wall space and to move far enough away to see it in your field of view. You don't want to be that guy sitting in the front row of a movie theater in your own home.
Depending on the price, the ability to increase or decrease the size of your screen could be a real benefit. You could start out small and work your way up, spending only the amount you can afford. It's an idea that will work if Samsung continues to support these panels down the road or if they're somehow compatible with new releases. Given the annual flagship TV cycle, that seems unlikely.
The Wall is still a significant innovation for Samsung, but mainly for its MicroLED technology, not its massive size. Perhaps Samsung thought that showing the new pixels on a screen this large would attract the most attention (they weren't wrong). But I would have preferred to see a MicroLED TV that is ready for my living room and ready to take on OLED. In typical CES fashion, what we got instead was an impractical showcase that masked the main innovation everyday consumers will one day experience.