For the past few months, members in and around the Trump administration have danced with the QAnon conspiracy, mostly like accidentally, since the far-right conspiracy that once was confined to the bowels of the internet can now be found just about everywhere.
There was Vice President Mike Pence meeting with a Q supporter, a Q fan visiting the White House, and Trump himself sharing a tweet from a Q account.
Now, President Trump's lawyer got in on the act. Rudy Giuliani retweeted a meme-heavy video of Trump, which included three popular Q phrases: Patriots Awakened, Anons, and #WWG1WGA, which stands for "where we go one, we go all." The account that shared the video also included the same #WWG1WGA in their profile.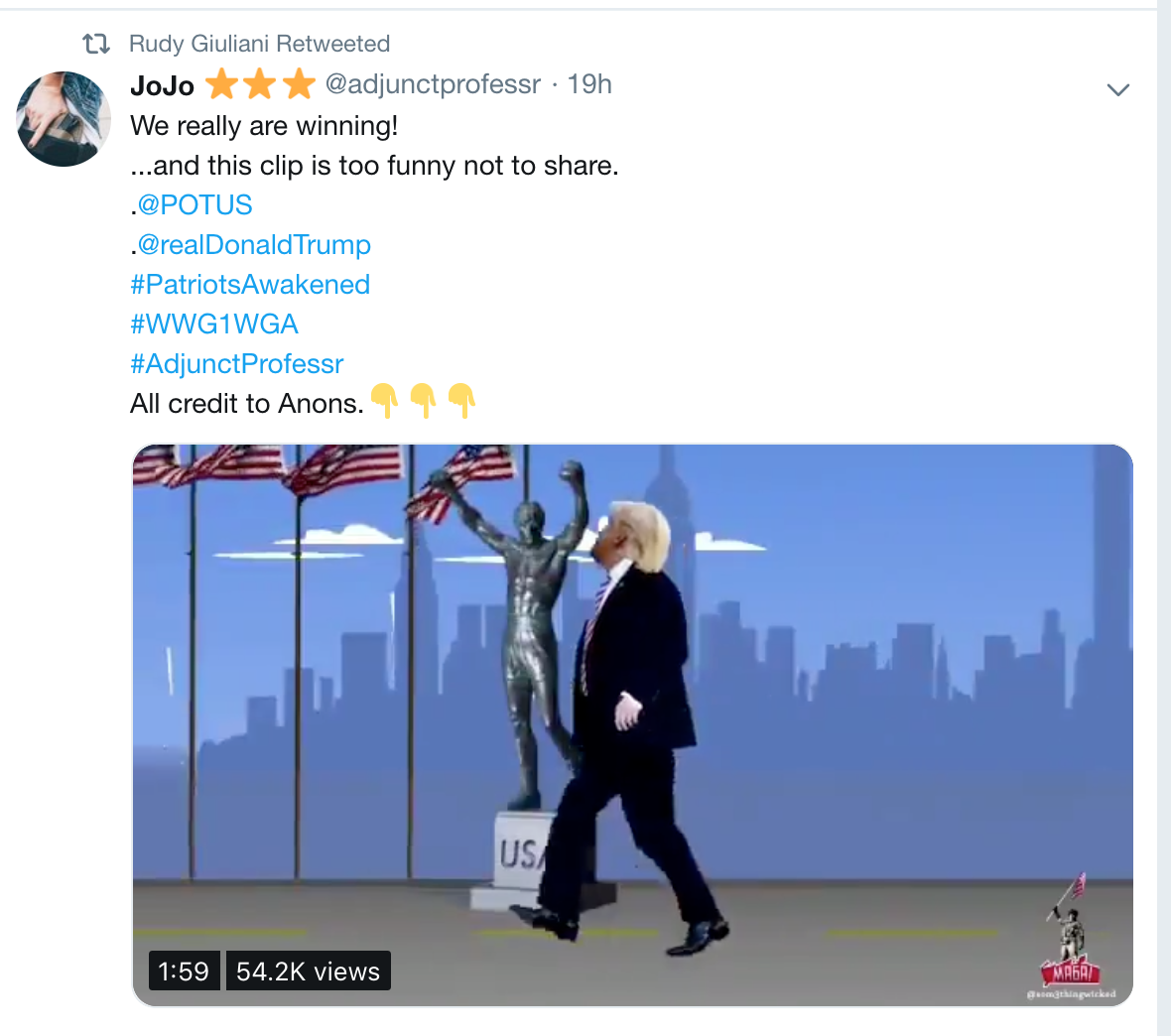 https://twitter.com/adjunctprofessr/status/1118252449343709184
While it's likely that Giuliani, who is as unsavvy a Twitter user as there is, wasn't aware of the greater significance of the account and the hashtags, Q fans on Twitter, as they do with everything, took it as A SIGN.
April 17, 2019
Amen, Rudy. Some Americans don't get that or anything else. The only thing they resist is the truth. They don't remember #JFK and the deep state murdering him. Bush-whacked. Literally. #QAnon

— LadyWarAnon⭐⭐⭐ (@ChristinePolon1) April 17, 2019
#QAnon @realDonaldTrump @DonaldJTrumpJr
Just a reminder in case it vanished…@RudyGiuliani retweeted this. pic.twitter.com/jIUlzd4e3L

— Pepehu Kekbar ⛈️ (@PKekbar) April 17, 2019
@QAnon, #WWG1WGA, #MAGA

Thank you for supporting the only POTUS in 30 years who actually gives a damn about our country. #PatriotsUnited

— ❌40Head❌⭐⭐⭐❌ (@40_head) April 17, 2019
Q has yet to post about the tacit endorsement from Giuliani.
READ MORE: