President Barack Obama may be the commander in GIF when it comes to his presence on Tumblr, but his competitor Mitt Romney is no slouch on the microblogging network.
In October Romney was the topic of 94.5 million posts and 3 million reblogs while Obama collected 117.1K posts and 2.5 million reblogs, according to statistics from Union Metrics, Tumblr's official analytics partner.
"From a content perspective, nearly all of the most popular posts (those receiving the most notes) are directly comparing the candidates; more than two-thirds of the posts about each candidate also include a tag about the other candidate," Union Metrics reported. "Most of the content is visual and sarcastic in nature, often created to poke fun at the candidates, with myriad screenshots and GIFs created from the debates."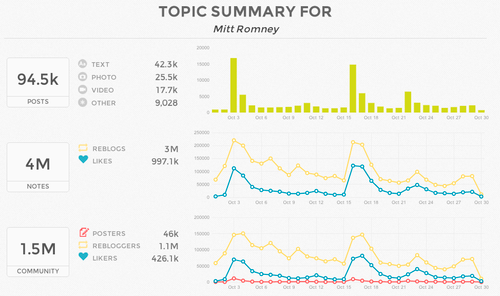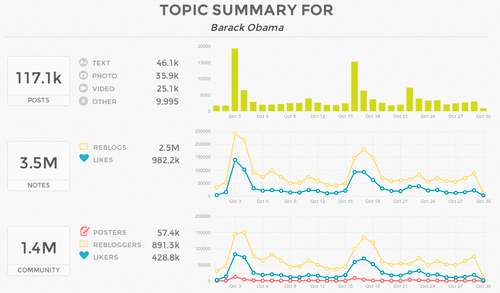 Obama and his campaign have made the GIF an integral part of their Tumblr arsenal. In August Obama's campaign posted or reblogged more than 10 GIFs, each collecting thousands of notes. The campaign followed up that success on Oct. 3 with a Mean Girls GIF that got 49,300 reblogs and 21,700 likes, making it the most popular post of the month.
Romney's most popular post this month featured photos of the former Massachusetts governor at a rally in Nevada. The post collected 8,100 reblogs and 4,200 likes.
The biggest difference between the two candidates' Tumblr accounts was exhibited in their posting habits. Romney's campaign made a new post about once a day this month, with an average of 539 notes (339 reblogs/post and 199 likes/post). Obama's campaign was a blogging machine, posting 191 times in October. Each post collected an average 2,909 notes (1,692 reblogs/post and 1,217 likes/post).
Illustration by DonkeyHotey/Flickr