In the history of political careers, Roger Stone's bizarre tenure in and around Washington will undoubtedly be recorded as one of the strangest. He started way back in the 1960s, but has adapted well to the internet-era, becoming one of the Republican party's finest shitposters.
He's aired his grievances all over the internet, from YouTube to Facebook. But it's probably Instagram where he does his finest work.
Just yesterday, he went after former associate Jerome Corsi, who is reportedly cooperating (or not cooperating, depending on who you believe on any given day) with Robert Mueller's probe in President Donald Trump.
A probe that has Stone directly in its sight, which led to this fiery post.
"So Jerry Corsi was working with Mueller to sandbag me on a fabricated perjury charge," Stone wrote. "Mueller's minion even promised Corsi no jail time if he would lie and say he gave me John Podesta's stolen e-mails (which he did NOT) Then they were going to say I passed them on to Trump (which I did NOT) . Jerry was willing to LIE about me but not himself ! Now Jerry is lying about legitimate research he did for me regarding the Podesta brothers lucrative business in Russia. Jerry Corsi is starting to make Michael Cohen look like a stand up guy ! #weasel #liar @infowars_com@real_alexjones @wearebreitbart @wnd@dailyrogerstone @darrinmcbreen#maga"
https://www.instagram.com/p/BsA69mug5wR/
That the political establishment would turn on Stone was likely always going to happen. He got his start doing dirty work for Richard Nixon (who is still one of his heroes) before bouncing around as a Republican strategist and lobbyist and eventually landing on the Trump campaign. That's where his train really went off the rails.
After leaving the Trump campaign (or not, depending on reports, because anyone in the Stone orbit has a dubious relationship with the truth), he became close with WikiLeaks. Though he has since tried to walk back his statements, Stone said that he had "communicated with Julian Assange," and seemed to have advanced knowledge of the timing of WikiLeaks release of hacked emails that went after Hillary Clinton's campaign.
This spiraled into a gig at InfoWars, where Roger Stone peddled conspiracy theories about the Seth Rich murder and various "deep state plots."
Finally, Stone earned the common badge of all fringe-right actors: he was booted off Twitter. His ban came after he attacked a number of CNN journalists in expletive-heavy tweets, including Jake Tapper, Don Lemon, and Ana Navarro, calling her a "dumbf**k."
Without a Twitter account, he was banished to Facebook and Instagram, where he stews about the latest developments. Though his Facebook is active, Stone really shines on Instagram. He uses the platform to attack reports and reporters that he doesn't like and to generally sling mud.
With only 28,200 followers, Stone's Instagram is somehow less relevant than a local "influencer" who has bulked up enough in the gym to be able to make a few bucks hawking some supplement drink. But that doesn't stop it from being amazing.
One of his favorite ploys is to take a screenshot of a headline and post it with his commentary. If it's a piece that's flattering of him (these come almost exclusively from the Gateway Pundit and InfoWars) his notes are usually a blurb about how hard he works to fight the deep state or how dumb his enemies are. Lately those enemies have been Adam Schiff and Steve Bannon.
Here's what he posted after he claimed that he confronted Google CEO Sundar Pichai in a Senate hallway.
https://www.instagram.com/p/BrR4c4_Au58/
Another one of Stone's favorite tactics is to post a photo of a journalist with whom he disagrees under the banner "FAKE NEWS."
Of MSNBC's Nick Afferman, he wrote, "I am going to sue this asshole for every penny he has."
Particularly, he takes issue with Shelby Holliday of the Wall Street Journal and Natasha Bertrand of the Atlantic.
At one point, he even posted one of Bertrand's emails to his page.
Obviously, this could constitute targeted harassment, especially because Stone does it on a regular basis. However, for some reason, Instagram hasn't ever decided that it crosses the line, despite the fact that these sorts of posts make up a sizable portion of his page. Instagram has also kept Alex Jones on their platform.
Noticeable in his smears of reporters is the absence of any specific issues that he takes with their reporting. Usually, he simply pulls from a Rolodex of insults, calling reporters "dishonest" or "duplicitous"—on the handful of occasions that he does point out falsehoods, these are almost exclusively dealing with his contacts with WikiLeaks. (Again, he's been claiming recently that he never had contact with Assange, despite admitting in the past that he's had.)
And because he's become, largely, the butt of a bad joke that could end with him going to prison, it's not surprising that people sometimes slide into his comments hoping to trash him.
Which is when Stone loses it.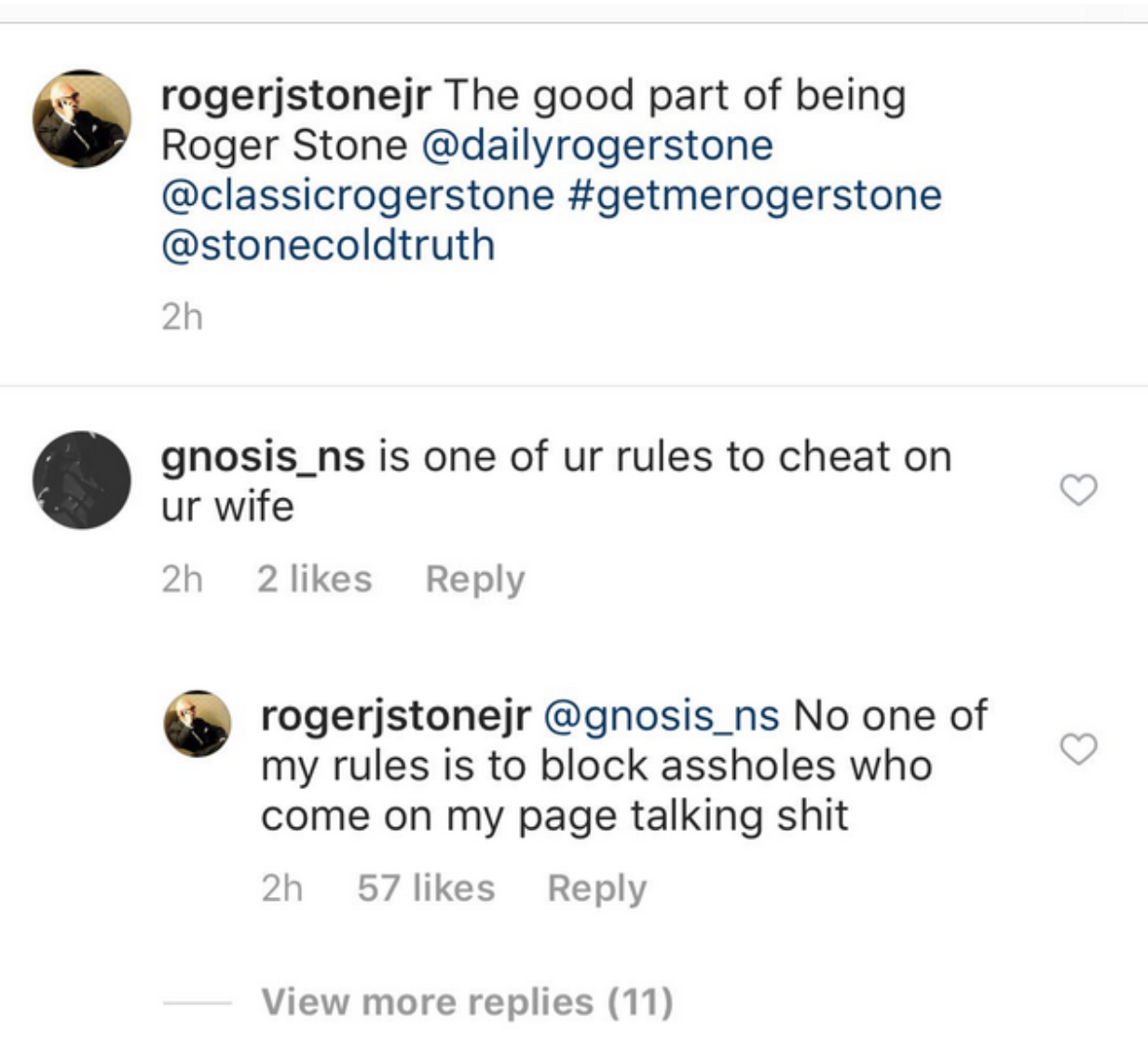 Earlier today, Roger Stone posted hateful words on Instagram about a person I respect, @jdawsey1. I responded, Stone blocked me, and *then* proceeded to reply to my comment. My husband @Phil_of_Marz has an account and captured shots of Stone's response and added amusing words. 🙊 pic.twitter.com/INSYmn5CEC

— Yennefer #BlackLivesMatter (@ada_jenn) September 1, 2018
Stone's almost assuredly about to get indicted, but even if he does, he'll be defending himself to the last, most likely by calling itt bullshit on Instagram.
Roger Stone's Instagram one of the most unfortunate, obscure footnotes of this time in history, which will weirdly wind up recorded when people write about the Trump era.
And his decision to Instagram shitpost his way through the Mueller probe deserves some sort of prize. There have been plenty of Trump allies who have shouted loudly on Twitter, but none who have done so on a platform ruled mostly by meme accounts and selfies.
It seems absurd to imagine the courtroom scene where Roger Stone watches one of his Instagram posts entered into evidence, but at the same time it also already feels inevitable.