Over the last several months, Rob Delaney has been relentless in provocative attacks on Mitt Romney's presidential campaign. The comedian was named Romney's "Twitter nemesis" by Businessweek and his widely shared tweets about the Republican candidate were even turned into a Tumblr webcomic.
But now the Romney campaign appears to be fighting Delaney's quips.
Delaney retweeted a screenshot by one of his followers Tuesday, which indicated that the Romney campaign is paying for ads on Twitter searches of Delaney's name.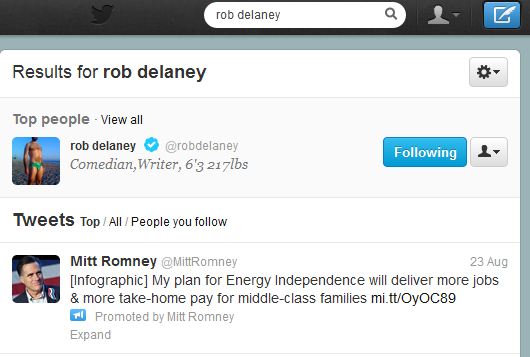 Screenshot by @amandapolly420
Whether or not Romney actually purchased ads on Delaney's name, it's indicative of how political campaigns are focusing on Twitter users this election with Promoted Tweets. (Romney's campaign did not return a request for comment by the time of publication.)
As the Wall Street Journal noted, Democratic Senator Claire McCaskill took out ads for the term "akin" after rival Rep. Todd Akin's comments about rape and pregnancy last week, attacking Akin and seeking campaign donations.
Part of the appeal of running ads on Twitter is that they can be set up and pushed live within minutes, if that person has already set up an advertising account. Last month, Twitter launched location targeting for Promoted Tweets, meaning that advertisers can push ads to those in a certain area—perfect for politicians running for office in a given locale.
If campaigns are looking to spend big and reach more people, they can opt to purchase a Promoted Trend, which can be seen nationally or even worldwide. While Peter Greenberger, Twitter's director of political sales in Washington, told the WSJ that "a campaign can get its message out effectively" for $10,000, a wide-reaching Promoted Trend can cost upwards of $100,000.
Whether other prominent Twitter users who tweet about politicians have been targeted by campaigns is not clear. But one thing's certain: Twitter will be a battleground to watch in the 2012 election.
Photo by CleftClips/Twitter