Facebook's Look Back videos were schmaltzy, but they were a hit for a reason. They had a winning combination of ingredients: People love Facebook, nostalgia, and looking at themselves. Facebook and other social networks are convenient receptacles for our digital images, but they can be unwieldy to sift through. And for some people, no matter how many "likes" a Facebook album gets, nothing beats the tactile fun of opening a physical photobook.
Netherlands-based startup ReSnap combines the novelty of seeing digital photos plucked from the social Web with the feeling of flipping through a traditional photo album with its service.
It uses an algorithm to scout users' social media accounts for worthy photos and posts. ReSnap does the work for you, so you don't have to comb through thousands of Facebook and Instagram shots looking for the best ones. It takes those photos and puts them into a physical album, as if someone took the photos featured in their Look Back video and printed them out to make a physical copy. It can sift through Instagram as well as Facebook, though, so the photo selection is more diverse.
There are a ton of startups out there turning social media images into physical objects. You can even get your Instagram photos printed on a marshmallow or turned into nail art, if that's what you're into. So I wasn't especially excited about ReSnap's albums. But they are impressive. They can run up to 50 pages, and  you select the time frame. Whatever it is behind the algorithm, it generated an album full of photos I was excited to see—which is perhaps the most interesting part: If you worried ReSnap would just pluck random well-liked photos or those with lots of comments and that lo and a behold, an album of your most embarrassing/drunken moments and horrible haircuts would appear, then worry not. I found mine to be something I actually liked looking through.
Users can edit the album to prune pictures they'd rather not be included, so if ReSnap pulls a photo you hate, you can cut it out before sending it to print. If you want to see what yours would look like but don't want to pay for the physical copy, ReSnap shows you an online preview for free.
The album also includes stats about your Facebook friends, including where they live.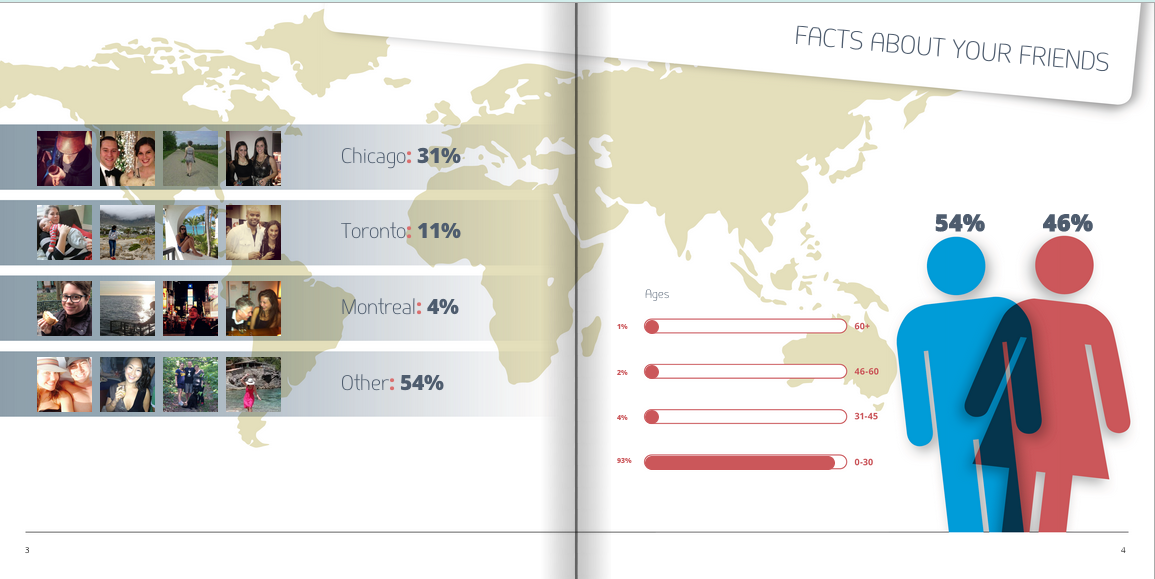 It picked my "golden friend"—the person who liked the largest amount of my posts. It also gave me the next 10 people who had commented and "liked" my stuff over the year.
ReSnap's album sets itself apart from the glut of services that offer to make your social media shots into physical photo albums because of extra features like that, and the strength of its algorithm. And even if you have no interest in printing these shots, go ahead and use it to bask in your popularity for a moment. We won't tell. 
H/T AllFacebook | Photo via Flickr/Jonas Lowgren (CC BY 2.0)