One of Reddit's most exciting AMA series has shut down, revealing a behind-the-scenes power struggle between admins and the moderators the social news site relies upon.
The popular r/science subreddit announced Friday that it will no longer host its "Ask Me Anything" segments in which scientists field questions from everyday Reddit users. The program, established four years ago, hosted some of the most esteemed names in various fields of science, including physicist Stephen Hawking and geneticist Francis Collins. The subreddit will publish its final AMA on Friday. (All other scheduled AMAs will be rerouted to r/IAmA.)
In his farewell post to the series, Nathan Allen, the head moderator of r/science, notes viewership "dropped off a cliff" in recent months. The underlying reasons for its fight for relevance highlight the disparity between a recent decision made by Reddit admins and its unintended impact on popular and informative subreddits.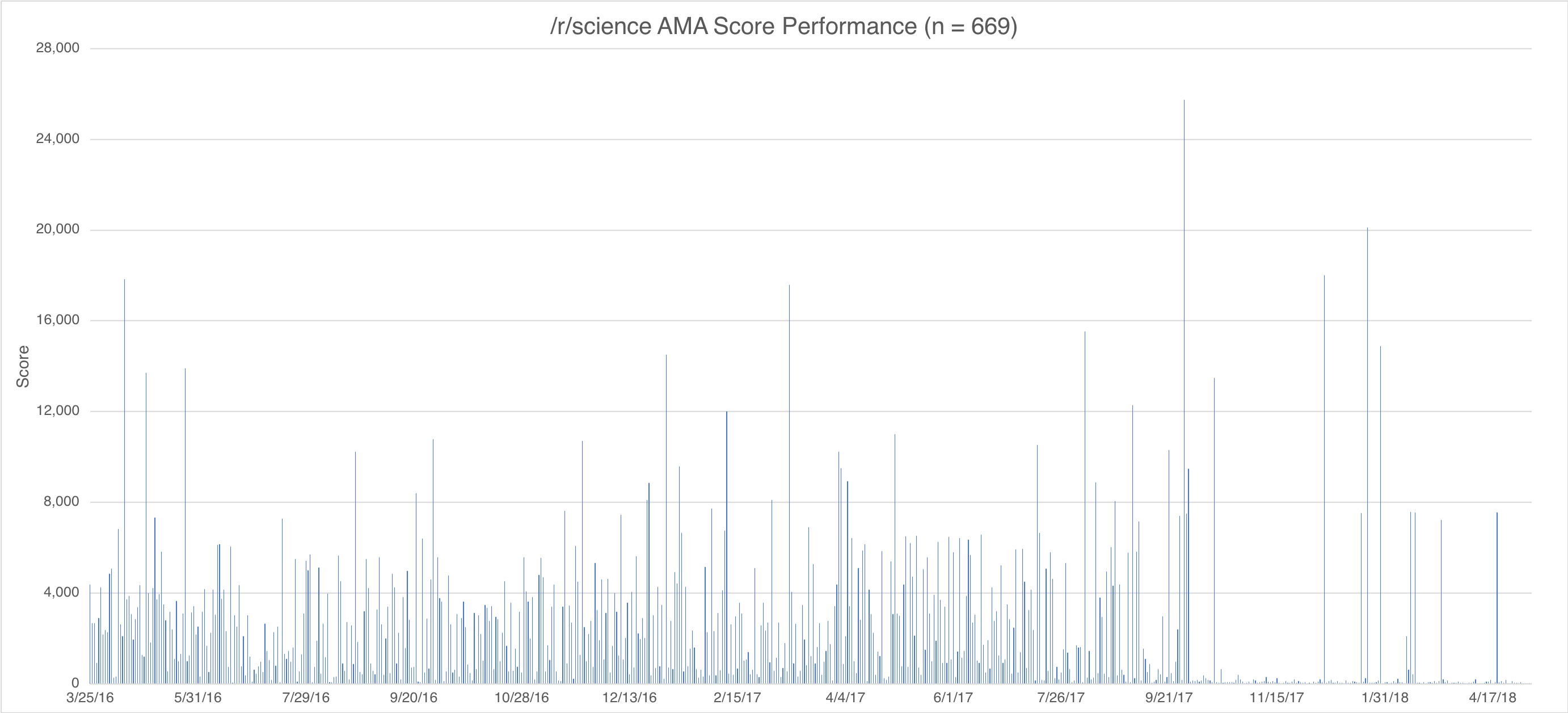 In his post, Allen blamed the demise of r/science AMAs on new algorithms that change how posts are ranked:
We aren't able to highlight this unique content, and readers have been largely unaware of our AMAs. We have attempted to utilize every route we could think of to promote them, but sadly nothing has worked.

 

Rather than march on giving false hopes of visibility to our many AMA guests, we've decided to call an end to the program.
Allen's allegations forced Reddit CEO Steve Huffman, known on the site as "spez," to address criticisms. In his reply to Allen's post, Huffman cites two major changes that attributed to the decline of r/science AMAs. First, the site replaced default communities—the 100 subreddits that once made up the front page of Reddit—with r/popular, which takes posts from all subreddits. The changes were made to help smaller subreddits compete with the larger, more established communities.
READ MORE:
Additionally, Reddit stopped allowing what Huffman calls "post manipulation" to highlight certain content. Moderators at r/science and other popular subreddits have been accused of deleting highly ranking posts to push individual items to the top of their page. From there, they would gain visibility and receive upvotes to be featured on the main page.
"The decision for r/science to no longer host AMAs is disappointing, and blaming us at Reddit is counterproductive," Huffman said. "u/nallen, having met you personally a number of times and after personally trying to work through this issue with you over the past months, I'm disappointed you've taken this approach to mislead your community about what's going on," 
Allen admitted to the Daily Dot that he deleted popular r/science posts so AMAs would be more prominently featured. But he argues the controversial action was required for his posts to gain widespread visibility.
"[deleting posts] is a consequence of the nature of the user base's interest in science," Allen told the Daily Dot. "Meaning, if science is put in front of them, they [Reddit users] like it. But they don't go seek it out. That's for stupid cat pictures and other relaxing things. Science isn't."
---
Hear the origin story of the r/Science on 2 Girls 1 Podcast:
---
Allen says after the adjustments were made, deleting the top two posts on a subreddit would remove the forum from view for three to five hours. Reddit has not confirmed what specifically it changed to prevent post manipulation but said it's something it doesn't support or allow.
For a while, removing top posts was a reliable way to get AMAs to float to the top of a subreddit, proving moderators could bend the rules to overcome algorithms that tend to rank posts based on viewership, not merit. Once the changes were made to expel the workaround, AMAs on the r/science page took a nosedive. The subreddit no longer had a means of getting its content in front of people, and competing against more "viral" subject matter proved fatal. Allen says he's been tinkering with the site to overcome the changes, using sticky posts, posting on Twitter, and adjusting the sidebar. But none of his attempts have proven effective, and viewership continued to decline. He said the time it takes to create an AMA, along with a declining interest from the science community to participate, led him to stop the program.
"We got to see scientists talk passionately about what they're working on, why they're working it, and what they see is the importance of it," Allen said. "That kind of human connection is what leads people to go into science and grasp why you should be passionate about it, and we're really sad to be losing that. But it was no longer that anymore, it was this shell—nobody saw it. If a tree posts an AMA in the woods and nobody is around, does it get questions?" 
Allen wrote in his post that the changes came "without warning or recourse" and that he'd previously been told by Reddit admins his means for increasing AMA views was allowed, albeit, looked down upon. Allen claims Huffman said he'd rather him not delete highly rated posts but failed to give him a better alternative.
READ MORE:
"It's a long storied tradition of mods getting no support from admins to make anything happen and having to make do with the tools they have," Allen said.
Huffman, however, said Reddit engineers are testing new algorithms to help communities like r/science get more visibility and forthcoming features will promote events like AMAs. He cited a post by a Reddit engineer on new sorting algorithms the team is experimenting with. It speaks of a so-called "tidal" effect where the top post of a subreddit continues to gain votes and widen the gap between the second-highest post. This results in each subreddit having to wait until the top post starts to decline before new content becomes popular enough to reach people's home feeds.
"Regardless of u/nallen's decision, we will continue to work to improve our onboarding and sorting so that users get to see more of what they love, and we have in mind some specific features that will help promote 'event' posts (AMAs, game threads, episode threads) in the future," Huffman wrote.
Allen said he'd be open to bringing back science AMAs in the future but isn't convinced Reddit will deploy the required changes to make it worthwhile.
"We have been told they've been working on stuff for years now," Allen said. "They're also working on better mod mail but it still sucks. The Reddit search algorithm is terrible, they're also working on that. There are lots of things they're supposedly working on; I'm just not buying it. What it boils down to is A/B testing to see what keeps people on the site long enough, which doesn't take into account quality."
Quarrels aside, r/science, the largest science community on the internet with 18.7 million subscribers, held some of the site's most successful AMAs. At its height, the r/science page was hosting an AMA almost daily, with the most popular posts gaining tens of thousands of upvotes. As Allen explains, many of them had a significant impact on people's perception of science and those who work in the industry. 
Allen said one Reddit user told him an AMA was his inspiration for attending grad school. "He messaged us after he finished his Ph.D. so that was a big motivator on us for the democratization of science," Allen said. "How do you know what it's like to be a scientist if you've never encountered a scientist? How do you that you're the right person to do that if you just don't have the opportunity?"
Editor's note: This article has been updated to clarify the status of r/Science's previously scheduled AMAs.
Correction: An earlier version of this story misspelled the name of Reddit's CEO, Steve Huffman.