Reddit in Bed is the year-old brainchild of mobile game developer Kabir Hemrajani. According to an interview with BostInno, Hemrajani came up with the idea while browsing Reddit on a tablet with his fiancée—in bed, of course.
"I would be looking at reddit on my iPad in bed and giggling to myself and my fiancée would always be asking what was so funny," he said.
Hemrajani went on to explain that Reddit's mobile-unfriendliness turned off many unfamiliar users. After a year spent hammering out code, he lay down in bed with his partner and re-introduced her to Reddit. This time, she got into it.
"An easy way to Reddit," states the app's website. "Just scroll down."
Sure enough, scrolling down brings you to mobile-friendly versions of each individual submission that made it to the front page. Gone are sidebars, ads, and tabs. A submission's karma score, author, and comment count are still visible.
Here's a comparison: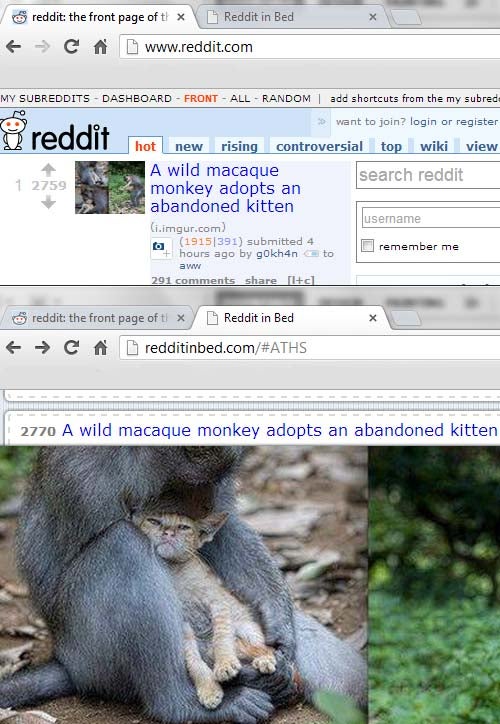 The app is far from complete (and, to his credit, Hemrajani makes note of its imperfection in the site's About section). Its key noticeable difference is an inability to log into your account—which, if you actually use Reddit—might be a dealbreaker.
Additionally, image-heavy posts are presented with the subject matter splashed right out onto the page. While this continues the mobile-friendliness of the site, it can prove detrimental when a NSFW image makes its way to the front page. Reddit itself, like many of its apps, tends to hide images until they're manually clicked. Reddit in Bed does not do this. You'll scroll along and suddenly run headfirst into nudity, gore, or, worse, a rage comic.
Once Hemrajani irons out his app's imperfections, he hopes that his vision of Reddit can help bring the social news site to people accustomed to Twitter and Facebook.
The lingering question remains: Does the Reddit community want an influx of casual, unfamiliar users?
H/T BostInno | Photo via U.S. Naval War College/Flickr