In the week since Sen. Wendy Davis stood for 13 hours on the floor of the Texas Capitol in opposition to Senate Bill 5 and Texas government's overregulation of women's bodies, she's had songs written about her, biopics pitched, and Amazon customer reviewers take over a Mizuno sneaker page. She was also chastised by Gov. Rick Perry for not "learning from her own example" as a single teen mother and had her name buried 17 paragraphs into a New York Times article about the filibuster, which first referred to her only as a "petite Fort Worth Democrat in pink sneakers."
On Sunday, the night before the second special session called by Perry began, a new anonymous blog appeared called The Real Wendy Davis. Its apparent purpose: to take a "closer look" at this new "feminist superhero." Its angle: How is it scientifically possible that this successful 50-year-old senator, mother of two, and graduate of Harvard Law has only gotten more attractive as she's aged? Its hypothesis: She might be a "surgically constructed human Barbie doll."
The blog proffers the scientific evidence of pictures of law professor Glenn Reynolds and President Barack Obama, who are both now in their early 50s, when they were in their 20s. Their photos are accompanied by an image of Davis at age 27, in her Harvard Law School yearbook photo, in which she has dark, curly hair. It's suggested no one would really think those men are better looking now, all leading up to this fascinating point: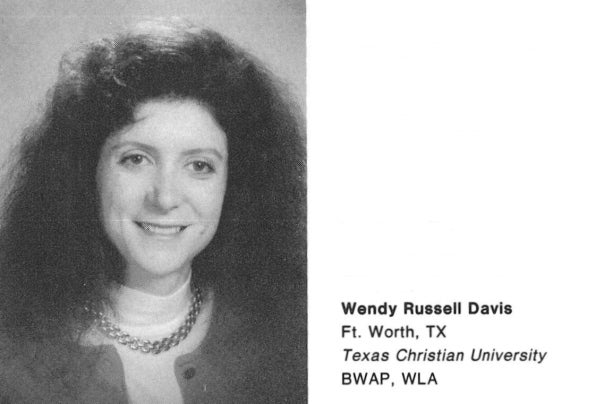 Now consider Texas state Senator Wendy R. Davis, who has recently been in the news being touted (however dubiously) as the Left's technologically enhanced 'feminist superhero.' She is 50 years old. Yet, unlike Reynolds and Obama, but like Mac Davis, it appears she gets better looking each day. If she has not found the Fountain of Youth, at minimum she has found very talented plastic surgeons and image consultants who have readied her for her closeup.

Somehow, during the past two decades she has been transformed from a frumpy, pleasant looking but plain-faced, flat-chested brunette with thick, messy hair, into a buxom blonde with excellent facial features and sleek, long, perfectly coiffed hair, like she stepped straight out of Vogue.
The implication here is that Davis has somehow altered her appearance in the last 20 years, no longer has early '90s hair, and might have had plastic surgery. And if so, she is too attractive to be a "feminist superhero," so let's go ahead and downplay her accomplishments. The writer adds that "[f]or someone who in the early 1990s was a feminist activist in law school, and who is currently posing as a champion of women's rights, standing up to men who seek to dictate the way women should live, she seems to have devoted an unusual amount of attention to her physical appearance."
Yes, why does she pay so much attention to her appearance, if she's only "posing" as a feminist? Is she a shapeshifting lizard person who never ages? What else are feminists hiding?
Some folks found humor is the situation.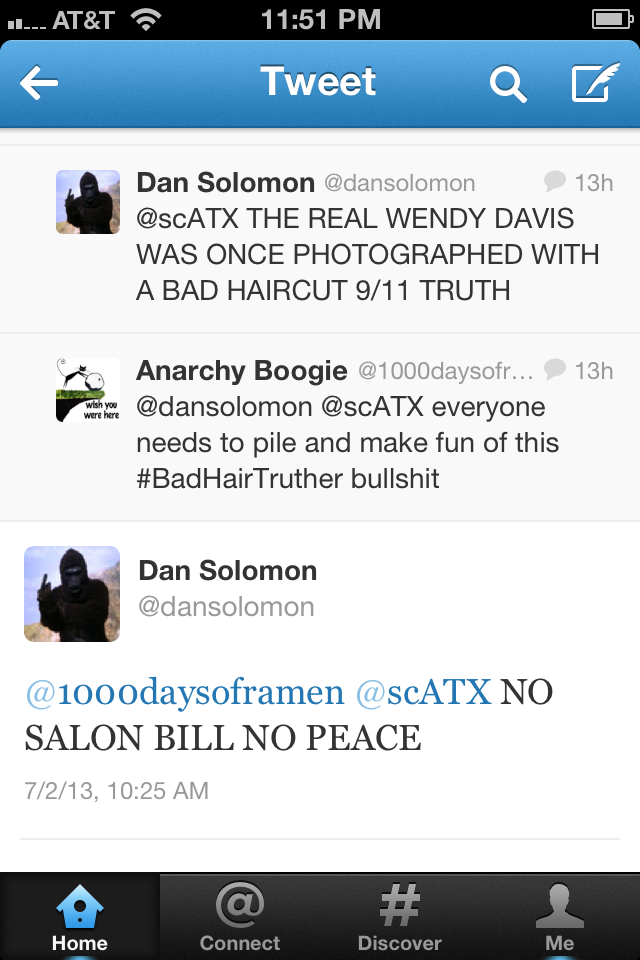 And a sense of humor about it all is practically necessary. Yesterday, during special session testimony livestreamed from the House, pro-choice and pro-life advocates and medical practitioners gathered to speak. When a conversation came up about regulations on the abortion pill, known as RU-486, one senator struggled to remember its name, dismissing it as "RU-48-whatever it's called." Another had a difficult time grasping basic procedural concepts, and the bill's author proved in the last special session she does not know what a rape kit does. 
This blog might be a bit of trolling by the right, a sexist addition to the "truther" movements with literally one post on the matter. But it is not harmless. It's indicative of the backwards logic that plagues the Texas legislative process, and the sexism that pervades society on- and offline.
Davis's profile has been raised, which seems to give people more of a "right" to comment on her body, personal life, and appearance, or to judge how much of a feminist she is, by insinuating she is somehow fake. And more and more, what it means to be "real" is being questioned by those who have no idea what it means to be a woman. 
Screengrab via DumpsterKittenProds/YouTube