In early October, Facebook took the long-awaited step of banning QAnon. Its new policy regarding the conspiracy theory the FBI has labeled a domestic terrorist threat is one of the most sweeping changes in company history.
Overnight, thousands of QAnon groups, pages, and accounts vanished. The move followed an earlier enforcement effort over the summer, which tipped followers off and gave them time to create backup pages, change names, and make other contingency plans to regroup elsewhere on the platform in case of deletion. Facebook has gone after those, too. Today even a search for "cue," one of the names followers adopted to attempt to evade detection, prompts a warning that the word may be associated with QAnon, which it calls a "dangerous conspiracy movement."
Banished and devoid of their former homes on the platform that had long been so welcoming, QAnon followers have sought refuge on Facebook groups and pages that support President Donald Trump. The Daily Dot has found countless examples of QAnon content on pages and groups ranging from a few hundred followers to 2 million, most of them specifically supporting Trump's re-election. The content varies from explicit references to QAnon, such as screenshots of so-called "Q drops" and links to podcasts by the conspiracy theory's quasi-celebrities, to regurgitations of followers' numerous baseless, and in some cases, downright bizarre beliefs.
Facebook may have officially banned QAnon, but it hasn't gone anywhere.
Facebook did not respond to questions and request for comment sent Wednesday afternoon.
QAnon is a conspiracy theory that primarily holds that the world is controlled by an evil cabal that worships Satan and sacrifices and molests children. They believe Trump is singlehandedly trying to take down this cabal, which includes prominent Democrats, popular entertainers, and the "deep state." Their obsession with child sex trafficking is intense.
Since its humble beginnings as what many believe to have been a live action role player shitposting on 4chan, QAnon has spread like a pestilence, infecting millions worldwide, including people who may soon be coming to a Congress near you. A recent poll found that half of Trump supporters now believe that top Democrats are involved in elite child sex trafficking rings.
That belief is evident on Donald J. Trump 2020, a private group with 8,000 members, an increase of nearly 2,000 in one week. Recent posts include a meme promoting the offensive and false belief that Democratic vice presidential nominee Sen. Kamala Harris (D-Calif.) is a man, a post that includes #QAnon and #Pedogate; a photoshopped meme of Hillary Clinton and Barack Obama in prison garb; and a photo of a little girl that falsely implies Democratic presidential nominee Joe Biden is a pedophile.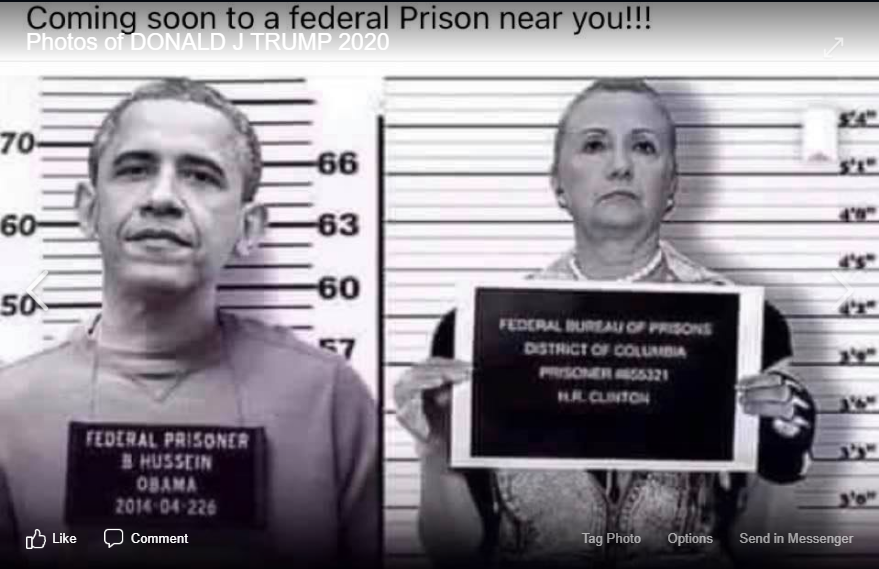 QAnon followers are convinced that mass arrests and public executions of high-profile Democrats are either imminent or have taken place. Many believe they're being held at Guantanamo Bay; some even think that body doubles, clones, or even androids have taken arrestees' place in society.
A member of Trump Train 2020 Keeping America Great!! wondered when Americans will start protesting "state sponsored child trafficking and 800,000 missing children a year." QAnon followers falsely believe that 800,000 children are trafficked annually in America, a false conflation of fact and fiction. In 2012, Reuters reported that 800,000 children are reported missing every year, but 99% are safely returned home—nearly half within three hours.
One woman commented on the post, "Kudos to Trump. He's the one who went after all these child sex traffickers." In fact, prosecutions of child sex traffickers have declined during his administration, according to the Human Trafficking Institute.
A member of the public group recently posted the same image found on Donald J. Trump 2020 that falsely implies that Biden is a pedophile. Many of the same QAnon posts and memes can be found throughout pro-Trump Facebook.
Unfounded claims that Hunter Biden has molested children are rampant on the public USA Patriots for Trump, which has 2 million followers. A link posted on Oct. 21 to a story about Jill Biden saying she doesn't like her son being attacked prompted numerous comments repeating the unfounded rumor that Hunter's alleged laptop, which Rudy Giuliani claims to have been given, contained child pornography.
One of the private groups that seems destined for deletion under Facebook's new policy is Trump Supporters and Anons. Posts, including by moderators, are peppered with overt QAnon content.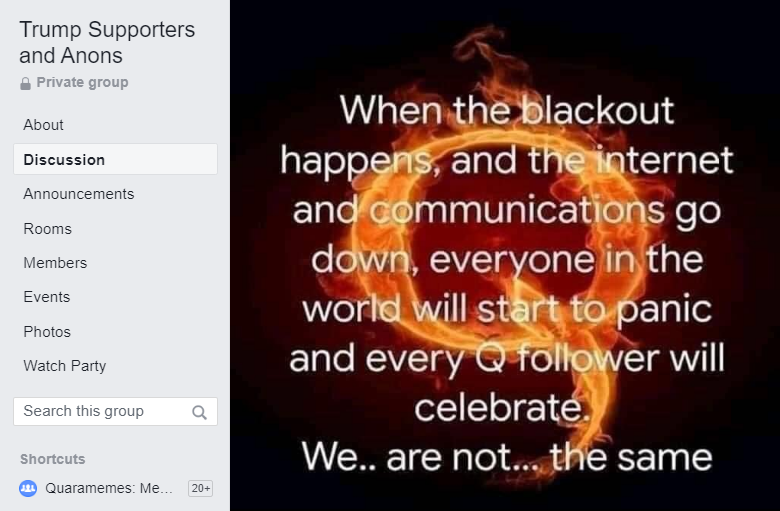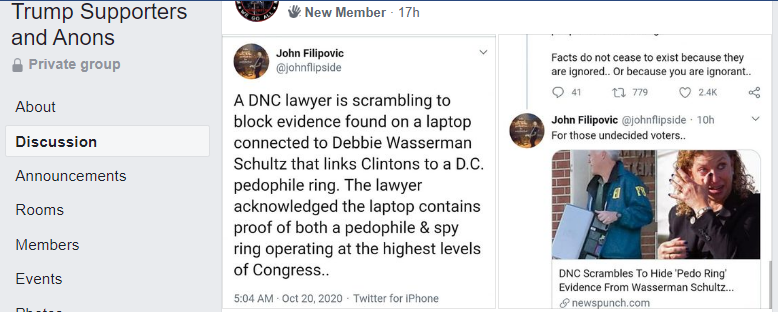 In just four months, Reelect Donald j. [sic] Trump for 2020 has attracted more than 2,000 people to its public group. In that time, members have posted Islamophobic content, oddly uncomfortable thirst traps, and QAnon theories, including unfounded claims about the contents of Hunter Biden's laptop.
On Worldwide Support for President Donald J Trump 2020 Re-election, a public group with 6,000 members, two posts include addresses for QAnon websites. Commenters there write of "adrenochrome," which adherents believe Democrats harvest from children's brains, fantasize about Hillary Clinton being executed, and theorize that Biden will make the White House a "pedohome."
Members of God Bless Trump post about "Demoncrap pedophiles," call Democrats "the devil's children," and the like. The also public Voters for Trump includes a recent post claiming that Parler is shadowbanning content about Satanism, as well as one with a screenshot of an actual Q drop.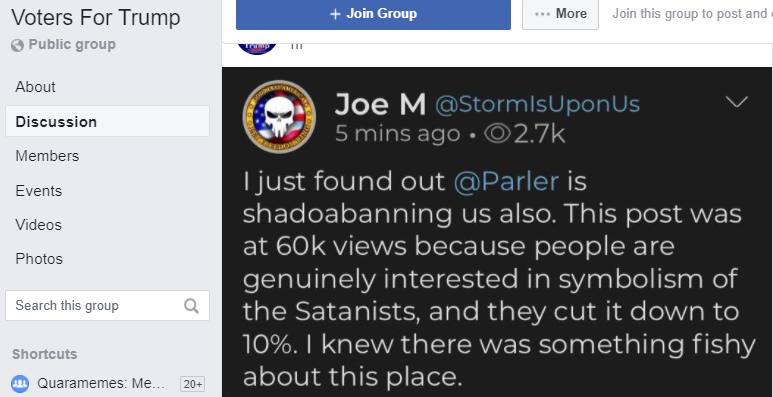 Not all Facebook pages that support Trump's reelection are clogged with conspiracy theories about pedophile rings, microchipped vaccines, and clones taking place of executed Democrats, of course. But many are, which Facebook is effectively enabling.
When Facebook announced that it was banning QAnon groups, pages, and accounts, it told NBC News that it wasn't "going after individual posts" about the conspiracy theory that has broken families apart and inspired violent crimes, including terrorism. Instead, it's targeting accounts that promote QAnon.
Therein lies the problem. While groups like Trump Supporters and Anons may run clearly afoul of the policy by continuously posting about QAnon, and ultimately get deleted, it may not be so clear with other groups where these posts are nevertheless a daily occurrence broadcast to millions.
As long as these posts continue, the QAnon conspiracy theory will persist.
---
LISTEN UP: How to save a loved one from the QAnon conspiracy cult
Support groups for families torn apart by QAnon are sprouting up online. In episode 149 of 2 GIRLS 1 PODCAST, Alli and Jen learn from experts, QAnon survivors, and a cult deprogrammer about the right ways to help the conspiracy thinker in your life.
Or subscribe on Apple Podcasts, Stitcher, Spotify, or wherever you get your favorite podcasts.