This article contains sexually explicit material that may be NSFW. 
When Adam Lewis was a small child, he received a pleasant surprise while swimming in his grandparents' pool. "I came across the water jets, and to my surprise, it was an incredibly enjoyable sensation," he recalls. "That was, I guess, the first experience I had with frenulum stimulation."
Since that chance encounter with the pool jets, Lewis developed an interest in what he refers to as "alternative methods of male stimulation." As the founder of the U.K.-based sex toy brand Hot Octopuss, he developed a series of toys targeted at women, but noticed there was a paucity of similar toys on the market for men. While there were a various rubber vaginas and sex dolls and masturbation sleeves, there were no male toys out there that worked as vibrators for men.
After doing research, Lewis discovered that the only option available for men interested in purchasing a toy for frenulum stimulation was not in the sex toy market, but in the medical field. He came across a medical report describing Penile Vibratory Stimulation (PVS), a technique used to bring male victims of spinal cord injuries to orgasm. Five years later, Lewis and his team released Pulse, a vibrating male sex toy that's being marketed as the world's first "guybrator."
Released last year in the United States, Pulse ($99) is essentially a vibrating sheath that can be worn over the man's penis during sex or while masturbating. Lewis says it's one of the few sex toys for men that doesn't rely on what he refers to as "the age-old up-and-down motion that's proven successful for millennia."
"We're very much conditioned to be stimulated in a certain way, which is amazing considering how obsessed men are with their penises," says Lewis. "I'm the first, believe it or not, to break the rules in this way."
In itself, the concept of a vibrating sex toy for men is nothing new: There are vibrating dildos, vibrating cock rings, even vibrating condoms. But Pulse is somewhat unique in that it relies on oscillations, rather than vibrations, to stimulate the man's frenulum, or the small tissue underneath the glans of the penis. The technique stems from the PVS method that Danish researchers use to stimulate men who have spinal cord injuries, often to collect their semen so they can impregnate their partners.
The basic theory is as follows: "In order to scientifically properly stimulate a guy," he requires a "specific type of vibration, applied at a specific frequency and amplitude" to reach orgasm, says Lewis. While most vibrations from a vibrator are produced by an off-center weight and motor moving in a circular motion, the Pulse plate goes up and down like a piston, which results in deeper, high-amplitude vibrations. Put simply, "if a guy takes a female product to his bits, it'll feel really nice, but it'll never get him to the stage of orgasm or real arousal because they're very tinny vibrations," explains Lewis. "What Pulse delivers is these deep, basic oscillations" that result in male orgasm.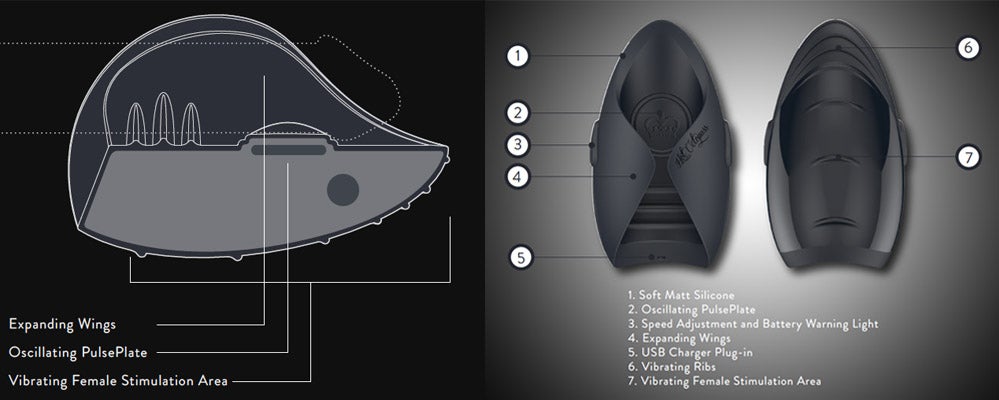 Regardless of how good it feels, however, Pulse is handicapped by the fact that it is a sex toy targeted at males, who have not traditionally been considered a lucrative market. For years, manufacturers have operated under the assumption that men simply aren't as interested in buying sex toys as women are, in part because the male anatomy is wired in such a way that elaborate gizmos aren't required to bring them to orgasm (which a group of my male friends agreed with when surveyed).
Pulse also faces some stiff—pun definitely intended—competition in the existing male sex toy market, which has traditionally been dominated by less technologically advanced toys like Fleshlights and pocket pussies, most of which look more like alien extremities or inside-out socks than actual vaginas. "If you look at the products that have been created for men in the past—blow up dolls, these fake vaginas, masturbation sleeves—none of these are aesthetically appealing because they are trying to replicate reality, but they're very crude and very simplistic," Lewis says. "I certainly wouldn't want to be having one on my nightstand."
Like the creator of the high-end male masturbator the Autoblow 2 before him, Lewis wants to do with Pulse what sex toy manufacturers like jimmyjane, Lelo, and OhMiBod have done with upscale, high-tech women's sex toys: transform them from crude masturbation devices into high-end luxury products.
"Women have these beautifully created and ergonomic products, but there's nothing on the market for men that a guy can be proud of owning," says Lewis. "A woman can say 'Look at this Jimmyjane, it's a beautiful product, it costs $140, and it's a work of art,' but men have never had that. We want to give men a gadget that looks really cool, that looks like a piece of tech rather than a masturbation device."
Even though societal attitudes about sex have made significant progress, it's highly doubtful that men and women alike will proudly display a sex toy alongside the artwork on their walls, regardless of how high-quality or technologically advanced the product is. Ultimately, what Lewis wants to do is open up the market to the point where men are willing to openly experiment with unconventional sex toys like male stimulators and prostate massagers (which he says have enjoyed an uptick in sales as of late).
But if nothing else, Lewis hopes Pulse will level the playing field for men and women's sex toys by proving once and for all that there's more to self-pleasure than feeling a finger on your junk.
"I hate when people ask, 'Why do men need sex toys?' I've never heard such rubbish in my life," he says. "I want to ask, 'Why do women need sex toys? You've got a hand, that'll do.' It's obviously just not the case for women, and it's not the case for men either. There's 100 different ways to achieve orgasm. Why should us guys just have one?"
Photo via rolands lakis/Flickr (CC By 2.0)