A colorful cartoon advertisement sharing graphic details of attacks on Israel is running in front of videos on YouTube, according to posters on Instagram and X, details of which the Daily Dot confirmed.
It's just one ad supporting the state of Israel that users on social media say they've been getting since the attack by Hamas on Saturday launched a new phase in the war between Israel and Palestine.
The cartoon ad opens with nursery music and blue, pink, and yellow unicorns jumping around a background of rainbows, clouds, and smiley anthropomorphized stars.
"We know that your child cannot read this," pops up a text in the center of the screen between a rainbow. "We have an important message to tell you as parents."
The nursery music then drops out with an ominous downtown.
"40 infants were murdered in Israel" flashes across the now silent screen, "by the HAMAS terrorists (ISIS). Just as you would do everything for your child. We will do everything to protect ours."
"Now hug your baby and stand with us," comes on the screen as the nursery music starts up again before showing an image of the emblem of Israel.
"Israel is paying YouTube to place adverts like this before videos aimed at children," wrote the rapper Lowkey on X over a camera recording of the Youtube video.
The specific claim that 40 infants were murdered in the Hamas attack on Saturday hasn't been confirmed yet, although numerous reports and graphic photos have revealed the horror at the kibbutz near the border.
Soldiers told some reporters who visited the Kfar Aza Kibbutz on Tuesday that they'd seen about 40 babies taken out in gurneys. Another horrific claim, that the babies had been beheaded, was also subject to debate and uncertainty. In a speech on Wednesday, President Joe Biden said he'd seen pictures of beheaded babies, but the White House walked the statement back quickly saying he'd based his belief on what Israeli officials had told him and news reports, reported the Washington Post.
Israel has posted some censored and uncensored images of the victims of the assault on X as well.
Other reporters who visited kibbutzs attacked by Hamas have described disturbing scenes.
One X user posted screenshots showing the ad seeming to play before a video from a fashion YouTuber. "Ads going international," commented @yoshua5_d.
Since the new phase of the war in Israel and Palestine began on Saturday, social media users have highlighted pro-Israel ads on YouTube.
One, titled "Hamas Declared War Against Israel," cuts together audio of explosions, screams, and gunfire over fast-paced, cinematic narration. "This is a war," the narrator says, "and Israel will take every measure necessary to protect our citizens against these barbaric terrorists."
That video is also posted on Israel's Foreign Affairs Ministry's YouTube channel.
"my little brother just got a youtube ad on a kids gaming video from israel saying israel is at war like wtf," commented one user on X.
A Redditor on r/GreenandPleasant, a left-wing UK subreddit, said they'd seen another version of the ad with images of fighting and violence interspersed between impact font warning of "hundreds of armed terrorists."
"We will make sure that those who harm us pay a heavy price. Stand with us," the video finishes. That video is hosted on a YouTube channel presenting itself as Israel's Ministry of Diaspora Affairs.
YouTube didn't respond to questions about whether the Israel Foreign Affairs Ministry or other agencies was paying for YouTube ads, or if they were targeting younger demographics with ads.
A Search of Google's Ad Transparency Center showed that Israel's Ministry of Foreign Affairs has been running ads several ads in recent days, including the one about children being killed.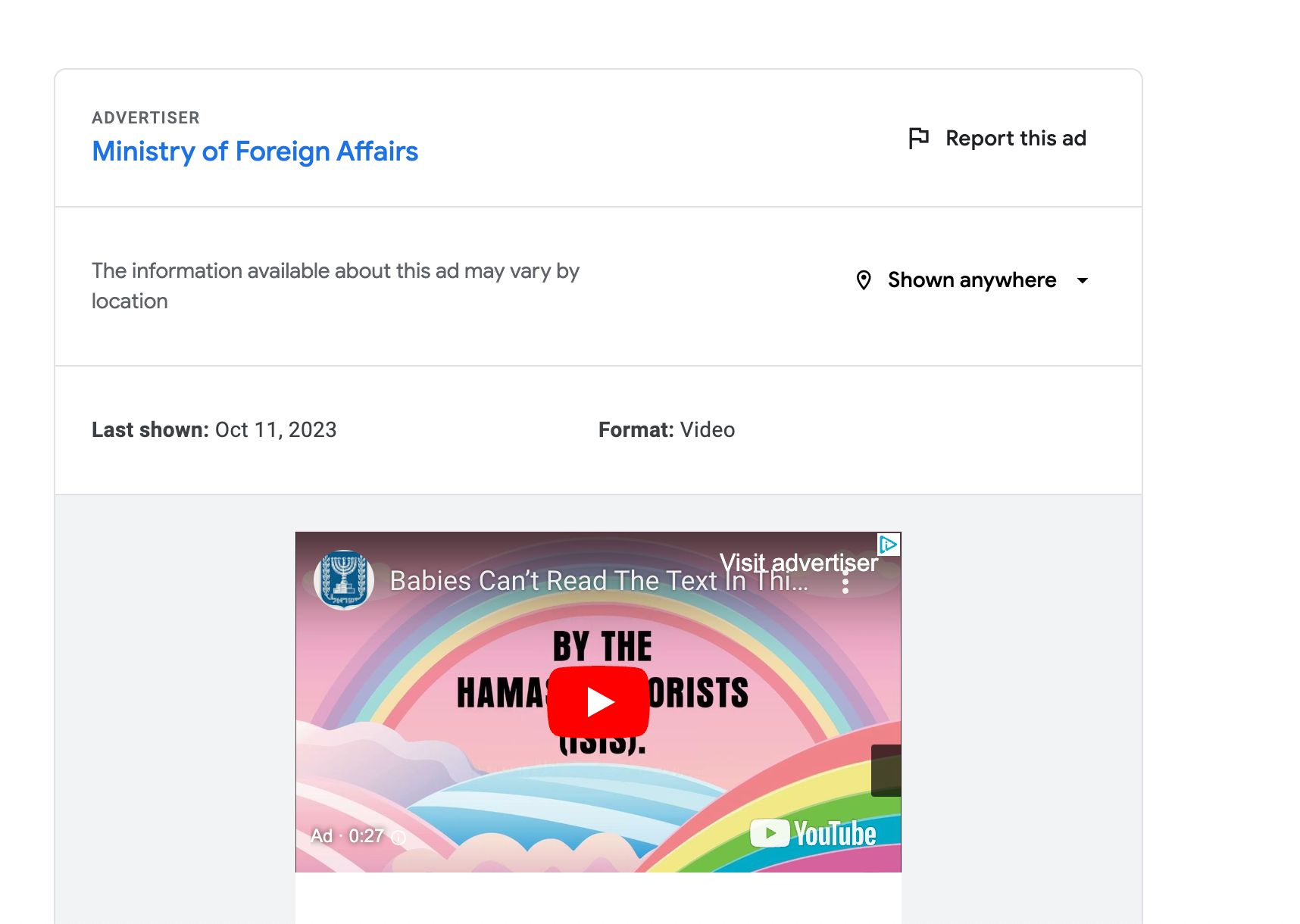 YouTube's ad policy bans "violent and criminal content that references graphic violence, weapons, and illegal activity."
Update 9:26am CT, Oct. 13: A spokesman for Google told the Daily Dot that they have strict rules against showing political ads or ads with references about death to children.
"This ad is appropriately labeled and is not serving on made-for-kids content or YouTube kids nor can it serve to kids," the company said.

We crawl the web so you don't have to.
Sign up for the Daily Dot newsletter to get the best and worst of the internet in your inbox every day.