Finding a person with a cute selfie on a dating site is easy, but knowing the truth about the person behind the photo rarely is. In an effort to make online dating a bit safer, the Predator Alert Tool for OkCupid will alert you of potentially dangerous daters lurking behind a pleasant profile.
Once installed, the plugin—which is available for both Chrome and Firefox—presents a series of questions related to a person's sexual history, and they're rather bluntly worded. The survey flat out asks whether you've forced a person into a sexual situation, or forced a child to fondle you. Upon answering each question, you're asked which responses from potential mates you would be willing to accept, and how important that particular item is to you.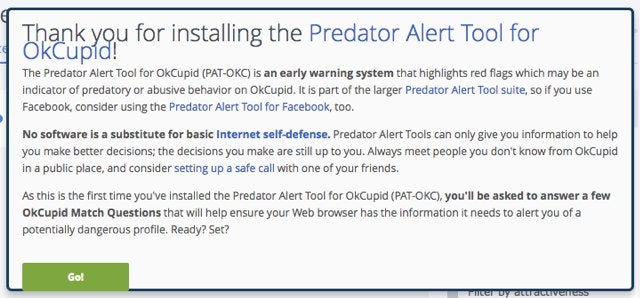 The idea here is that by comparing the answers of a large number of users, the plugin can highlight outliers that may pose a threat. Of course, the entire system is dependent on the users answering truthfully to all the questions, and while that may seem like a long shot, the plugin's developer, Meitar Moscovitz, notes in the plugin's description that many of the questions are used in scientific studies on rape. "The fact that some people blithely answered 'yes' makes these questions worth asking up-front, to everyone, all the time," Moscovitz notes.
But even if a sexual predator is smart enough to answer the questionnaire in a manner that hides the truth, the plugin has a powerful trick up its sleeve: Upon visiting a user's OkCupid profile, the Predator Alert Tool scans their selfie and compares it against faces of those on the United States' Sex Offender Registry. Using the facial recognition technology of CreepShield, a percentage will appear next to each user's OkCupid profile showing how similar they are to a any known sex offenders.
In order to get the Predator Alert Tool up and running, you'll need to download either Tampermonkey for Chrome or Greasemonkey for Firefox. These plugins let you equip userscripts, which is what the Predator Alert Tool is. Once you've added either of these to your browser of choice, you can install the tool simply by clicking "Install" on its userscript page.
On your next visit to OkCupid after completing the install, you'll be prompted to complete the survey, and from there your online dating should be at least a little bit safer. 
H/T On The Media | Photo via MattysFlicks