Hey, snowflake, did you know a large majority of Americans think politics has become less civil in the Trump era, according to a new poll? Sad!
A PBS NewsHour/NPR/Marist poll released on Monday found that 70 percent of American adults and 73 percent of all registered voters believe the "tone and overall civility" between Democrats and Republicans has gotten worse since President Donald Trump was elected.
Unlike many issues that break along party lines, the question of civility sees voters of both parties as well as independents largely in agreement, with 81 percent of Democrats, 65 percent of Republicans, and 70 percent of independents saying civility has worsened during Trump's time in office.
That's a stark change from this point in former President Barack Obama's tenure in the Oval Office when a Gallup poll found that just 35 percent of respondents thought civility had gotten worse, while 21 percent believed it improved and 42 percent said it stayed the same.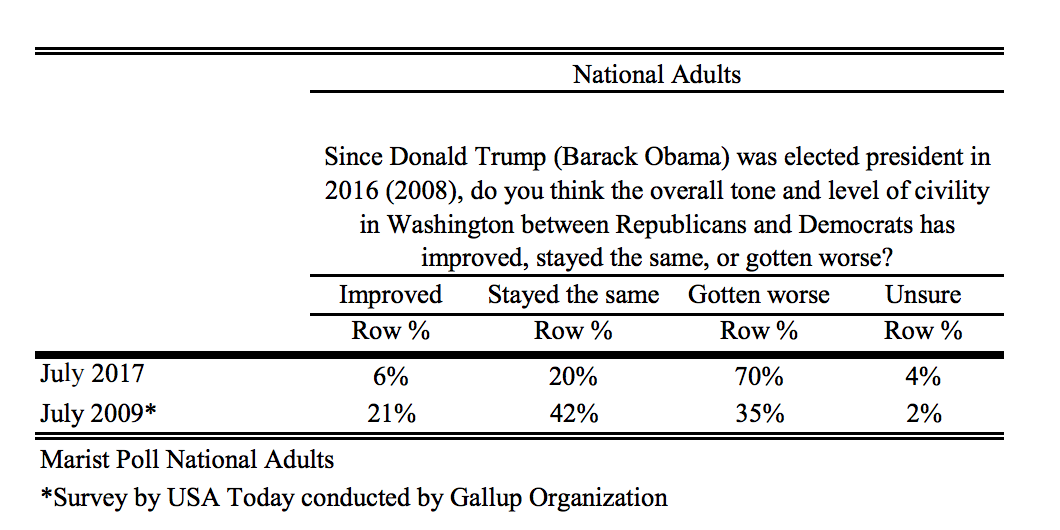 Americans' belief in the nature of our political discourse does not coincide with feelings about the Trump administration. In total, 61 percent said they do not trust the Trump administration, including 70 percent of independents and 90 percent of Democrats. Eighty-four percent of Republicans said they do trust the Trump administration.
Democrats have a far greater trust in the media than their Republican and independent counterparts, with 56 percent saying they have some or "a great deal" of trust in the media compared to just 23 percent of independents and 9 percent of Republicans who feel the same way. Overall, just 30 percent of respondents said they trust the media, while 68 percent do not.
Only Congress scored more poorly than the press, with 29 percent putting trust in America's lawmakers and 68 percent distrusting them.
The poll's publication comes amid a simmering controversy over Trump's recent tweets attacking the media using crude, sexist language and violent imagery that has opened up yet another fault line on which we can disagree.
The PBS NewsHour/NPR/Marist poll included 1,205 American adults, who spoke with pollsters June 21-25. It has a margin of error of 2.8 percent. You can read the full results and methodology of the poll here—if you don't believe me.
H/T PBS