Instagram is a fascinating platform for sharing and discovering photographs. But most of the images in the community are little more than fleeting thoughts, whispers in the wind to be enjoyed and forgotten.
There are some that we might wish to lend a little more permanence, however. That's where Pixelist comes in.
The company caters to those who want physical versions of their best photos, and crafts the images into oil paintings with the help of a couple dozen artists. Pixelist is running an IndieGoGo campaign to help get off the ground and introduce the company to passionate Instagrammers.
"Most people tend to post only their best pictures rather than giant albums," said cofounder Will Freeman. "You end up with a curated collection of quality images that depict our lives and passions."
Hong Kong-based Pixelist has been in the works for about a year, Freeman told the Daily Dot, with most of that time spent on building the team of artists. He said the idea came from his partner Conor.
"It came from discussions we were having about all the highly skilled artists we came across in China and perhaps my love for custom products as well," Freeman, who moved to China after graduating from Emory University in 2005, wrote via email. "Commissioned paintings have been around for a while, but we both thought building a platform to connect Instagrammers with the amazing painters we'd found was a pretty exciting concept."
The company's website isn't up and running yet (it's at least a few weeks from going live and Pixelist is using IndieGoGo funds to help build it), though it's already selling the paintings at a discount from the intended cost through the crowdfunding campaign's perks.
For the most part, paintings will be delivered three to four weeks after ordering, which seems impressive given the complex imagery in the paintings Pixelist included on the campaign's page.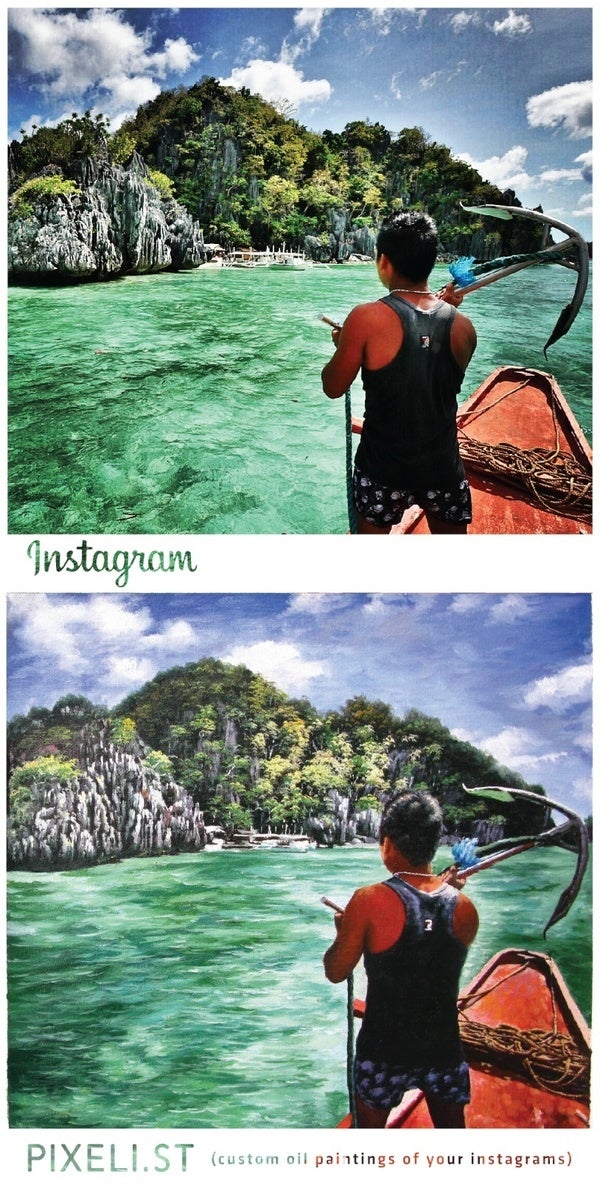 "We're only confident we can handle up to 1,000 painting orders per month," Freeman said. "We have a limited number of artists and we insist on checking each painting to make sure it is perfect before we ship it out."
If you've ever thought one of your Instagrams would look at home alongside the Mona Lisa in the Louvre, turning it into an oil painting and hanging it above your fireplace is a pretty enticing alternative.
Photo via Pixelist/Vimeo