Analysis
NASHUA, N.H. — You don't need to speak to more than one fan of Mayor Pete to understand the entirety of why people profess to like him.
They'll speak, almost unprompted, about Buttigieg's dignity, virtue, and integrity.
About how his politics are about inclusivity.
It's when you talk to the 10th, or 11th, or 15th fan of the former South Bend, Indiana mayor that you start to feel like something is off.
They'll talk about Buttigieg's dignity, virtue, his integrity. About how his politics is one of inclusivity.
Then Buttigieg will take the stage, under an American flag nearly the size of half a basketball court, and eight more upright behind him and you'll hear him parrot those nearly identical platitudes.
And you start to wonder, is that it?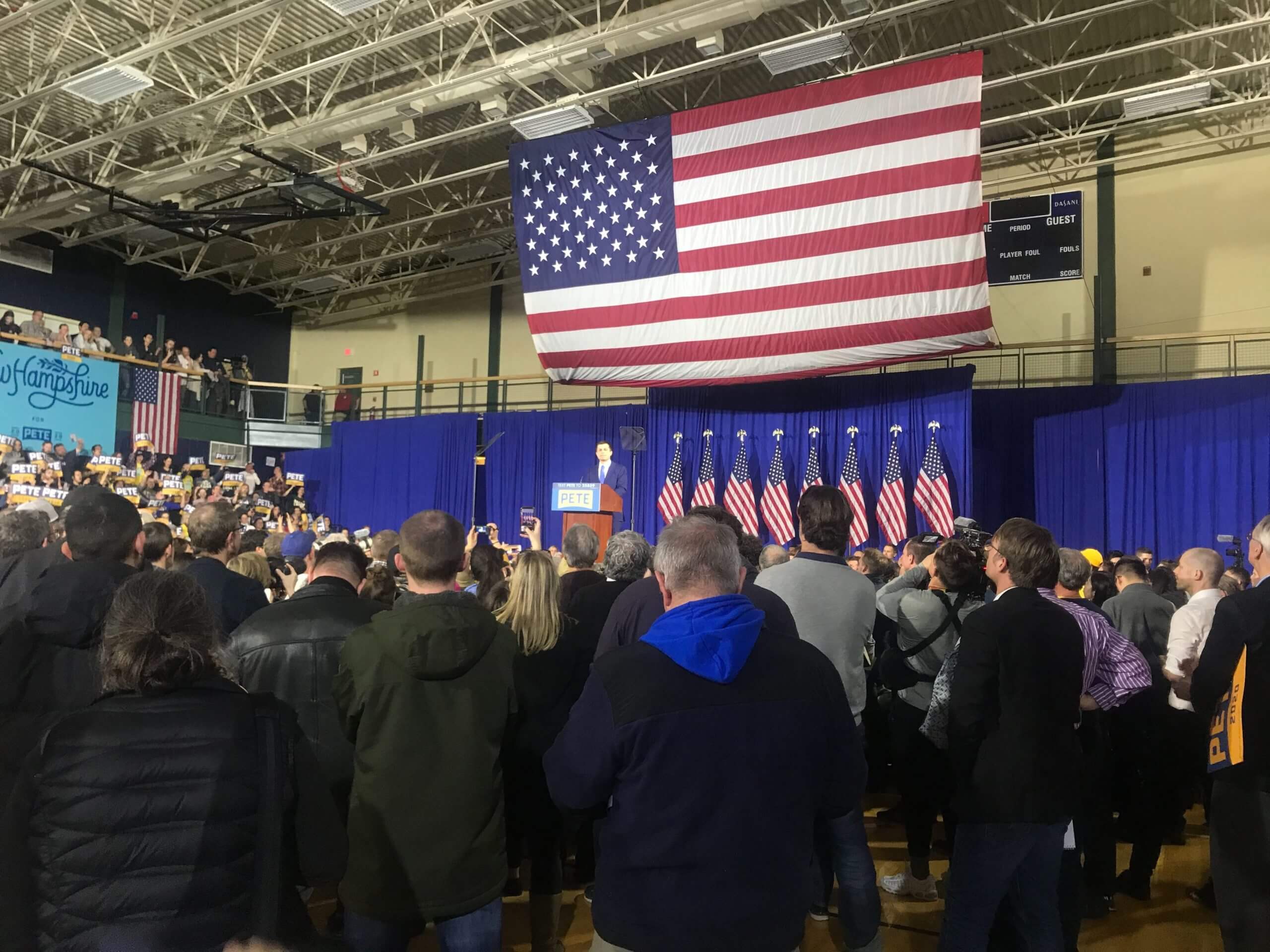 . . .
Buttigieg's supporters have always been defined—from nearly the outset— by earnest corniness. They'll dance in coordination to unpopular Panic! At the Disco songs. They'll run fan accounts that veer into self-parody. They'll rock swag that tells you how to pronounce a dude's name.
Once you meet them, it starts to make sense.
At his rally at Nashua Community College, as those gathered waited for results to come in, his fans were earnest, adorable, dorky. There were cheers when Hall and Oates came on over the speakers, girls bopping to Carly Rae Jepsen, a bit of singing to Darius Rucker, and chants and chants and chants—all of which were coordinated from a set of bleachers that looked down on where Buttigieg would speak from after results came in.
There were hours of chants. Hours. From "President Pete," to two variations of "Boot-edge-edge," to a lengthy, "Hey, hey, what do you say, Mayor Pete all the way," the energy among the 1,000 or so people stayed elevated as 7pm ET turned to 10pm ET and bit by bit, Sen. Bernie Sanders' (I-Vt.) lead shrank from an initial 4 points down to 2.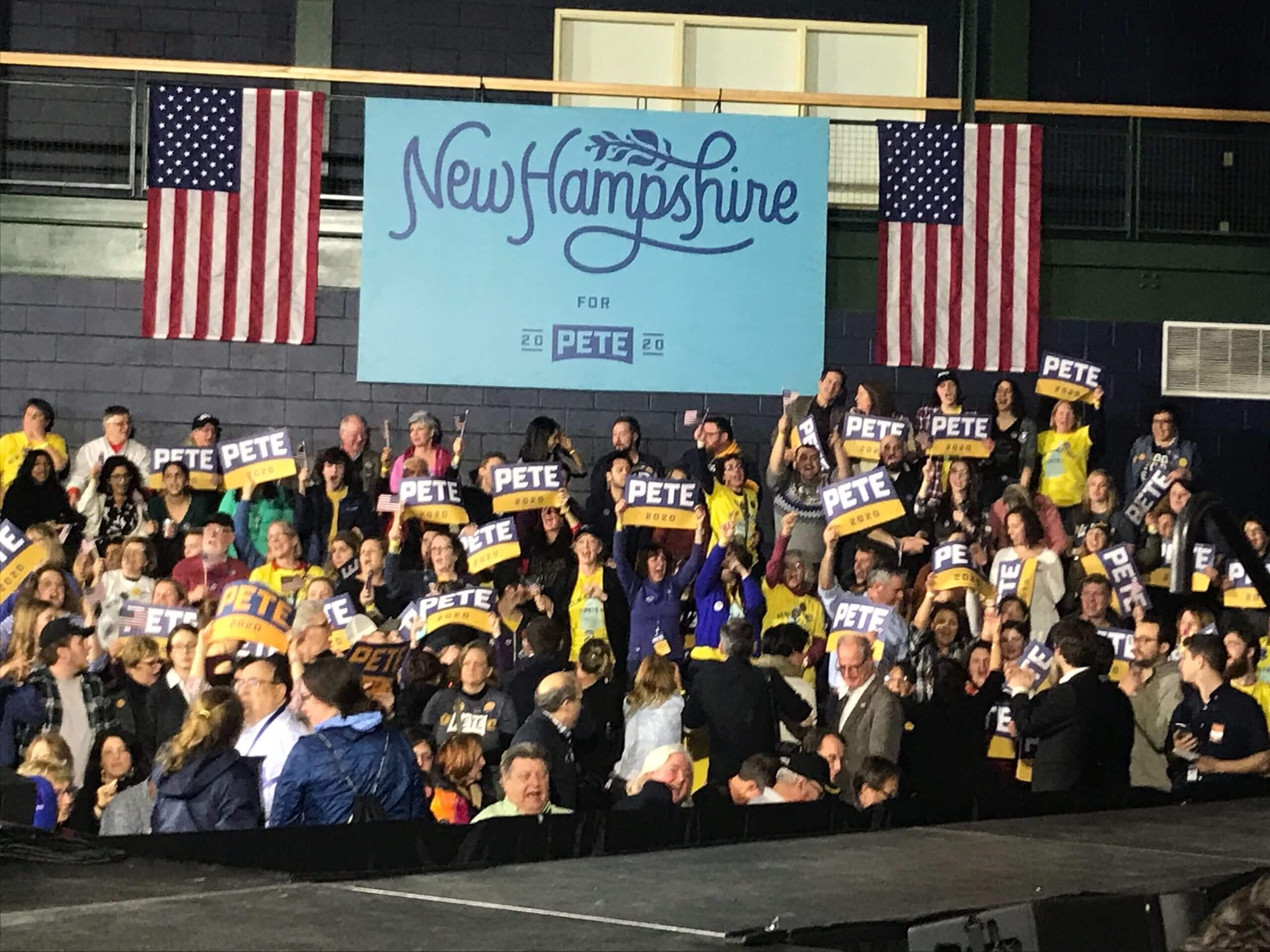 All the while I milled around I asked the same question: What drew you to Mayor Pete?
The crowd was as you'd expect. Mostly white, mostly older than 25, and predominately a group of people who think something ineffable is more important in a president than anything tangible.
Milling on the edge of the VIP section behind the dais—filled with former mayors and state senators who personally knew Buttigieg, as well as people who posted up hours early to get a good view of the mayor, I got nearly identical responses.
Ann, who came out from Sherman, Connecticut, said she was a fan of both "his intelligence and his demeanor," and then added that she really liked that he's "always smiling."
"This election is about changing the tone," she said.
When asked about policy, she said changing tone is what would bring about policy shifts.
"Demeanor can help the policy."
Cristin McCarthy-Vakie, also from Connecticut, said that Buttigieg stood out when she first met him, as a "leader among leaders" and felt moved by his "message of belonging."
"I like the fact that he is very calm, respectful, articulate, thoughtful, inclusive," said Elizabeth Montgomery, of Poundridge, New York.
That's the thing about Mayor Pete. He can intentionally be a cipher to you, speaking in the kind of broad strokes that sound somewhat applicable when you hear them, but which tend not to resonate when you delve much farther past that.
"[Ours] is a coalition of addition, not subtraction," Buttigieg said after taking the stage a little after 10:30pm ET, echoing the idea of inclusion his supporters all mentioned, before pivoting into his on exclusionary tone.
While still mentioning, somehow, inclusion.
"Vulnerable Americans do not have the luxury of pursuing ideological purity over an inclusive victory. We know this," Buttigieg said in his speech after finishing second in the New Hampshire primary, where he praised Sanders for, not for his victory in New Hampshire, but the senator's "strong showing."
"In this election season, we have been told by some that you must either be for a revolution or you are for the status quo, but where does that leave the rest of us?" Buttigieg asked before saying the answer lied with supporting him.
Bob Duff, the Connecticut State Senate majority leader, echoed the mayor's frequent call for "unity."
"The most important thing is unity. A divided and fractured country," he said, can't accomplish "gun reform, healthcare [reform], or raising wages."
Buttigieg, he said, was "bringing confidence back that people can succeed."
Hearing the same generalities again and again, from a Charlottesville mayor to another state senator, who have all been supporting Buttigieg for at least a year, really makes you wonder what these people feel they've lost over the past three years.
It's not necessarily a group of people who consider President Donald Trump an affront to any specific American values, but rather an affront to what they want American values to appear to be.
It's not so much that Trump has harmed immigrants. It's that Trump being in office allows them to no longer say that America supports immigrants.
It's not that Trump in the White House has kept any specific middle-class people down. It's that Trump no longer lets them boast that America supports middle-class people.
Plenty has been made about Buttigieg's attempt to channel former President Barack Obama, from his modulating voice to his speaking in broad strokes to yes, his message of (high) hopes, but it's in talking to supporters that you realize the efficacy of it.
Because if you have the time to come from New Hampshire to canvass for Buttigieg and attend a Tuesday night rally, but don't talk about anything specific he's going to do—aside from how he smiles and acts dignified—you're likely the kind of person who is motivated not by what he's going to do, but by how he's going to make you feel.
Does it matter if he makes the world a better place? Or does it matter more that he makes you think he's made the world a better place?
A swatch of the Democratic electorate, which is pushing for left-leaning policies—predominantly supporters of Sanders and Sen. Elizabeth Warren (D-Mass), would say that's not true.
They have begun to reconsider the Obama model—who also believed bringing people together was the best solution, only to be met with complete obstinacy from the other party. Does Buttigieg somehow have a different solution to that? It's not clear. Do these people care? They would say they do, but there isn't any message that's radically different from the one before.
But with two unexpectedly strong showings in the nation's first two votes, there's no denying it resonates. Because as long as you can feel alright, what else is there to worry about?
READ MORE: