In its nearly four-year existence, the PedoGate subreddit amassed a robust community of nearly 45,000 users committed to exposing pedophiles.
The QAnon-adjacent subreddit, progeny of the banned Pizzagate subreddit, focused on identifying and doxxing pedophiles, with a focus on powerful people: politicians, clergy, celebrities, etc. (QAnon is a conspiracy theory that a powerful group of Satanic pedophiles runs the world and President Donald Trump is locked in a secret war with them.)
Two weeks ago, one of the moderators reportedly came forward with a shocking admission: he's addicted to child pornography. Now PedoGate has been banned.
The mod, who identified himself as "Benjamin" according to a screenshot of the post circulating on Twitter, said that he'd struggled with his depravity for years.
"For half a decade I have had a problem with an attraction to pre-teen girls," Benjamin wrote. "…I always knew in my heart that what I was watching is evil and wrong, constantly telling myself this will ruin your life, you have to break free and stop it."
In spite of his obvious hypocrisy, Benjamin claimed that the hatred for pedophiles he'd expressed on PedoGate was authentic. "…[M]y anger towards pedophilia is true, I have an endless hate towards it and have said 'It's the biggest problem in our society and the world.'"
The confession included a litany of self-pitying non-excuses: "I am just 32." "I wish I never got involved in this disgusting addiction." "It has been my biggest problem and a true struggle to fight against by oneself once you fall into its crutches."
Benjamin claimed that he'd sometimes be able to kick the habit for a few weeks or even months, but would always eventually relapse.
He may have continued in this way forever if the cops hadn't shown up at his door.
Remarkably, he wasn't arrested, he said. Rather, the police offered him a chance to come clean. So he did.
"I thought I shouldn't go, I should get a lawyer. But the good side of me said this is your opportunity to finally speak out about what you have had a struggle with for so long."
For two hours, Benjamin writes, he told his story to police.
Then, even more remarkably, an officer drove him home. Along the way he said the officer even made a joke about how he'd cried so much it was as if he'd watched The Titanic.
Benjamin closed the confession with an apology and said that he was going into therapy to try to banish his desire to watch child pornography.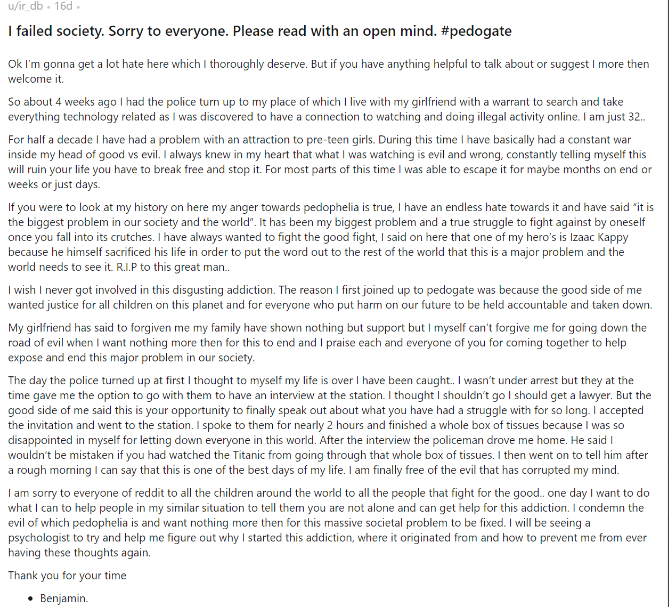 Although possession of child porn is a crime in all 50 states, he did not mention any pending criminal charges.
The revelation stunned some, others were more of the "methinks thou doth protest too much" mindset—in other words, that Benjamin joined PedoGate to hide his true nature. No one felt much sympathy for him.
"It's really amazing how many of these [outrage] panics are really just projections of the demons these folks themselves have," observed one.
Another theory circulating was that Benjamin wasn't the only pedophile among the tens of thousands of members of PedoGate or the millions of QAnon followers, either.
"The Q crap got its start in a nest of pedos. Total projection. Q accounts freely share direct and borderline child porn constantly (in the name of outrage of course)," tweeted @MornMoor.
Some suspected that Benjamin, and potentially others, even used the subreddit to collect child porn.
"…[A] bunch of people posting direct links to alleged child porn accounts on social media and telling people to report them," a redditor commented on one of several discussions about the confession and subsequent ban. "Which might be well-intentioned but it's still directing redditors to pages of alleged illegal materials."
Their suspicion may be correct.
The announcement on the now-defunct PedoGate page reads: "This community has been banned for violations to our content policy including violations for harassment, incitement of and encouraging violence, and posting sexually suggestive content involving minors (emphasis added)."
---
Read more of the Daily Dot's tech and politics coverage