What is it about Paul Ryan that YouTube viewers love? That's the question raised from data gathered by ChannelMeter, which shows a massive spike in views and YouTube channel subscriptions for Mitt Romney since Aug. 11, when he announced the Wisconsin Congressman as his running mate.
According to ChannelMeter, the Romney page saw a 300 percent increase in subscribers the day after the Ryan announcement in Virginia. In the week that followed, it was a 250 percent increase from the previous week. The same goes for gains in video views. During the days and weeks prior to the announcement, Romney's video view gains were in the hundreds and thousands. On Monday, Aug. 13, two days after the announcement, view gains were at more than 120,000.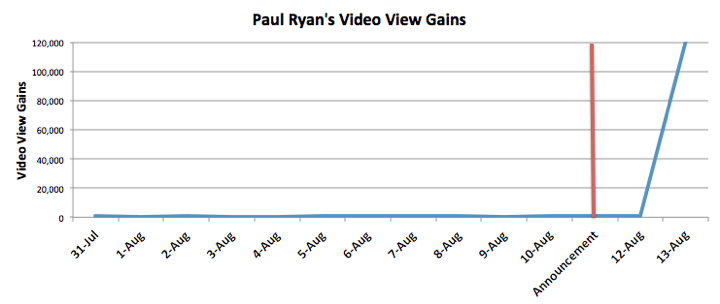 One of the most popular videos is "America's Comeback Team" which was posted the day after Ryan took second spot on the ticket. The 80-second video shows clips of Ryan's acceptance speech, sliced together with scenes of a struggling nation. Less than two weeks after it was posted, it has gained more than 1.1 million views. As of this week, it is Romney's second most popular video.
If the style of that ad looks familiar, you're not hallucinating. The new ad is produced in the "blockbuster, action movie" style that has becoming popular with Republicans thanks to filmmaker Lucas Baiano. One of Baiano's first Republican clients was Tim Pawlenty, but his most recent was Rick Perry, whose video "Proven Leadership" gained more than 2 million views and became the Texas governor's most popular upload.
Even though Perry's campaign was never able to get beyond that "second-tier" status, the "Proven Leadership" video was wildly popular, partly thanks to its production value.
But one video can't account for a 300 percent increase in subscribers. The primary reason for the increase is that the election just got real. Now we know who Romney has picked to help lead the nation, if he is elected. For many people this is when they start to pay attention to an election – before now, the people who cared the most were politicos and journalists.
A lot can also be said for Ryan himself and his popularity within the Republican party. There is no better proof of that than Ryan's VP Facebook page and the number of "likes" he has gotten. In just 12 days he has earned 1.4 million fans; that's more than a quarter of Romney's 4.8 million fans, which has taken Romney four years to gather.
Image via Mitt Romney/Facebook