While Americans are beginning to see evidence of the Republican tax bill affecting their paychecks, House Speaker Paul Ryan is totally convinced it's working in the taxpayer's favor—with this anecdote of a woman being able to afford a $60 Costco membership.
On Friday and Saturday, Ryan shared an article from the Associated Press reporting that Americans are beginning to see more take-home pay as a result of the new tax withholding guidelines.
"I have heard time and again that the middle class is getting crumbs, but I'll take it!" https://t.co/yLX1Bod1j0

— Paul Ryan (@PRyan) February 2, 2018
In the piece, the AP touched on a Florida resident who received $200 more in his last paycheck, along with a few statistics—that Treasury Secretary Steven Mnuchin estimates 90 percent of workers will see more take-home pay and with the Tax Policy Center estimating an average tax cut of $930 per household.
However, it seems that the story that really got Ryan's blood pumping over his tax bill success was that of a Pennsylvania high school secretary who was going to see, drum roll please … a whopping $1.50 more in her paycheck per week. Yes, Ryan was enthralled to know he had helped one worker hold onto a hefty $78 a year. Enough to cover her year-long Costco membership, she boasted.
Of course, Ryan couldn't hold onto the good news himself, tweeting out the AP story with the secretary's anecdote of how "pleasantly surprised" she was with her paycheck change.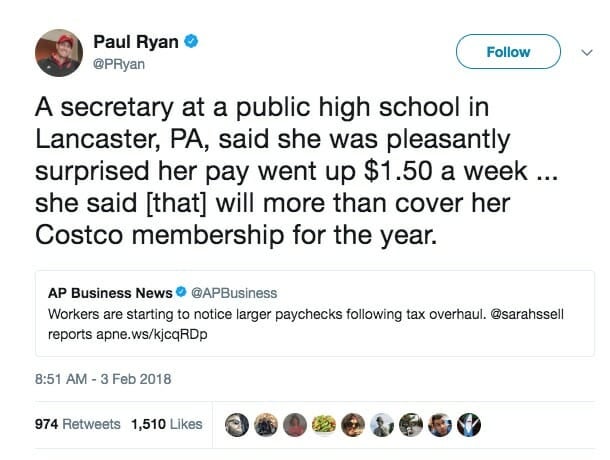 Ryan deleted the tweet Saturday afternoon, probably because he got roasted so harshly for patting himself on the back over helping a woman save $78 a year.
The internet reveled in it, wholeheartedly.
Republicans are proud of themselves for [checks notecard….adjusts glasses….squints] someone making .21 cents more a day? https://t.co/qMne593S3M

— jordan (@JordanUhl) February 3, 2018
"it's mean it's one medicare, michael. what could it cost? $1.50 a month?" https://t.co/F5DxQTNCTi

— Roko's Brocialist (@bombsfall) February 3, 2018
https://twitter.com/kashanacauley/status/959857902080073728
Paul Ryan masturbates to descriptions of Dickensian orphanages https://t.co/QCqGrVqVeg

— Mark Agee (@MarkAgee) February 3, 2018
https://twitter.com/nicksyourmate/status/959832125427060737
Did this happen in 1933?

— Devin Frebrowski (@drgoodandsexy) February 3, 2018
https://twitter.com/InternetHippo/status/959839817893928960
https://twitter.com/jonbaltz/status/959832631511846913
Baskin-Robbins has scoops of ice cream on sale. Every American now can get an extra scoop of ice cream a week! Thank you Paul Ryan! pic.twitter.com/iRHBjtwJ4O

— ☇RiotWomenn☇ (@riotwomennn) February 3, 2018
$1.50 WOW! Enough to upgrade to Fancy Feast! Once a week …. temporarily. pic.twitter.com/8xefHAAHiG

— Colorado Fights Back (@COFightsBack) February 3, 2018
Sure, that woman may have gotten much less than the average $930 cut per household, but Ryan's misguided tweet might just make up for it.