This article contains sexually explicit material that may be NSFW.
When we talk about the intersection between sex and technology, what immediately pops into mind is a melange of X-rated dystopian images of virtual reality porn and dirty-talking iOS voice assistants, of slutty cyborgs and Sleeper-esque orgasm machines. Our imaginations go to a place where intimacy and satisfaction beyond our wildest dreams can be achieved with the push of a button.
For the most part, we tend to think about the increasingly blurry distinction between sex and tech as a bad thing: Because sex is one of the most deeply intimate and human experiences two people can share together, it's alarming to think of a world where we can have this experience in isolation, and many are concerned that having sex with machines is ultimate proof that technology has driven a wedge between people. But Suki and Brian Dunham don't quite see it that way. They see technology as a way to enhance human intimacy, rather than obstruct it.
"We have smartphones in hand at all times, so we might as well be making good use of them," Brian Dunham told me when I spoke with him and Suki over the phone a few weeks ago. "It scares most people, the way technology is changing intimacy, but we should be thinking about embracing it, rather than running away from it."
As the founders of OhMiBod, the pioneering wireless sex toy company, it makes sense why the Dunhams would be staunchly on the "pro" side of sex and tech. But it's also true that they've built their brand specifically on the idea that technology can serve as a tool to help couples create intimate moments with each other, even from a distance.
Their most popular product, the Club Vibe, is a slim, egg-shaped remote control wearable vibrator that delivers corresponding vibrations in response to pulses and vibrations in music or your partner's voice. Earlier this year, they released the BlueMotion, a wireless vibrator that's remotely controlled by a Wi-Fi-enabled smartphone app. Targeted primarily at couples, the new version of the BlueMotion app will give users the ability to control the vibration long distance, so couples can use it even when they're far apart from each other.
"People talk about the divide that's being created by technology, but the natural instinct is for couples to love to play together," says Brian. "Whether it's mountain biking or skiing, or whatever you do in the bedroom, you have to find new ways to keep the intimacy level high, and that's what we're focusing on with BlueMotion."
Suki and Brian would know about the necessity of creating new ways to keep intimacy levels high. They've been married for 26 years, living and working together in a house in New Hampshire behind "a literal white picket fence." The concept for OhMiBod initially took root during Christmas 2004, when Brian, who used to travel frequently for his former employer Tyco Electronics, gifted his wife with an iPod and her first vibrator: a Smoothie vibe from Good Vibrations.
"What happened was after I'd done the dishes and cleaned them up and put them to bed, the question was, 'How do I get sexy from there?' because Brian was traveling all the time for work," Suki says. "So I found I was using those two things together: I'd listen to my music to get in the mood, and relax myself, and then I'd use my vibrator."
One day, while Brian was in China, the two got to talking about Suki's dual Christmas presents: "I said, 'Wouldn't it be awesome if we used those two things together?'" Thus, the concept for OhMiBod's first product, a vibrator that translates music from an iPod into vibrations, was born.
Since officially launching in 2007, OhMiBod has become synonymous with sex toy innovation, with the company winning numerous product design awards, including the prestigious Red Dot award earlier this year. (Their in-house product designer, Mathieu Pung, has previously worked with the sculptor Klaus Oldenburg.) Although they've released everything from personal massagers to vibrating cock rings to Kegel exercise aids, they've distinguished themselves in a market that's become increasingly competitive and high-end by borrowing from their tech backgrounds, particularly Suki's experience at Apple, where she worked as a product developer for years before launching OhMiBod.
"We took Suki's experience at Apple and thought, there's no reason why we can't bring the level of design and aesthetics and high quality to the sex toy sphere," says Brian. "We thought of it as, if Apple stores could sell vibrators, [our product] is what they would sell."
The Dunhams entered the high-end sex toy market at precisely the right time. As recently as a decade ago, vibrators were considered inexpensive, largely disposable products, to be shoved in the back of a store alongside other cheaply produced plastic novelty items. They were most often featured in adult movies, and often had pneumatic, surgically enhanced porn stars on their box covers. "When we first came into the industry, there weren't many manufacturers offering warranties on their products," Brian says. "They were so poorly made people would use them a few times and just throw them into the garbage."
Now, thanks in large part to what Suki calls "the 50 Shades [of Grey] effect," female sex toys have become increasingly more socially acceptable, to the point where it's not uncommon to see vibrators and G-spot massagers being sold alongside toothpaste at your local CVS. Even as the general adult industry has been on the decline for the past 10 years or so, the luxury sex toy market has continued to boom.
"You have people designing vibrators as you would a consumer electronics product," Brian says. "And people are a lot more educated on brands and what makes a good toy." The products are becoming increasingly well-designed and technologically advanced, not to mention expensive: Some vibrators, like this gold-plated Lelo vibrator, cost as much as a used car.
Despite the increasing acceptability of sex toys in mainstream culture, however, the stigma surrounding sex toys and female sexual pleasure hasn't disappeared entirely. In the general tech world, Suki and Brian say even the most technologically advanced sex toys largely exist in a ghetto, and they consistently face outside resistance from people who are uncomfortable with the adult nature of their brand.
Once, they tried to hire a CPA who refused to work with them because they were a pleasure product company; another time, a printer refused to print their electronics manuals, despite the fact that they weren't sexually explicit in any way. "People see dollar signs in the pleasure products world, because they're thinking sex sells," says Suki. "But we still face more hurdles than your regular startup."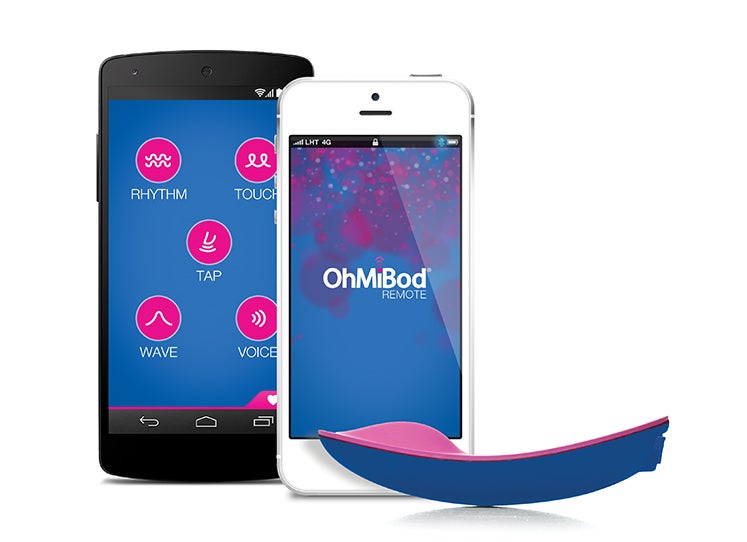 OhMiBod also can't advertise on Facebook or TV, which Brian sees as a reflection of the lingering double standard in the advertising world. "Viagra ads run at 7:00pm during baseball games, and I'm sitting with my daughter and she's asking me what erectile dysfunction is," he says. "For some reason, it's OK for these big pharma drugs to market to men to enhance their sex lives, but it's taboo for us to do the same for women."
For this reason, it's unlikely that OhMiBod's dream of seeing their products sold alongside MacBooks will ever come to fruition. But Suki and Brian are continuing to look toward the future of sex and tech, in the hopes that by making an innovative and well-designed product, sex toys will be taken as seriously as laptops or smartphones.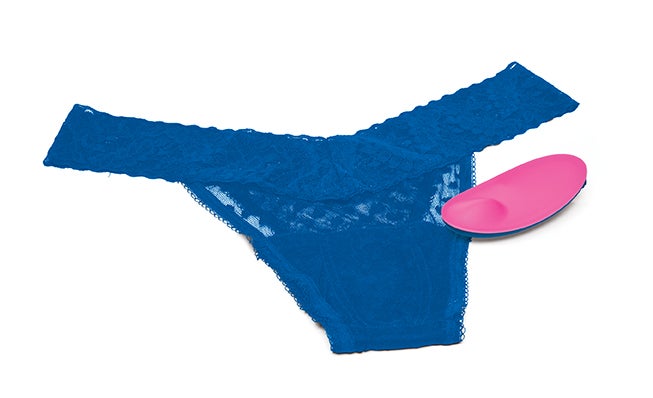 They're officially releasing BlueMotion later this month, and they're developing a way to put a Bluetooth audio chip inside a vibrator, so if you're, say, playing Candy Crush on your phone and you reach the next level, the sound in the game will set the vibrator off. "No one would know it because you're playing with your phone," Suki says. "So the whole concept of gameification of sex is quite interesting to us, and we're developing apps around that."
Aside from developing a Candy Crush vibrator, however, Suki and Brian have little interest in the more sensationalist elements of the future of sex and tech. For instance, they have little interest in robotics, which they view as a niche product for a niche audience: "Human contact will trump all that," Suki says.
It's that crucial element of human contact, an element of sex that can't be reproduced via vibrators and G-spot massagers, no matter how well-made, that ultimately makes all the paranoia and alarmist rhetoric over glassy-eyed sex bots and push-button orgasm machines for naught. Despite all the concern that technology like OhMiBod's will make gooey, IRL pelvis-banging an adorable relic from the past, like rotary phones or beepers, humans have been having sex the same way for ages, and it's unlikely that any future innovations in the field will ever change that.
Over the course of our discussion, Suki and Brian often compare the sex toy industry to the automobile industry, and the parallels hold true when it comes to the question of further innovation in the space. "In the beginning you have these Model Ts and the suspension systems, and people think 'how could this get any better?'" Suki says. "But then 50 years later, 60 years later, you have a template that doesn't run on gas. So we're seeing improvements and it'll improve with time, but when I look at the product as a whole, you can't do that much more to it. You can't add that much more pleasure or functionality."
"After all, a vibrator is a vibrator," she says. "It's a product that makes a woman orgasm. That's pretty much all there is to it."
Photo by TIFFANY DAWN NICHOLSON (TDNphoto)/Flickr (CC BY-ND 2.0)